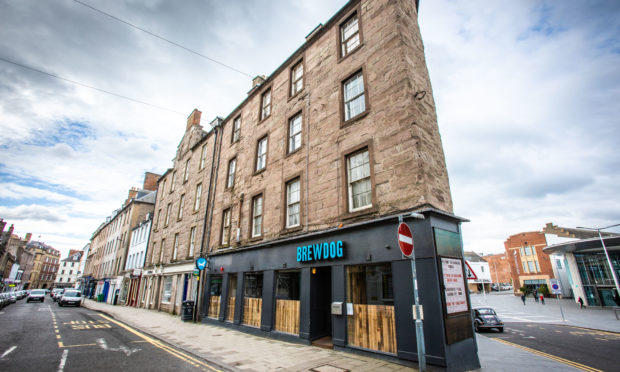 Craft beer giant Brewdog has won planning permission for outdoor seating at its Perth city centre pub, despite a complaint from a neighbouring funeral director.
The Aberdeenshire-based company caused controversy when it applied to set chairs and tables on the pavement outside its new George Street establishment.
Funeral directors James McEwan and Son urged planners to reject the proposal, claiming alfresco drinking could cause "distress" to grieving families.
The firm's Andrew Pennycook said: "As the largest funeral directors in Perth, we have a large number of bereaved families calling at our premises in George Street.
"The provision of an outdoor drinking area a few doors away will cause distress and upset to already traumatised families. It will also create access problems on George Street for wheelchair users and prams on a street that is a main vehicle thoroughfare."
Mr Pennycook pointed out that plans were raised by Perth and Kinross Council to create parklet-style seating on George Street last year, but the scheme was rejected after opposition from traders.
However, planning chiefs have rubber-stamped Brewdog's application, saying they don't believe the four-table plan will have an "adverse impact" on the business.
A spokesman for the planning department added: "Conditional control regarding a noise management plan will ensure that any complaints made are dealt with appropriately.
"I therefore believe that due to the scale of the development, combined with conditional control in relation to noise, the proposed seating area will be of no adverse detriment to neighbouring businesses."
He said the outdoor seating would enhance the existing facilities and bring more people into the area.
"The proposal may also result in more footfall to George Street which could have a positive economic impact upon other local businesses," he added.
The scheme was backed by Dawn Fuge, co-chairwoman of the Perth Traders' Association. She said in a letter to planners: "Brewdog has been an asset to Perth, bringing footfall to this part of town.
"It should create a convivial atmosphere and allow people to linger and use the outdoor space – weather permitting – on George Street. This could serve to boost the day and night-time economies."
Brewdog also won retrospective planning permission for a mural of a dragon on the side of the building.