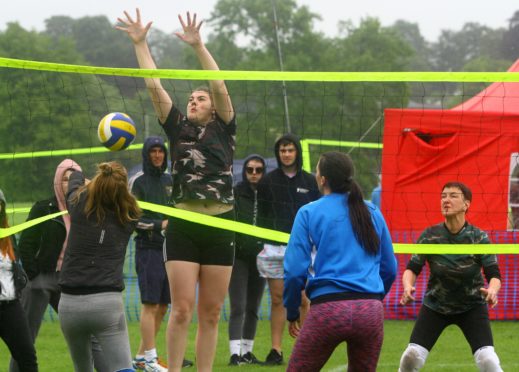 Wet weather failed to dampen spirits as volleyball teams from across the country battled it out in Perth at the weekend.
More than 100 teams battled it out across seven divisions in the Scottish Open Volleyball Tournament, the largest annual volleyball tournament in Great Britain, at the North Inch.
Players utilising 38 nets set up across the parkland braved the heavy rain to play in hundreds of separate matches across the weekend.
Tournament director David Munro said despite the conditions they had seen fewer injuries than in previous years.
He said: "The weather wasn't kind to us. About eight teams withdrew because it was so wet but the rest carried on in the spirit of the tournament and had a lot of fun.
"Despite the weather the weekend went very well. There was tricky conditions and the players adapted well.
"We had very few injuries. We have a whole team of physios and first aiders on site and they have been busier in some years where it's been dry."
He added that there had been some fears that the start of play would be delayed on Sunday morning after several teams were diverted due to the fatal crash on the M90.
However after taking a number of back roads the teams from Fife and Edinburgh were able to start on time.
He added: "We tweaked the format this year so we've actually finished a little bit early. In previous years we've still been playing at six or seven o'clock."
Results
Women's Division 1 – 1 Red Hot Silly Peppers, 2 Yes Serve.
Men's Division 1 – 1 The Greatest Showmen, 2 Kamikaze Seaton.
Men's Division 2 – 1 Team Alpha Male, 2 Team Fife.
Men's Division 3 – The Clackers, 2 The Flying Spikers.
Mixed Division 1 – 1 Are We There Jets?, 2 The Unicorns.
Mixed Division 2 – 1 The Beast from the East, 2 Vicious and Delicious.
Mixed Division 3 – 1 Volleygang Accerington, 2 Tynedale Reivers.