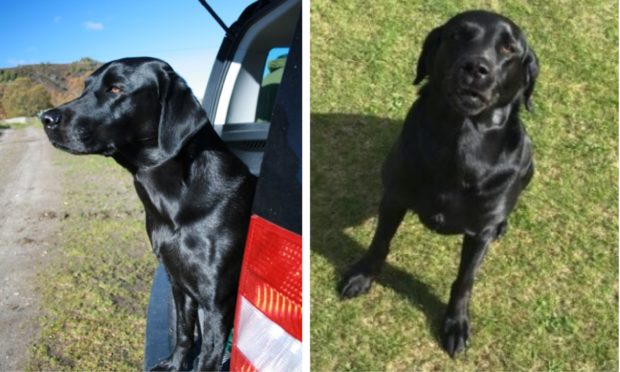 Security camera footage that could shed light on the mystery disappearance of a beloved pet dog was stolen during a raid on a Perthshire filling station.
The distraught owners of black Labrador Rowan are offering a substantial cash reward for her safe return, after she vanished without a trace four nights ago.
It is feared she was snatched when she ran off into a barley field, near her home in Ballinluig, near Pitlochry.
Despite a major community effort, including a thermal imaging scan of the area, the five-year-old has not been seen since Saturday evening.
The family's hopes of securing CCTV film of the area where she disappeared were cruelly dashed, after raiders forced their way into a nearby filling station and made off with all of its security kit.
Owner Ian Jones said: "We just want to get her home safely, that's all we care about."
The retired merchant banker said: "My son Simon took her for a walk at about 8.30pm on Saturday.
"They walked through woods on the edge of the village and Rowan went for a sniff around in a barley field.
"My son walked on for about 10 yards, and then whistled for Rowan to come back, as he always does but she never came. There was no sign of her at all and he couldn't see any movement in the field.
"It was very unlike her not to come back when called."
Simon searched the area into the early hours of Sunday morning but there was no trace.
The search continued throughout Sunday, with charities Dog Lost and Missing Pets Perth and Kinross helping spread the word.
Mr Jones said: "We have had drones out over the field and we have even been using thermal imaging cameras.
"There only seems to be two possibilities – that Rowan ran off into the wild or that she has been lifted."
The Jones family had hoped to view CCTV from the nearby Gulf Filling Station, which would have shown the area where Rowan disappeared. However, the outlet was broken into in the early hours of Sunday.
Clive Bridges, who runs the service, said: "They jimmied the door open at about 12.45am and took about £260 from the tills.
"But they also pinched all of our CCTV equipment. I've been here for 49 years and nothing like this has ever happened before."
Police are probing reports a car with three men was seen in the area at the time of the petrol station raid and also the night before, when Rowan disappeared.
Network Rail has also asked its drivers to keep an eye out for Rowan along the train line.
Anyone with information is urged to contact the Rowan family on 01796 482244.