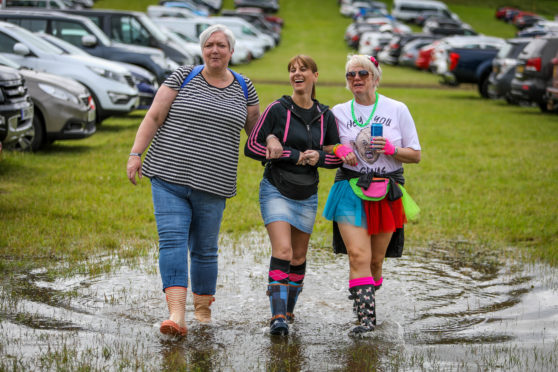 Music fans heading to the retro Rewind Festival at Scone Palace have been urged to follow a new traffic management plan to avoid congestion.
Perth and Kinross Council issued an apology on Saturday morning, after putting out incorrect details of this weekend's travel restrictions.
The new plan sets out where – and where not – Rewinders can be dropped off.
VIDEO & PICTURES: Waterproofs packed as campers arrive at Rewind Festival in Scone Palace amid forecast of rain
A council spokeswoman said: "We're very sorry for any confusion or inconvenience that may have resulted from (the previous, incorrect) post.
"For clarity: A 20mph speed limit for vehicles and no parking and loading is in place on the following roads: the A93 Perth to Old Scone road, from the end of the existing 30mph limit at Upper Springlands, to the end of the existing 40mph limit north of the U88 Stormontfield junction; the U87 Old Scone Road from its junction with the A93 Old Scone to its junction with Stormont Road; and the U88 Stormontfield road, from its junction with the A93 Old Scone to its junction with the A93 (Perth to Blairgowrie) road north of Guildtown."
She added: "In addition, the Pick Up and Drop Off (PUDO) point can be accessed from the A93 passing Scone Palace.
"From either direction, the access route is via Gate 5 at the Gardeners Cottage at the north end, and exit via gate six at the South Lodge. Vehicles can then head north or south on exit from the PUDO."
Thousands of 80s music fans are flocking to Scone Palace from all over the country. After overnight heavy rain, showers are expected to continue throughout Saturday with main stage line-up kicks off with Hipsway and the Primitives, with sets from the Undertones, Black Box and Eddie Reader.
Topping the bill will be Paul Young, followed by Lulu and then headliners Foreigner.
The weather is expected to improve considerably on day two of the festival.
Sunday's programme features Big Country, The Skids, Midge Ure, Belinda Carlisle, Lisa Stansfield, The Stranglers and Bryan Ferry.