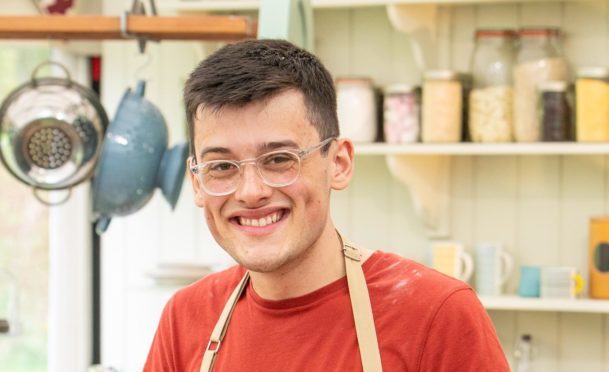 Former teachers of Great British Bake Off contestant Michael Chakraverty are backing the 26-year-old to win the show.
Michael, who studied at Perth Academy, has been described as "a natural in front of the camera" by those who taught him.
His teachers also revealed he cooked for other pupils on a trip to Peru but gave no hint at his baking abilities.
Head teacher John Lothian said: "Although Michael left Perth Academy some years ago, staff remember him fondly.
"He was Kenickie in the schools production of Grease and also starred in the High School musical and was a keen student of Modern Languages.
"The entire Perth Academy community will be watching with interest and backing Michael to do well."
Former teacher Liz Hood, who taught business studies, accompanied the baker on a month-long trip abroad.
She said: "At the end of his sixth year at Perth Academy Michael took part in a month-long expedition to Northern Peru.  Michael showed great determination and stamina along with wonderful people skills, a real empathy for both team members and the community he worked in.
"During the expedition all team members were responsible for cooking meals but little did we know that he had a top baker in our midst.
"Michael faced every challenge with his wonderful sense of humour and smile and we look forward to seeing him do so again in his latest challenge on The Great British Bake Off."
PE teacher Elaine Henry taught Michael when he was in sixth year in a leadership course.
She said: "As part of the course he organised and directed a junior production of Annie. He did everything from casting to rehearsals, scenery, make up and band.
"He was an absolute superstar and ended up more like a member of staff than a senior.  He worked closely with many staff and he basically lived down in the music department."
Computing teacher Stuart Barlow added: "Michael completed his Duke of Edinburgh gold award during his time at the school. He was an outstanding participant, really supportive of his expedition team.
"He produced and starred in a very entertaining video of their experiences, (he's) a natural in front of the camera."
The Great British Bake Off starts on Tuesday on Channel 4.