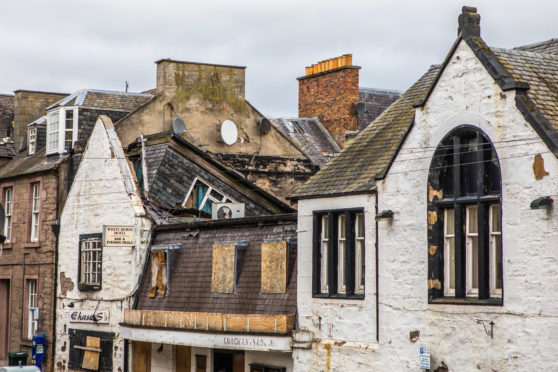 A derelict city centre hotel, which is steadily caving in on itself, has become an unwelcome visitor attraction.
Tourists in Perth are stopping to take snaps of the abandoned White Horse Inn and its visibly sloping top floor.
Perth and Kinross Council is now under fresh pressure to secure the privately-owned building before it deteriorates and poses further danger to locals.
The North William Street building has been out of action for more than a decade and was extensively damaged by fires in 2013 and 2016.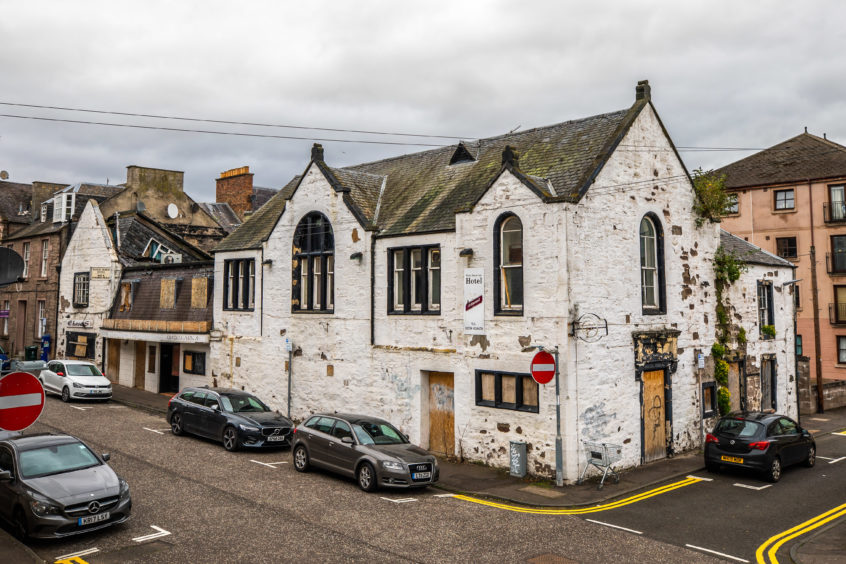 Businesswoman Lynda Wilson, whose Elegance millinery shop is next to the dilapidated building, said: "It's moving all the time. We've been watching it since the fire, and you can see that the top floor is collapsing inwards.
"People are stopping to take photos of it because it looks so strange."
She said: "We get a lot of customers from outside the area and for some of them this is their first impression of Perth. I'm fed up with having to apologise for it."
Ms Wilson is urging the local authority to take steps to secure the building, which is owned by a local property developer.
One neighbour said a lane behind the hotel has become a haunt for teenagers and young adults at night.
"When that top floor slides down, it could bring the rest of the building with it," she said. "It's a deathtrap, but nobody seems to care."
Perth Civic Trust chairman David MacLehose has echoed calls for action.
"The building has been let to become an absolute eyesore," he said. "We can't have buildings like that in the Perth conservation zone, and I would like to see some action taken sooner rather than later."
The Courier understands that a housing association has expressed an interest in taking on the site.
Planning permission was granted in 2007 to demolish the hotel and build a block of 15 flats, but construction never got started.
Perth city centre councillor Andrew Parrott said: "I hope that, as soon as possible, this eyesore site can be re-purposed or re-developed so that it becomes a much more appealing site within the city again. That, however is largely a matter for the site and building owners."
The SNP councillor said: "In the short term though I will be checking with council officers that all that needs to be done to ensure that the site remains safe and poses no danger to passing pedestrians and traffic is being done.
"Beyond that, I will seek to ensure that all that can be done by the council to promote the re-development of the site is being done."
A local authority spokeswoman said the building is being monitored by the Building Standards team and was last inspected in February.
"The building appears to be in similar condition now as it was earlier this year, however another inspection will be carried out to ensure that public safety is maintained," she said.
"If any action is required, it is the responsibility of the owner of any building to ensure it is in a good state of repair and to address any problems."