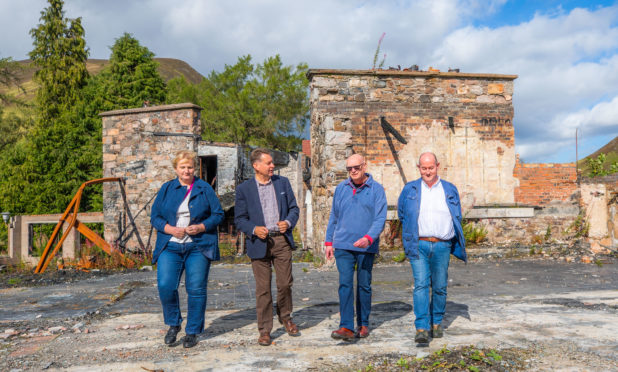 Campaigners are considering a community buy-out bid to seize control of a "downright dangerous" hotel site.
The Spittal of Glenshee building was destroyed in a blaze five years ago, despite the best efforts of more than 50 firefighters.
The dilapidated site is owned privately, and a pension investment company called Yorsipp recently secured planning consent to transform the three-and-a-half acre site into a new holiday resort.
However, the bid has been questioned by the Mount Blair Development Trust which is calling for the site to be properly secured.
Chairman Daryl Townsend met local politicians at the site on Friday, and revealed the trust was exploring ways of securing the land.
"We have given up from trying to purchase this directly from the owner," he said.
"But we are looking at the idea of a community buy-out and force the owner to sell-up.
"However, this route is also fraught with problems. For example, we estimated that it will cost about £200,000 just to clear the site and make it safe, and we wouldn't get public funding for that.
"The site is just downright dangerous now. It has been badly vandalised and there have been fires started here.
"It needs to be properly fenced off and secured."
Mid-Scotland and Fife MSP Murdo Fraser, who met Mr Townsend and councillors Caroline Shiers and Bob Brawn at the site, said: "It is simply unacceptable to have a prime site like this – on a key tourist route – left as an eyesore.
"Apart from the negative impression this gives to visitors, the site is actually dangerous if youngsters were to try to explore it."
"We are also missing an economic opportunity for a new development at this location."
Ms Shiers added: "It is an absolute eyesore and it is unacceptable that it is just left in this state for an indefinite period of time.
"Other businesses at the Spittal continue to invest in their premises and promote the local area for the fantastic place it is all year around with a great range of activities on offer and we must do all we can to support them."
Yorsipp did not respond to requests for comment.