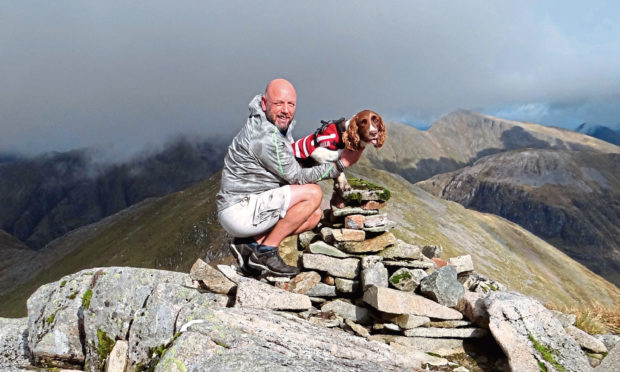 Money raised by a Munro-bagging springer spaniel will be used to help other dogs save climbers' lives.
Retired gun dog Genghis and his owner Mac Wright, from Milnathort in Kinross-shire, raised £1,300 for Mountain Rescue Scotland by climbing all 282 Munros.
Their efforts have been hailed by the charity, who said the cash raised on Genghis' JustGiving page would help its search and rescue dog teams save humans in trouble in the mountains.
Kev Mitchell, vice-chairman of Scottish Mountain Rescue, said: "We are so grateful to Genghis for his support in helping our member teams who volunteer to save lives.
"We are sure Genghis will be delighted to help his colleagues in our two search and rescue dog teams.
"Last year Scottish Mountain Rescue member teams rescued 851 people during 683 call-outs.
"Our search and rescue dog teams were involved in 60 of these call-outs and between them spent 893 hours searching – and that is a lot of dog biscuits.
"Our search and rescue dogs teams, like all our member teams, rely on donations and support from the public to make our rescues possible.
"The extraordinary efforts and support of Genghis will, in a real and practical way, help us to save lives."
Mac, 52, who spent 25 years in the Army, adopted Genghis after his owner died in 2016.
The pair have become inseparable hiking partners, travelling all over Scotland in a camper van and "bagging" mountains over 3,000ft tall.
They conquered their final peak, the 3,261ft high (994m) Sgor na h-Ulaidh in Glen Coe, last month in time for Genghis' 11th birthday.
Mac and Genghis, who averaged around two new Munros per week, completed all 282 in less than three years.
In the process, they also raised more than £1,000 for Springer Rescue Scotland, which rescues and rehomes springers and other spaniels.
Mac said: "I'm really pleased we've been able to raise some money for these good causes, Scottish Mountain Rescue and Springer Rescue Scotland.
"We wanted to raise £1,000 for each of them and we've exceeded those targets."
Scottish Mountain Rescue represents 24 voluntary mountain rescue teams with more than 800 volunteers.