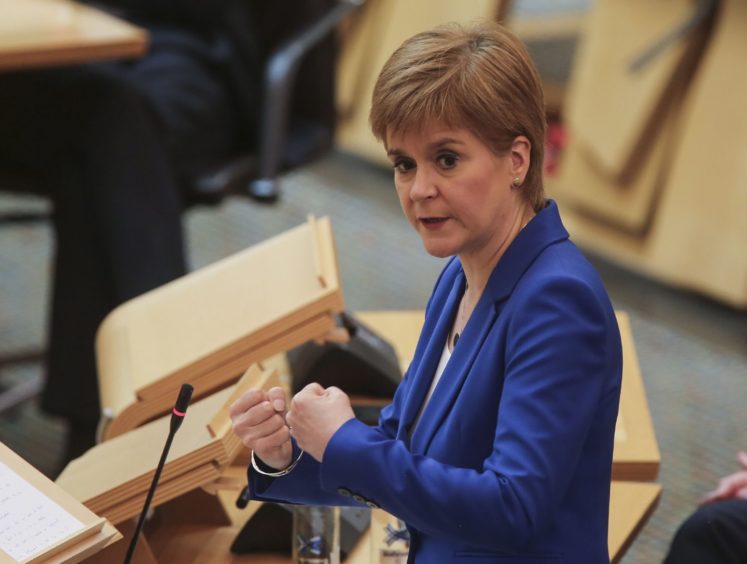 Nicola Sturgeon has been attacked for a "failure" to do enough coronavirus testing in care homes following "harrowing" reports of the destruction of elderly lives.
The first minister was urged to make sorting out the care home testing regime her priority following claims that failing to detect the virus was costing lives.
At First Minister's Questions, Ms Sturgeon was also challenged to guarantee the right to testing for care workers.
The criticism followed 22 deaths in Highgate care home in Uddingston, Lanarkshire, where at one point residents had been dying at a rate of one a day from the virus.
Ms Sturgeon was told the ratio of deaths in Scottish care homes was greater than that of elsewhere in the UK and the country was also behind when it came to the number of tests.
As at May 10, a total of 3,213 deaths have been registered in Scotland where Covid-19 was mentioned on the death certificate, according to statistics published by National Records of Scotland (NRS).
In the week leading up to May 10, more than half of all registered deaths involving coronavirus were in care homes (57%). That figure compares with 40% in England and Wales.
The figure showed a slight decrease from the 60% recorded the week before and the number of care home deaths also fell for the second week in a row, from 314 to 238.
National Records of Scotland data also found that 3,591 tests were carried out by NHS Scotland in hospitals, care homes and the community. A further 1,517 drive through and mobile tests were carried out, making a weekly total of 5,108 – still short of Scotland's 10,000 testing capacity.
The NRS figures also showed there were 415 deaths linked to coronavirus in the seven days up to Sunday May 10 – down by 110 from the previous week and 244 lower than the total two weeks ago.
According to Ms Sturgeon, the figures showed "sustained signs of hope" in the battle against coronavirus, but stressed this "doesn't mean we can relax yet".
If transmission rates continue to fall, Ms Sturgeon said Scotland could "gradually  relax the lockdown restrictions".
But Conservative leader Jackson Carlaw referred to a "harrowing" Channel 4 report into Highgate care home, in which members of staff had been interviewed.
The Tory leader said it was "an outrage" that carers were still waiting to be tested and were "fearful" that they had brought the virus into the home.
Mr Carlaw pointed out the  first minister had promised that "everyone would be tested" when there was a care home outbreak on May 1.
Ms Sturgeon confirmed it was the intention to have testing as part of an advanced outbreak investigation and promised to investigate where policy was not backed up by practice. She added that the virus's impact on care homes was one of the most "distressing" parts of the pandemic.
Mr Carlaw said: "We know Scotland is lagging far behind other parts of the UK in making good use of total testing capacity. It is also reported today that the ratio of care home deaths is double that of the figure elsewhere across the UK. Fewer tests for our care homes, more deaths in our care homes.
"Fixing testing must become this government's overriding focus and it is clear that it hasn't been. It is also clear that this government could have  been more transparent about what it was doing for care homes in the early days of the outbreak. Mistakes were made at the start and they have led to the excess deaths we see today. In light of the tragedy in Uddingston and others do you agree that when it comes to testing and care homes by any standards this is a failure?"
Mr Leonard urged the first minister to guarantee every care home worker in Scotland the right to be tested – and take testing stations to care homes so workers are not forced to travel to them.
Mr Leonard said:  "Every day and every night care home staff are going to work in fear that they are passing on the virus to their residents, people who they care for deeply.
"The anxiety and guilt that they feel is a burden which they should not have to carry. Now more than ever they need our support."
Ms Sturgeon highlighted research by the London School of Economics which she said "suggested in England and Wales the real care home death toll is double what the official figures are showing".
Ms Sturgeon said: "I am confident that the figures we are publishing in Scotland are accurate, and I'm not sure that is the case elsewhere in the UK right now.
"I'm not even speaking as First Minister here, I'm speaking as a human being, I deeply regret every single death from this virus.
"There is probably not an hour goes by right now where I don't question myself, I don't agonise over the decisions we are taking, to make sure we are learning as we go and we are getting these decisions as right as possible."