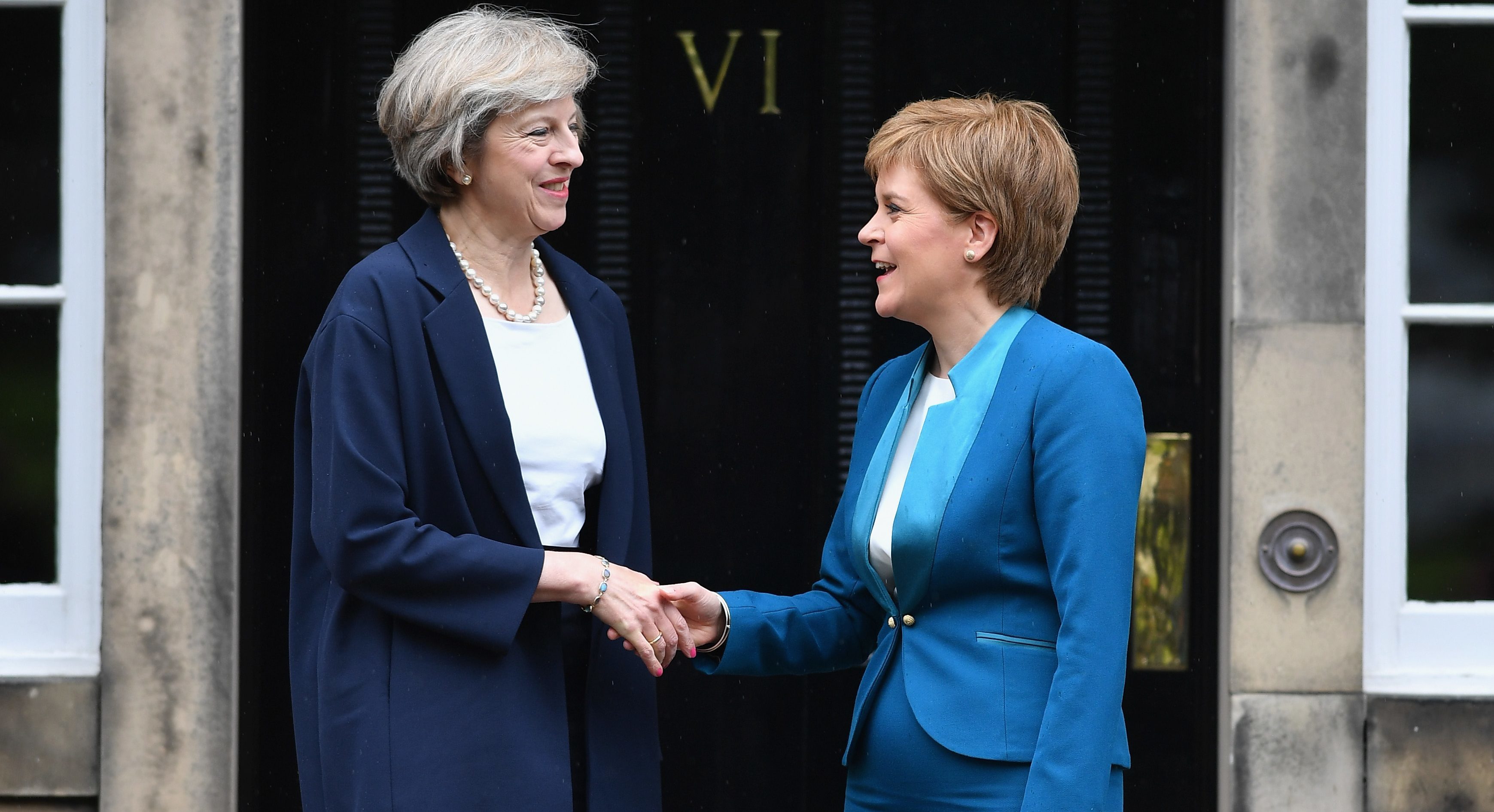 Theresa May is making a "huge political miscalculation" by calling a snap general election, Nicola Sturgeon has said.
The First Minister criticised the Prime Minister's announcement but promised her party would be "standing up for Scotland" during and after any campaign.
The SNP currently has 54 MPs in the House of Commons, with Natalie McGarry and Michelle Thomson standing as independents having resigned the whip due to police investigations, while the Conservatives, Labour, and Liberal Democrats each have one Scottish representative.
Ms Sturgeon said: "This announcement is one of the most extraordinary U-turns in recent political history, and it shows that Theresa May is once again putting the interests of her party ahead of those of the country.
"She is clearly betting that the Tories can win a bigger majority in England given the utter disarray in the Labour Party.
"That makes it all the important that Scotland is protected from a Tory Party which now sees the chance of grabbing control of government for many years to come and moving the UK further to the right – forcing through a hard Brexit and imposing deeper cuts in the process.
"That means that this will be – more than ever before – an election about standing up for Scotland, in the face of a right-wing, austerity obsessed Tory government with no mandate in Scotland but which now thinks it can do whatever it wants and get away with it.
"In terms of Scotland, this move is a huge political miscalculation by the Prime Minister.
"It will once again give people the opportunity to reject the Tories' narrow, divisive agenda, as well as reinforcing the democratic mandate which already exists for giving the people of Scotland a choice on their future."
A senior Nationalist source told The Courier that Mrs May was "making a huge mistake" in calling the election if it serves as a vote on Brexit negotiations.
They said: "Elections are rarely contested on the words on the ballot paper. If people think this is about creating a one-party-state pushing for a hard Tory Brexit and they don't like that then it is a very risky move.
"The only upside for the Prime Ministers is that Labour is an absolute shambles."
A senior figure inside No 10 argued the election would provide stability for the country as Brexit negotiations loom ever closer.
The source also claimed another SNP landslide north of the border, which polls suggest is extremely likely, would not change the Prime Minister's stance on a second independence referendum.
The insider said: "The purpose of this election is to secure stability and provide unity in Westminster. What the Scottish Nationalists want to do is divide.
"We are coming at this from completely different places."
Scottish Conservative leader Ruth Davidson welcomed the announcement, declaring her party is "ready for a campaign…and we are optimistic about the prospect of increasing our number of seats".
She said: "We know the SNP will use this campaign to try and manufacture a case for separation.
"And with Jeremy Corbyn having already said he is 'absolutely fine' with an immediate referendum, we also know that Labour can't be relied to stand up to them.
"By contrast, the Scottish Conservatives have the strength right across Scotland to stand up for people who oppose the SNP's plans.
"The choice is simple: it's between a strong government led by Theresa May working to get the best Brexit deal, or a weak Labour government, led by Jeremy Corbyn, which cannot stand up to the SNP.
"The Scottish Conservatives will be fighting a Scotland-wide campaign in this election. Our aim is to gain support all over the country. We will be fighting for every vote."
Scottish Labour leader Kezia Dugdale described the election as a "significant and historic choice."
"At this election, the choice again will be clear: a Tory Party intent on a hard and damaging Brexit; or a Labour Party that will oppose a second independence referendum and fight for a better future for everybody.
"The Labour Party is ready and has been preparing for a General Election. We will start the process of selecting our candidates this afternoon.
"We will work tirelessly to elect Jeremy Corbyn Prime Minister and deliver a Labour Government."
Scottish Liberal Democrat leader Willie Rennie MSP said: "The Liberal Democrats are relishing the prospect of this election.
"It is a chance to change the direction of the whole of the UK.
"Our optimistic agenda is pro-UK, pro-EU and progressive. We stand with the majority opinion in this country.
"At this election we will stand proud for a United Kingdom within the European single market.
"We will avoid a disastrous hard Brexit and keep Britain united. Liberal Democrats are only party that can stop a Conservative majority across the UK.
"If people want a Britain that is open, tolerant and united, this is the chance."