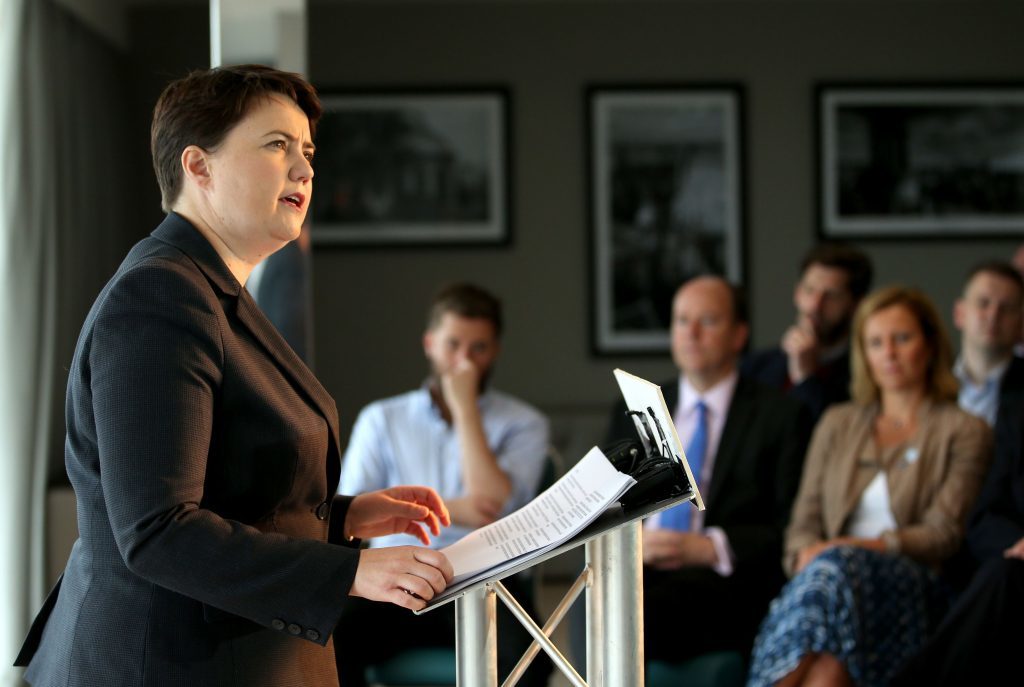 Ruth Davidson has criticised the Conservatives' UK Government partners for failing to introduce equal marriage in Northern Ireland, suggesting the policy is causing gay people to attempt suicide.
The Scottish Tory leader claimed she has been assured by Prime Minister Theresa May that the UK Government will seek to influence the Norther Irish executive to change the law.
Ms Davidson, who is engaged to her partner, Jen, also said she has lobbied DUP boss Arlene Foster on the issue.
In an article for The Times, she wrote: "I've campaigned passionately for this to change. Last year, at Amnesty International's invitation, I travelled to Belfast to make the case in person.
"I've raised the issue with Arlene Foster, leader of the DUP, and have had assurances from the prime minister that the Conservative Party will use our influence in Northern Ireland to press for marriage equality.
"To me it seems anachronistic to tell our young people: you're good enough to serve in our armed forces; you're good enough to care in hospitals; you're good enough to teach in schools; but you're not good enough to marry the person you love and who loves you. That idea of difference is at the root of all bullying.
"Don't get me wrong. Change has happened. I'm 38. When I was born, 'homosexuality' was still a crime in Scotland.
"People could be prosecuted and punished for being in a loving same-sex relationship. Now, those same couples can be recognised in marriage. But, just because things are easier, it doesn't make them easy.
"In Northern Ireland more than 90% of young LGBT people say they face homophobic language in school; 70% of those bullied had death threats; at least 33% have attempted suicide."
Legislation to allow same-sex marriage in England and Wales was passed by the UK Parliament in July 2013, while the same law was approved by Holyrood in February 2014.
Ms Davidson has been openly critical of the DUP's stance on a number of social issues since it emerged their 10 MPs would support the UK Conservative  Government on a confidence and supply basis.
She too has come under fire, however, after terms of the deal included £1.5 billion for Stormont and nothing for Scotland's budget.
Christina McKelvie, convener of the Scottish parliament's Equalities and Human Rights Committee, said: "Ruth Davidson loves to boast about her influence on the prime minister but it has now been exposed as empty bluster.
"If Ruth Davidson was really unhappy about the government being propped up by the dinosaurs in the DUP, her MPs could have done something about it."
The DUP has been contacted for comment.
Help support quality local journalism … become a digital subscriber to The Courier
For as little as £5.99 a month you can access all of our content, including Premium articles.
Subscribe