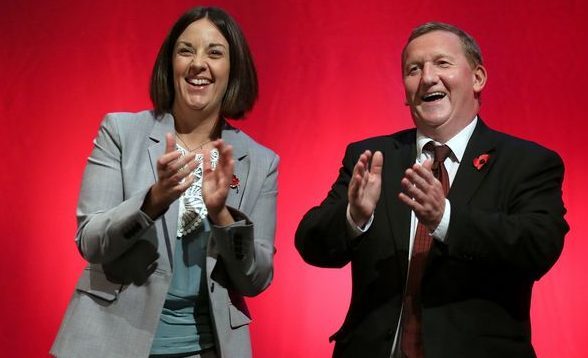 Richard Leonard has unveiled his new frontbench team – but there is no place for Kezia Dugdale or Alex Rowley.
The Scottish Labour chief took a month to announce his shadow cabinet, which excludes the leadership team that took the party into this year's general election.
Mr Leonard said both his predecessor and the former deputy agreed with him they "did not want a front line role".
Anas Sawar, who was Mr Leonard's rival in a fractious leadership race, holds onto his position as health spokesman and takes on extra responsibility for sport.
It is understood that Jenny Marra, the Dundee-based Labour MSP, turned down a role in the cabinet because she wants to continue as convener of Holyrood's public audit committee, which plays a major role in scrutinising the financial problems at NHS Tayside.
Claire Baker, the Fife MSP, has been moved from the justice brief to culture, tourism and external affairs.
Former trade union organiser Mr Leonard said he had taken three weeks to appoint his team because he spoke to each Labour MSP individually.
He said: "I met with both Alex and Kezia and we decided that they did not want to play a front line role at this time in the Labour Party."
He added: "I'm delighted with the people who have agreed to serve in this shadow cabinet. I think it's a strong team which brings together a blend of experience, skills and new energy.
"I think it will be a great team to advocate a strong Scottish Labour message."
Mr Rowley, a Fife MSP, was discharged from a harassment inquiry at the weekend and his suspension from the MSP group was lifted.
Ms Dugdale, who was schooled in Dundee and Fife, was questioned last week by her new boss over her decision to abandon her parliamentary duties without permission from party bosses to go on I'm A Celebrity.
The leadership contest was seen as a battle between those loyal to the left-wing UK leader Jeremy Corbyn and the once dominant centrist element of the party in Scotland.
Mr Leonard, who is closely aligned with Mr Corbyn, has maintained a balance in his cabinet from both factions, as well as the 50-50 gender requirement established by Ms Dugdale.
The leader promoted his ally Neil Findlay to the new position of Brexit, campaigns and party engagement, while Elaine Smith takes up a rebranded post for the eradication of poverty and inequality.
A stand-alone position for communities, social security and equalities has been created and given to Monica Lennon, who championed Mr Leonard during the leadership campaign.
George Adam, for the SNP, said the appointments do not amount to the "real change" Mr Leonard promised his supporters.
"It seems he's more a peacekeeper than a radical – appointing the same old Labour faces on his front bench with just some minor tweaks round the fringes," he added.