A Holyrood committee meeting was suspended twice when members of the public heckled the UK minister in charge of the benefits system.
Esther McVey, the secretary of state for work and pensions, was interrupted by protesters as she tried to defend the roll-out of Universal Credit and the so-called rape clause.
She was asked by the SNP MSP Ben Macpherson to apologise for the "suffering and distress that has been caused" by the roll-out of Universal Credit.
The Conservative minster denied it was a "cynical and critical" system, adding: "The aim for Universal Credit is that it is a supportive system, that there is support whether that is getting into work or whether that is support if you can't get into work, with social security payments…."
At that point people in the public gallery interrupted the minister in an angry intervention that referred to claimants who had committed suicide and had payments suspended for missing appointments.
The meeting of the social security committee on Monday morning was suspended for several minutes.
"I am not oblivious to people who are incredibly vulnerable or who are in need," the work and pensions secretary said when the meeting reconvened.
"Obviously the gentleman felt he needed to have his points said about something that was very important to him and about someone who is very vulnerable."
She said the DWP distributes nearly £200bn a year, adding: "Eighty thousand people are working there to make sure that we reach out to the most vulnerable.
"If anybody does not get that support it's not through lack of trying, because that's what people are employed to do."
There were howls of protests from the public gallery over Ms McVey's comments on the two-child benefit limit and associated rape clause,  which led to a further delay in proceedings.
Speaking after the meeting Alison Johnstone, the Green MSP, said: "I asked the minister if she was comfortable that women have to prove non-consensual conception in order to access a benefit, and she responded by talking about providing support, which totally misses the point.
"It's simply astonishing that this invasive and upsetting clause exists, forcing women to put on record events which they wish to remain private."
Earlier, George Adam, the SNP MSP, described the minister's assessment that Universal Credit is working well for the "vast majority" of recipients" as "devoid of reality".
He said the roll-out of Universal Credit, which has led to delays to people receiving their entitlement, has caused "financial mayhem".
Mark Griffin, the Labour MSP, warned the system could support financial domestic abuse without automatically splitting payments between partners.
Ms McVey said they are not looking at automatic split payments, but says that will happen where there is the need.
The Tory minister said there are contingency measures in place in case the Scottish Government is not ready to assume full control of certain benefits by 2021, as expected under the transfer of £2.7bn worth welfare powers to Holyrood.
Adam Tomkins, the Conservative MSP, referred to reports that the SNP administration has asked for the handover of some of the benefits to be delayed.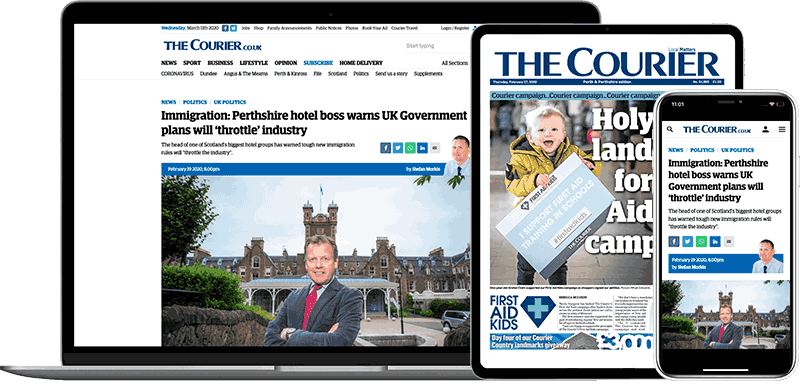 Help support quality local journalism … become a digital subscriber to The Courier
For as little as £5.99 a month you can access all of our content, including Premium articles.
Subscribe