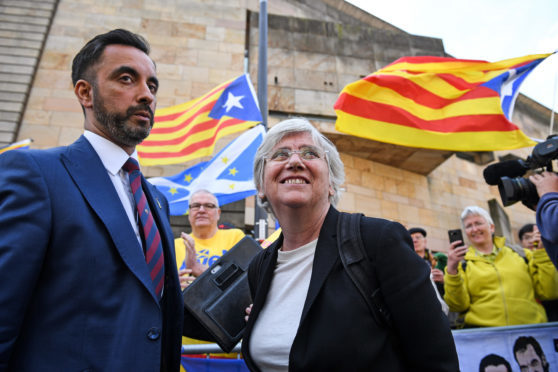 Exiled Catalan minster Clara Ponsati was cheered by SNP activists when she declared that referendums can never be illegal in a democracy.
The St Andrews professor is facing extradition to Spain over her role in an unsanctioned independence vote in Catalonia in October.
She rebuffed a claim from Nationalist MP Joanna Cherry that the vote was unlawful during a fringe event at the SNP conference.
To applause from Scottish independence supporters, the Fife fugitive said: "The referendum – sorry to disagree – was not illegal.
"A referendum is never illegal in a democracy."
The start of SNP conference in March last year was dominated by questions about whether Nicola Sturgeon would stage a "wildcat" referendum after her call for Indyref2 was rejected by Theresa May.
Ms Sturgeon said she expects to outline her referendum plans in the autumn.
Prof Ponsati is wanted by the Spanish authorities on charges of rebellion and misuse of public funds.
The economics professor at St Andrews University is back in court in Tuesday for a preliminary appearance before the full extradition hearing from July 30, which is expected to last more than three weeks.
She told the Young Scots for Independence event on Saturday that the vote was constitutional and pointed the finger at the Spanish Government for breaking the law.
"All along there was a demand for an agreement on a referendum and the Spanish authorities have always chosen to ignore this demand," she said.
"It was the duty of a Catalan Government that had a mandate for independence to organise a referendum. The voters have given us a mandate. We were obliged to do it.
"Besides it's not illegal, we have done nothing illegal."
"The Spanish authorities have manipulated the judiciary, have manipulated the reading of the law, have manipulated the facts."
She added: "What is illegal is what the judiciary is doing in Spain right now."
Prof Ponsati received repeated standing ovations at the fringe event and when she appeared on the stage in the main conference hall ahead of Nicola Sturgeon's keynote speech.
The Fife academic thanked Scots for their "overwhelming" support in her fight.
She told the conference: "I am really overwhelmed by the affection and the support I have received since I put my feet back in Scottish territory.
"What you are doing is showing your belief in democracy and human rights. Catalans are deeply grateful to you for that."
Dozens of Spanish academics signed an open letter in April, insisting Prof Ponsati was being pursued for holding a referendum that was "against the law and the wishes of its citizens", and was not being targeted for her political beliefs.