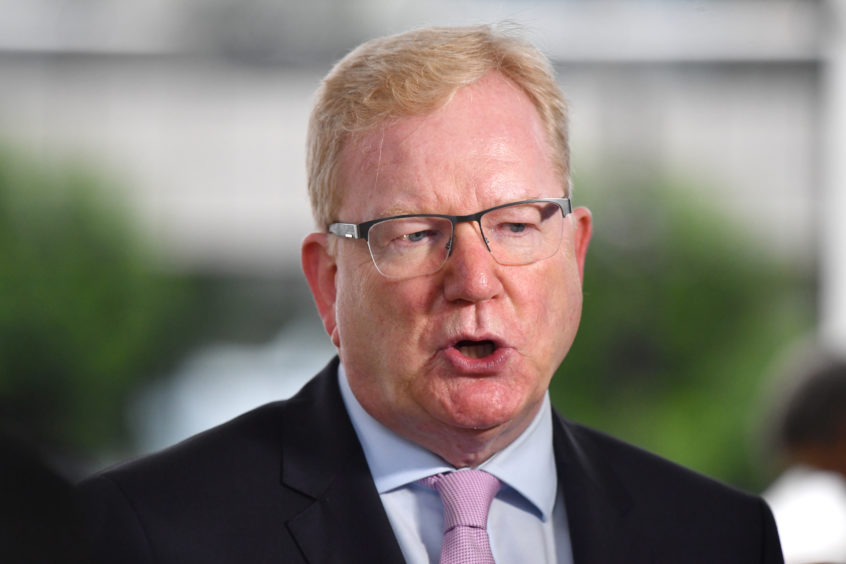 Interim Scottish Conservative leader Jackson Carlaw has been accused of "capitulating" to Boris Johnson and no-deal Brexit.
Mr Carlaw presented a speech at the Conservative party conference in Manchester on Sunday where he said the union of Great Britain and Northern Ireland would "outlast us all" as he doubled down on denying the SNP a second vote on independence.
He had earlier admitted he had not been consulted with on any of Prime Minister Boris Johnson's plans regarding a possible Brexit deal, claiming it was a matter for the Secretary of State Alister Jack.
North East Fife MSP and Scottish Liberal Democrat leader Willie Rennie accused the Scottish Conservatives of having "totally capitulated to Boris Johnson".
Stand-in leader Mr Carlaw opened his speech alluding to the absence of former party leader Ruth Davidson, who stepped down from the position she held for eight years to spend more time with her young family.
He then accused the media of regarding SNP leader Nicola Sturgeon as "governor general".
He said: "The Scottish Conservatives will say no to any referendum the SNP proposes. Not because we fear the result – but because we fear what it will do to Scotland.
"Dividing us again (and) holding us back. Trapping us in a constitutional time warp.
"So, in 2021, we'll see Nicola Sturgeon at the ballot box with this message.
"Put your divisive, backward-facing, unwanted referendum on the table if you want to.
"Our message from people all over Scotland will be simple, Scotland's not for turning – vote for us and together we'll dump that referendum for good.
"Scotland can forget Labour and the other smaller parties – only we have the strength, the will and the resolve to replace the Nationalists in government.
"After a decade of constitutional strife, Sturgeon's referendum will be scrapped on day one and our next Scottish Parliament will be referendum-free.
"Frankly, it is time to stop being shy about Nicola Sturgeon, whether here in Manchester or media based in London, to stop casting Nicola Sturgeon as some benevolent governor general presiding over a mythical and sparkling record of success – nothing could be less true."
Perth and North Perthshire MP Pete Wishart said the Tories were "running scared".
"It's no surprise that the Scottish Tories have fallen into line behind their Westminster bosses and are now card-carrying do-or-die Brexiteers," he said.
"Having started out as a Remain-supporting party – and having expressed serious concerns about the prospect of Boris Johnson becoming PM – the so-called leadership of the Scottish Tories have steadily abandoned all of their principles to fully sign up to Boris Johnson's no-deal Brexit – with all the disastrous consequences that would have for Scotland's jobs, our economy and our public services.
"No wonder the Scottish Tories are running scared of the verdict of the people of Scotland – whether that be in a general election or in the option of choosing a better future as an independent nation."
Mr Rennie said: "The Scottish Conservatives are like the Republican party under Donald Trump, subservient and fawning no matter the economic harm or personal conduct of their master.
"There are hundreds of thousands of sensible, moderate people who have no time for the bluster of Boris Johnson and his flunkies."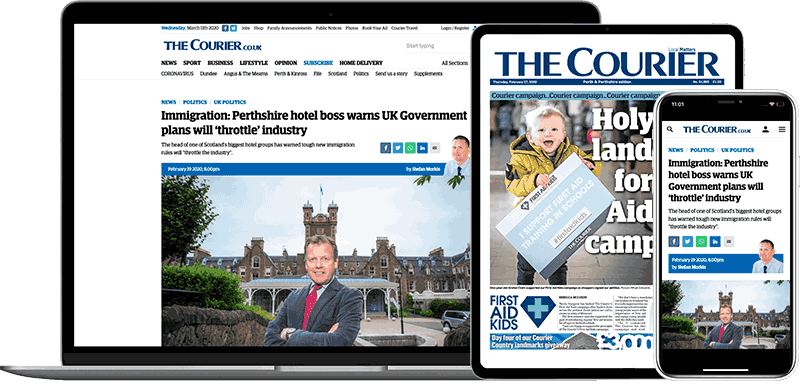 Help support quality local journalism … become a digital subscriber to The Courier
For as little as £5.99 a month you can access all of our content, including Premium articles.
Subscribe