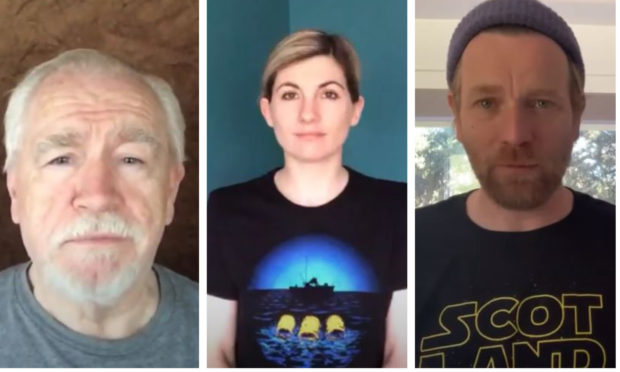 Actors Brian Cox and Jodie Whittaker are the latest celebrities to join a campaign to raise vital cash for a Scottish children's charity.
Dundonian Cox, the star of hit TV show Succession, and Whittaker, who plays Doctor Who, are encouraging people to geek out as part of a project to support CHAS (Children's Hospices Across Scotland).
The celebs have donned their nerdiest shirts for the Share Your Joy campaign, which hopes to generate cash for the charity on Monday, May the Fourth – Star Wars day itself.
Cox and Whittaker are the latest A-listers to join the campaign after Scots actor Ewan McGregor lent his support to the cause last week.
People are being asked to don a "geeky t-shirt" on Monday, or to wear a CHAS one, and  share their efforts using the hashtag #MayThe4thBeWithCHAS.
The charity, which had to transform the way it operates due to coronavirus, is continuing to support families during the Covid-19 pandemic.
CHAS set up a "virtual hospice" to support children and families who are self-isolating due to the virus.
The charity is also hosting The Big Geeky Quiz on Monday, May 4.
CBeebies star James Mackenzie will helm the event, with questions coming from Ewan McGegor others from the worlds of Star Wars, Disney and others.
CHAS community fundraising development manager Laura Campbell said: "We are bowled over by the attention this appeal has had so far.
"We've had support from schools, universities, workplaces, sport teams, political figures, people from the film, TV and music world, and most importantly the CHAS families this is all for.
"It means a lot to have backing from Jodie, Brian and Ewan to seriously highlight our position.
VIDEO: Star Wars actor Ewan McGregor launches out-of-this world appeal for CHAS
"We hope people from all over Scotland, and perhaps even further afield, are able to join in on the day and maybe take part in our 'Big Geeky Quiz' at 8pm on Facebook Live, which will feature guest questions from a few famous faces.
"We've got Jedi legends, legendary X-Wing pilots, White Walkers, Disney princesses, Power Rangers – it's about to get nerdy."
The funds and awareness raised by the event will help CHAS on its mission to reach every single baby, child and young person who needs them, despite the pandemic.
Geeky T-Shirt participants are encouraged to share their efforts online and donate £3 by texting 'Geeky 3' to 70450.