A final shortlist of six designs for Scotland's baby box initiative has been unveiled at Dundee University by the minister for childcare and early years, Mark McDonald.
The city's V&A Museum ran a competition, on behalf of the Scottish Government, for students from across the country to come up with a design for the boxes.
From woodland creatures and the Loch Ness monster to buses and famous Scottish symbols, each design is intended to be interactive, helping to record milestones and memories.
Mr McDonald said: "This competition has absolutely captured the imagination and creativity of young designers throughout the country and I am extremely impressed by the exceptionally high quality of all the entries we received.
"One of these designers will not only receive exclusive mentoring from leading Scottish designers Scott Jarvie and Holly Fulton, as well as a prize of £1,000, but will see their idea rolled out on every box, for every baby in Scotland, once they launch nationwide this summer.
"The baby box is a simple idea with a proven track record in tackling deprivation, improving health and supporting parents, and I'm extremely pleased we are now another step closer to introducing it throughout Scotland."
The idea for the baby boxes comes from Finland, where all families are given a box of essential items such as nappies, clothes and books, with the boxes themselves being suitable for sleeping in.
The baby box concept is also intended to encourage engagement by expectant parents with maternity and ante-natal services.
Video: The launch
The winning design for the Scottish boxes will be put into production from the summer of this year until March 31, 2019.
Philip Long, director of V&A Dundee, said: "We have all been very impressed with the creativity and professionalism of the final submissions. Selecting a winner will not be easy!
"Part of the project is that the winner of the competition will continue to have mentoring support from judges Holly Fulton and Scott Jarvie, two of Scotland's most talented designers.
"We hope this will be a fantastic support to the winner as they themselves set out on their own professional career."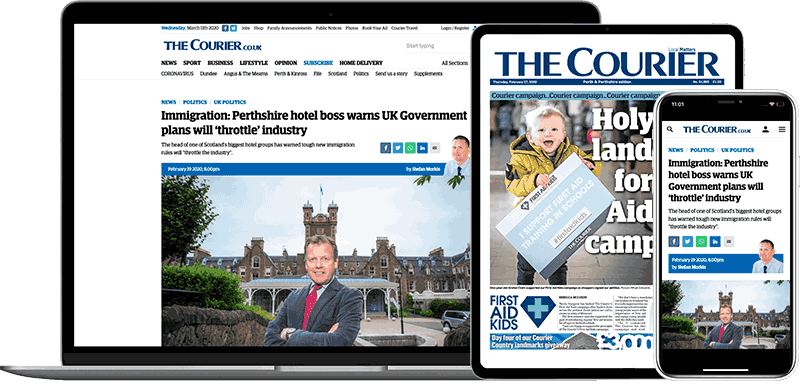 Help support quality local journalism … become a digital subscriber to The Courier
For as little as £5.99 a month you can access all of our content, including Premium articles.
Subscribe