With the weather taking a turn for the worse, locals across Tayside and Fife took to social media to post footage of a thunderstorm which hit the region overnight.
Although the country is in the midst of a heatwave, which has brought abnormally high temperatures to the UK in recent weeks, thunder and lightning moved past both Angus, Dundee and Fife on Thursday evening.
Despite the overnight conditions, parts of Scotland are expected to enjoy highs of up to 26C on Friday.
It comes as the Met Office issued a yellow weather warning for Tayside and Fife, with thunder, lightning and torrential rain forecast to continue on Saturday morning.
Blair Durno captured footage of Thursday night's thunderstorm as it passed over Arbroath at about 10.40pm.
Others took to social media to post videos and photos of the weather.
Had a fab thunderstorm last night, bit tame but still, we don't get them very often in Fife Scotland #thunderstorms pic.twitter.com/bsNefMCGva

— ??? Nicki STAN ??? (@4misspinkypink4) July 27, 2018
Cracking thunderstorm going on over Arbroath at the moment.?

— Rod MacDonald (@RoddyFMacDonald) July 26, 2018
Some cool lightning in broughty ferry#Dundee

Bone dry and no rain or thunder thoughhttps://t.co/gHSA6lP48V carnoustie/arbroath atea pic.twitter.com/1DoqRl4gJo

— weeblackchopper (@weeblackchopper) July 26, 2018
This incredible shot of lightning above the Forth was also captured on Thursday evening.
@WindyWilson88 this last night from #southqueensferryphotography absolutely spectacular #Queensferry #Lightning pic.twitter.com/dJvNlg51YG

— Dónal Ferrie ?? ??. ??????? (@mionloch) July 27, 2018
Thunder and lightning with my pal chris at Turnhouse on a break. Lightning heading towards the forth bridges as we speak …… #edinburgh #scotland #turnhouse #thunder #lightning

Posted by Dynamic Edinburgh on Thursday, 26 July 2018
More #Edinburgh #lightning from last night #thunder #storm pic.twitter.com/90lTeWwztK

— Pamela Hunter (@pamipandimonium) July 27, 2018
Weird #thunder #lightning tonight in #Edinburgh fantastic but short lived pic.twitter.com/rhiTc3XJQV

— Pamela Hunter (@pamipandimonium) July 26, 2018
A storm in heaven #electricity #edinburgh #thunder #lightning #storm #verve #suede #ACDC pic.twitter.com/HicblngiV6

— Séan Dineen (@SeanMDineen) July 26, 2018
Sunny Boy says this is how its looking just now . . . If we're lucky it'll just skiff the EASTERN side of #Scotland

Don't fret though, as there's a lot more bubbling away . . . The next 2-3 days are going to be exceptionally "stormy" #ScotsStorm pic.twitter.com/pS4M7eV5yb

— Windy Wilson (@WindyWilson88) July 27, 2018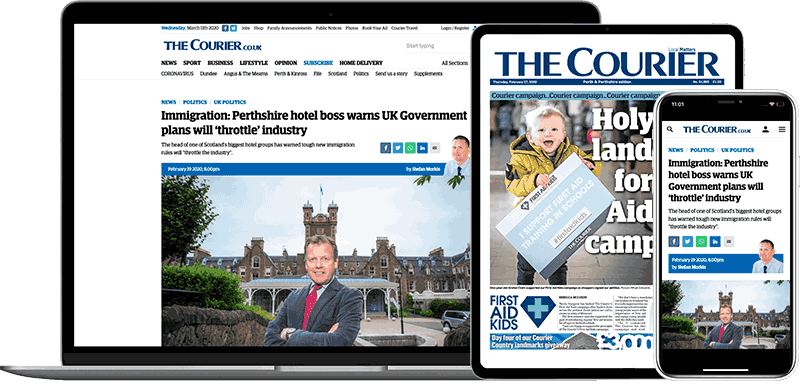 Help support quality local journalism … become a digital subscriber to The Courier
For as little as £5.99 a month you can access all of our content, including Premium articles.
Subscribe