Footage of a Scots police officer being chased by a cow has gone viral after being shared across social media.
The force uploaded a video of the brave policeman – named as PC Ross of the road policing unit's J Division, based in Dalkeith – attempting to put the animal back into a field on Twitter.
The cow is filmed charging towards the officer on the A7 Edinburgh to Selkirk road near Fountainhall.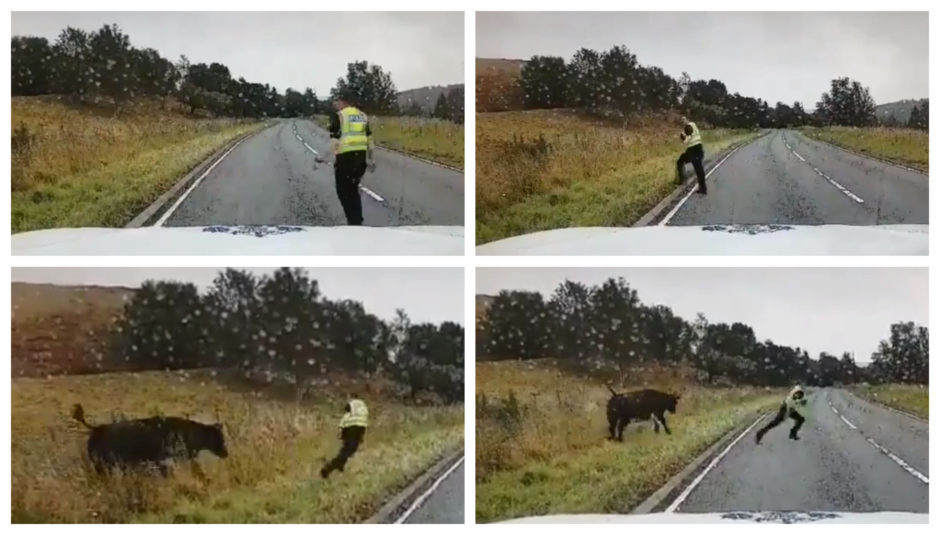 Both the cow and PC Ross were unharmed.
The road policing unit posted: "Sunday blues?! Here is PC Ross & his udderly amusing attempt to direct an errant cow back to its field!
"Pleased to report that neither PC Ross or any animal were harmed during this incident and despite some initial reluctance the animal returned to its field."
Sunday blues?! Here is PC Ross & his udderly amusing attempt to direct an errant cow back to its field! Pleased to report that neither PC Ross or any animal were harmed during this incident & despite some initial reluctance the animal returned to its field. ? #keepingroadsclear pic.twitter.com/mZ3yT3HJr5

— Road Policing Scotland (@polscotrpu) July 29, 2018