As internet shopping continues impacting on high street traders, would slapping an 'Amazon tax' on online retailers really make a difference? Michael Alexander reports.
It's been described as the year of store closures as many big brands suffer money woes including Toys R Us, Poundworld, Mothercare, Maplin, House of Fraser and the Original Factory Shop.
Ironically, the existence of many of these companies' superstores in out of town retail parks have been blamed for the 'death' of high streets – many of which continue to struggle due to a combination of people doing more online shopping, relatively high business rates, less consumer money and the shift to out-of-town retail experiences.
But would slapping a so-called "Amazon tax" on online retailers really help Scotland's beleaguered high streets?
Perthshire Tory MSP Murdo Fraser thinks so. As reported this week, he blames the demise of town centre shopping on internet rivals' lower costs in areas such as business rates.
The Scottish Conservative, who is a low tax campaigner, believes a levy of 2% to 5% for web purchases would help level the playing field for struggling shopkeepers.
The fresh call comes after it was revealed that Amazon, which has a distribution centre in Fife, has slashed its tax bill despite increasing profits in the UK.
Mr Fraser said: "While high street stores, big and small, are crippled by sky high business rates, online retailers can pay much lower rates on out-of-town warehouses.
"On top of this, despite sales of close to £2 billion, we now learn that Amazon has managed to cut its corporation tax.
"The consequence is that much-loved stores like House of Fraser are now in peril, including iconic stores like Jenners in Edinburgh.
"We need to back the high street, or we face the prospect of towns and cities across Scotland being disfigured by board-up shop fronts."
Yesterday Philip Hammond hinted at possible tax changes to ensure high street retailers are able to compete with online rivals, hours after House of Fraser was rescued in a last-ditch deal.
"We want to make sure that the high street remains resilient and that we also make sure that taxation is fair between businesses doing business the traditional way and those doing business online," the Chancellor told Sky News.
He said that a change in the system "requires us to renegotiate international tax treaties because many of the big online businesses are international companies", adding: "The European Union has been talking about a tax on online platform businesses based on the value generated. That's certainly something we'd be prepared to consider."
However, an organisation that represents major retailers, including Amazon, said this week an "Amazon Tax"  would punish high street shops as well as online specialists.
Ewan Macdonald-Russell, of the Scottish Retail Consortium, said: "Digital retailing isn't the problem.
"Indeed for many long-established high street retailers, it will be the key to their future growth.
"It's already increasingly difficult to distinguish between online and physical sales as retailers look to adopt multi-channel operations."
Pressure from the internet, pressure from large national retailers and changing attitudes in society to how people attach themselves to their town recently led former international marketing executive Graeme Black and his wife Anne to close their Funky Rascal independent quality clothing store in Crossgate, Cupar, and move the business online only.
Amid concerns about Brexit, and with most of his stock imported from the EU, Mr Black has been experimenting with the possibility of basing all his stock with Amazon in Germany to avoid potential tariffs and currency fluctuations.
The father-of-two, who believes Cupar town centre is "surviving – but not thriving", said: "I fail to see how 'punishing' online retailers will do anything positive to help high street retailers. This 'levy' is just a tax which will go into the central Government's coffers.
"Unless there is a plan of how to assist high street retailers, town centres, etc, it's meaningless.
"The business rates review carried out the other year did very little for high street properties – the changes being pitifully small.
"Online retail in the UK currently accounts for around 25% of sales. For many shops, losing that percentage of sales will mean their margins cut to the bone or gone entirely."
Mr Black described online retail is far more of a commodity purchase decision with consumers able to compare price with the click of a mouse anywhere in the world.
He added: "Perhaps if the Tory party hadn't imposed the unnecessary austerity measures that they have for the past eight years and hadn't played stupid internal political games with the Brexit referendum, our high streets might be in a better condition."
Bill Harvey is Business Improvement District (BID) manager with Kirkcaldy4All – a local business partnership which works to promote Kirkcaldy's struggling town centre as a place where people want to "work, shop and spend their leisure time in a welcoming environment which is customer focused and investment-friendly".
His main concern about an "Amazon tax" is that big companies would simply pass on extra charges to consumers.
With Kirkcaldy High Street challenged by out-of-town retail and a general down turn in the local economy over the decades, the reality regarding high streets, he said, was that they will never be "full of shops" again.
Instead, a mix of retail and leisure tourism had to be identified so that people have more of a town centre "experience". Shop owners doing well, he added, tended to be those offering a quality product.
Stuart Mackinnon, external affairs manager for the Federation of Small Businesses in Scotland, said: "Many high street operators outside the scope of existing Scottish Government help would welcome measures to reduce their rates burden.
"And there's no doubt that the rise of the digital economy is putting pressure on our existing tax systems.
"However, we don't want to penalise local shops that have diversified and started selling online.
"Nor do we want to penalise new start digital businesses.
"That's why any reforms of our tax systems need to be carefully considered.
"At the moment, the Scottish Government are looking to pilot new rates schemes – to take money from out of town and online operators and reduce bills on high streets.
"We'd argue that any pilot needs to combine changes to local rates with other activity to boost town centres, like locating more public services on our high streets.
"Further, we've made the case to officials that schemes need to be designed in partnership with a wide variety local businesses."
Several high-profile retail chiefs have called publicly for a level playing field between bricks and mortar firms and online giants such as Amazon in terms of tax.
They have pinpointed business rates as their biggest bugbear, labelling the tax archaic and not fit for purpose in the light of online competition.
Amazon pays a minuscule amount in business rates despite its sales dwarfing those of high street retailers with similar property bills.
House of Fraser was bought out of administration by Mike Ashley's Sports Direct on Friday and is the latest in a long line of well-known names to hit trouble.
Poundworld, Maplin and Toys R Us have all gone bust this year, with several other firms such as Mothercare, Carpetright and New Look undertaking store closure programmes.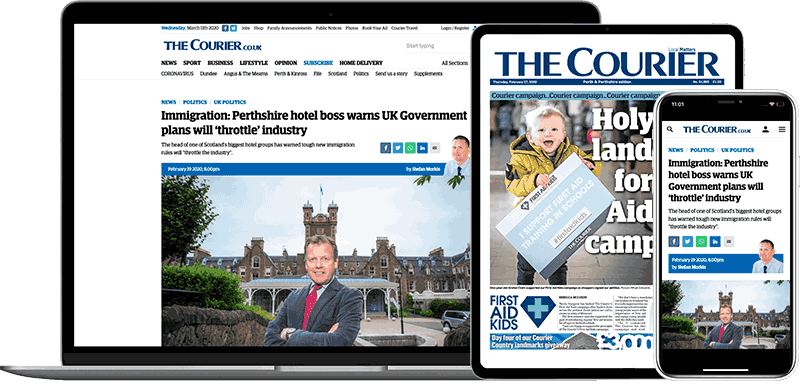 Help support quality local journalism … become a digital subscriber to The Courier
For as little as £5.99 a month you can access all of our content, including Premium articles.
Subscribe