Forecasters have warned of snowfall across Tayside and Fife this weekend as freezing conditions arrive in Scotland.
The Met Office has not ruled out the wintry showers landing at low levels, including Perth and Dundee, on Saturday and Sunday as temperatures plummet across Scotland.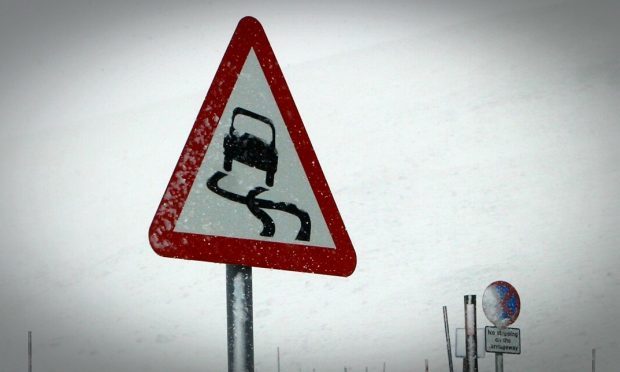 The mercury is expected to drop to -8C in parts of the country at the weekend, with snowfall expected in Courier country.
The Met Office hasn't ruled out issuing warnings to coincide with the weekend's conditions.
A weather system is pushing into Scotland from the Atlantic on Saturday morning, while there is also the potential for showers of sleet or snow moving in from the North Sea on the same day.
A cold front is also due to hit Scotland on Sunday – however forecasters are currently unsure whether the showers associated with it will land as snow, sleet or rain.
Remote areas and hilltops are expected to endure the worst of the freezing conditions, with Met Office meteorologist Sophie Yeomans saying it is still too early to know if the showers will land as snow in such low lying areas across Tayside and Fife.
Temperatures could drop to -2C in parts of Scotland from Friday night into Saturday morning, while into Sunday morning lows of -8C could be reached.
Strong winds of up to 70mph are also possible on Saturday.
Miss Yeomans said: "There are weather systems pushing in this weekend. There is one overnight on Friday into Saturday morning. It is looking quite uncertain how far across Scotland it is going to come.
"It is pushing in from the west, but it could be that it doesn't quite reach the east. That weather system will certainly see some hill snow on the tops of mountains, there is a chance of seeing it to low levels as well.
"If it makes it that far across then you could see some snow in the early hours of Saturday into the morning.
"The only other thing on Saturday, if it doesn't make it across into the eastern side (from the west), chances are we may have showers coming across off the North Sea.
"There may be snow and sleet to low levels either way. So there is a risk of seeing it on Saturday during the day.
"At the moment it is too uncertain to give more details – it could fall as rain, sleet or snow.
"Another thing to mention is late on Saturday night into Sunday morning another weather system will push through and keep on travelling into the North Sea. It is also on that boundary between rain and snow.
"We'll get some precipitation falling overnight Saturday into Sunday, the question is whether it is rain or snow.
"It is going to be a cold couple of days across Scotland."
She added: "Low levels are probably more likely not to see snow than to see it, it is just not completely out of the question.
"Our advice to people is to keep up-to-date with the forecast. There probably will be some warnings going out.
"The hills and mountains are quite likely to see that snowfall. Lower levels it is quite likely to fall as rain. It could end up being quite windy as well . It might be that the winds cause more trouble than snow if it doesn't come off as snow."