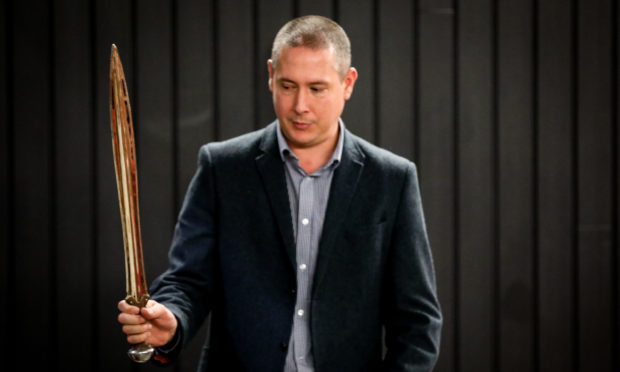 Invaluable bronze-age weapons unearthed in Carnoustie should go on permanent display in Angus, a councillor has argued.
A gold-decorated spearhead, bronze sword, leather and wooden sword sheath and a sunflower-shaped pin were among the "star finds" taken from the dig next to Carnoustie High School.
Replica versions of the weapons and a model of the dig site were the key attractions during an event at the High School on Monday, sparking calls for the real thing to go on permanent display in Angus.
Councillor Brian Boyd said the administration should find a permanent home for the treasures.
He said: "They should be kept locally. There are a number of suitable locations, such as the Burgh Chambers on the High Street or the golf pro-centre where they could accompany the trophies.
"We want to build on the success of golf. So people come, play, go on a visit to Glamis Castle, or see items like these, as part of their visit."
Papers show the council has spent more than £286,000 retrieving and studying the items to date. Independent councillor Mr Boyd said an Angus attraction would see a return on that investment.
"We have had to foot the bill, and it's a lot of money, so we should be looking at this very closely."
A similar Bronze Age hoard was recovered at Pyotdykes farm, just outside Dundee, in 1963. The McManus Art Gallery and Museum in Dundee hold two swords and a spearhead recovered from that dig.
Warren Bailie, operations manager for Archaeology contractors GUARD, said the Carnoustie weapons were likely to have been deliberately hidden to protect them from neighbours.
"They were buried in a pit among several bronze age houses. They seem to have been put there for safe keeping and the people in the houses probably all knew they were there."
He said the sword had a notched and reworked blade, showing it had been used and was not hidden as part of a ceremonial burial or sacrificial offering, as in other sites from the period.
"They were likely the only ones owned by the community and it is highly unusual we found them in such a well-preserved condition."
A council spokesman said officers were in contact with the relevant organisations as discussions on the future of the hoard continued.
He said: "It is anticipated that the reconstruction model and replica items will go on display locally in due course.
"No decision has been taken as yet with regards to the actual sword and spearhead, or the many other artefacts.
"Further to that, we have, from the outset, expressed an interest in retaining the hoard and the many artefacts locally, but any final decision on their future location is a matter for the Treasure Trove Panel in Scotland."
Tests have shown the site dates back to the Stone Age and is one of the most extensive of its kind ever discovered.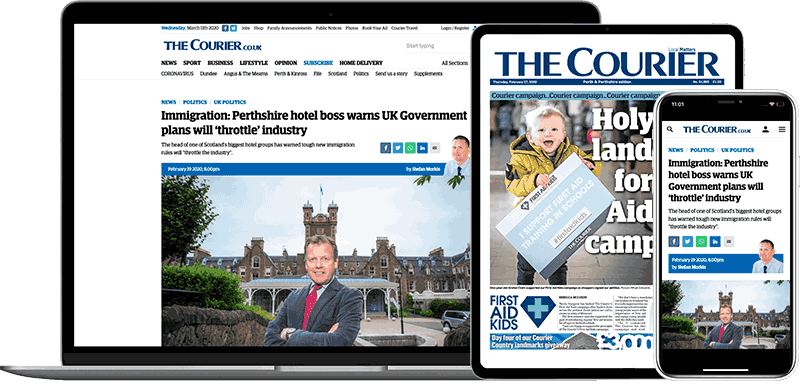 Help support quality local journalism … become a digital subscriber to The Courier
For as little as £5.99 a month you can access all of our content, including Premium articles.
Subscribe