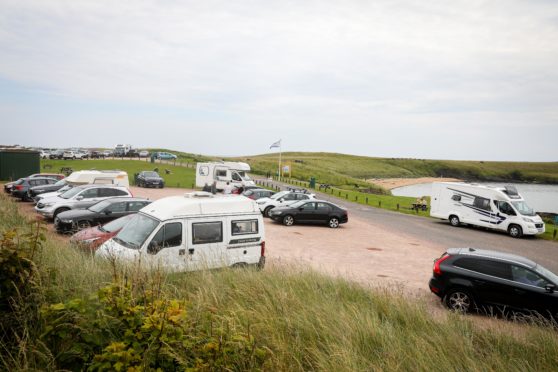 Sir, – Every year a huge wealth migration in the form of European and southern Englander's campervans takes place up to, and back from, Scotland.
These visitors are for the most part multilingual, cultured, responsible and wealthy people and are among our best customers, vital to our own survival as a Pottery Cooperative and to the likes of the Pittenweem Arts Festival and other venues.
In the rest of Europe, tourist towns and areas provide a mostly free campervan service for overnight stays; they are recognised as being an important tourist adjunct.
Crail Pottery was founded in 1965, and until 2015 campervans freely used the Marketgate for overnight stays; a summer average of five or so vans a night, with their average spend of £100 or so each, vital to the co-operative.
In the old days, jobs for young people were important. However, probably a majority of the area's new demographic includes non-local retirees, working commuters and second homeowners who now, quite frankly, find tourism a nuisance.
Hence the community councils persuading Fife Council to erect signs originally forbidding any campervan parking in Marketgate during the day and at night, now modified to forbidding overnight stays.
So the campervans moved to the likes of Kingsbarns beach, where I go often, and now they cause very little trouble and present little danger.
My family is probably one of the biggest employers in both Crail and Anstruther. Do jobs for our young people no longer count? Why is Fife Council so hostile to campervans, resulting in them travelling to routes like the North Coast 500?
Have they never thought how many millions would be brought into Kirkcaldy High Street, Leven High Street, Burntisland and so on, by providing free campervan service areas on the sea fronts? Especially for Kirkcaldy with its rail connection with Edinburgh.
The simple facilities campervans need is an area of land, a tap, litter bins and a wastewater disposable point.
I therefore urge Fife Council to erect notices welcoming campervans to Fife as they now do in the border towns, to remove the hostile signs in Crail and provide the facilities these pleasant people require.
I served on Crail Community Council for many years, in those days tourists were cherished and jobs for our young people were paramount.
As a walker and lover of Fife countryside I visit these local 'problem sites' frequently and never find a problem.
The season is very short. If we could get campervans to visit in the winter, it would benefit the community greatly and mean more jobs for our young people.
We must provide our campervan visitors with what they rightly expect from a civilised European country.
Stephen Grieve.
Crail,
Fife.
The Twain shall meet, perhaps
Sir, – It was interesting to see Mr Alan Hattel felt that reports of his death had been 'greatly exaggerated' (The Courier, January 22).
Your report of his discovery of his name on a gravestone in Forfar's Newmonthill Cemetery prompted me to look up the exact quotation from Mark Twain, now nearly 127 years old.
The great author had been in London when rumours of his demise began to circulate in sections of the American press.
He cabled the New York Journal on May 2 1897 with these words: "I can understand how the report of my illness got about.
"I have heard on good authority that I was dead. James Ross Clemens – a cousin of mine – was seriously ill two or three weeks ago in London but is well now. The report of my illness grew out of his illness. The report of my death was an exaggeration."
Those last eight words have been distorted over the years but for some reason they are regarded as some of the most humorous.
It may be little consolation to Mr Hattel, who has clearly suffered some embarrassment.
But if it encourages him to read some of Twain's works, and gain pleasure from them, the whole affair might well have been worthwhile.
Bob Taylor.
24 Shiel Court,
Glenrothes.
Good news for the birds
Sir, – The early morning milk round is back as consumers shun plastic and demand milk in a glass bottle.
Deliveries of glass milk bottles have increased five-fold in the past two years.
This is great news for the planet but also great news for the blue tits and great tits who will peck their way into the cream.
Clark Cross.
138 Springfield Road,
Linlithgow.
Brexit outline is 'concerning'
Sir, – Recent media reports implying the Brexit plan maybe falling apart are concerning.
You would expect such reports from a 'remainer', but surely not the respected and knowledgeable news outlets.
It will be obvious to all that anything less than the best exit deal will undermine families on benefits either in or out of employment, pensioners, and anyone earning less than average earnings.
I was concerned to hear Priti Patel advise the proposed immigration rules, being points-based, would not support the soft fruit and other manually intense farming industries, even with the additional temporary work visas negotiated last year.
Then Sajid Javid commented that the trade deals would not be aligned to EU regulations and some industries may benefit and others would not. Finally, the great backstop deal option, the US of A, have advised they would retaliate if the UK Government taxed their global internet/tech companies like Amazon, Google and Apple to name a few.
Alistair Ballantyne.
10 Hillpark Drive,
Dundee.
Time to practise what we preach
Sir, – Reading The Courier Letters page, one could conclude that supporters of the main political parties never agree about anything.
However, in one major area of policy there seems to be agreement by default. Parties boast of their targets to reduce carbon emissions while seemingly ignoring their commitments when making decisions.
Transport services have an obvious potential for reducing carbon emissions by encouraging the use of public transport, but we need look no further than Dundee for examples of new houses being built without access to a bus service (the Western Gateway).
It would also be helpful if authorities stopped any more out-of-town retail parks as they are generally targeted at car drivers and less accessible to public transport users.
Also, a new Tay crossing is being considered and there are often calls for more and bigger trunk roads. The more new roads, the more we encourage the idea that private vehicles are the only way to travel and nobody is serious about reducing carbon emissions.
Robert Potter.
Menzieshill Road,
Dundee.
MSP's payment to reflect output
Sir, – If John Mason MSP only plans to represent those of his constituents who support Scottish independence, then his salary needs reviewed. An MSP is paid £61,778 to represent all of their constituents.
If Mr Mason only wishes to represent the 55.95% who voted for him his salary should only be £34,564.79p.
Otto Inglis.
6 Inveralmond Grove,
Edinburgh.