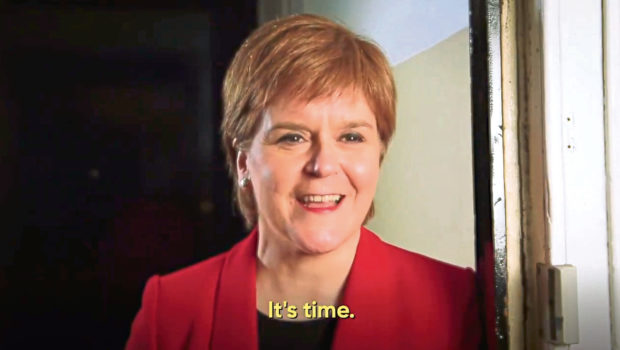 Spoilers are everywhere.
We live in a world where content is delivered to us on demand either at home or on the go.
It makes life more convenient but there are pitfalls: there's a good chance that even if you tip-toe through social media you're likely to find important plot points spoiled unless you're first in the queue to see Avengers: Endgame or are willing to stay up until the wee small hours to find out exactly who carks it in Games of Thrones when it is first broadcast.
Some things, of course, can never be spoiled.
Take the SNP's commitment to independence, for example.
This week, First Minister Nicola Sturgeon shockingly reaffirmed that the party set up to win independence for Scotland is still in favour of independence.
Ms Sturgeon also said she wants to hold another referendum before the end of this parliament in 2021.
There are two schools of thought on Ms Sturgeon's sort-of-announcement: the first is that she is deadly serious about yet another vote, the second is that this is entirely about heading off the more excitable SNP members before the party's conference this weekend.
What is certain, however, is sheer out-and-out weirdness of the video released to coincide with the First Minister's announcement.
In a remarkably sunny flat, a man who sleeps with the curtains open and wears a "Yas" T-Shirt to bed is woken by his alarm clock at 7.30am.
Still wearing the same T-shirt, he ambles through to the kitchen turns on the radio in his kitchen to listen to the news, where the bulletins are packed with tales of Brexit woe.
Then he has a bowl of cereal and checks his phone for to read about some more Brexit-inspired carnage.
The time is now 8.24am. Our intrepid independence campaigner has been awake for nearly an hour and done nothing but mope and eat cereal. Show me someone with that much time in the morning and I'll show you someone living a life of luxury rather than being trapped in the Brexit dystopia we are being asked to imagine.
Things then get even stranger.
He answers a knock at the door to find Nicola Sturgeon herself standing there, who tells him: "You know we can do better than this. It's time. Get your coat."
As far as inspirational videos go this makes the First Minister seems more like an aunt making an intervention in the life of a feckless nephew rather than leading the charge into a Brave New Scotland.
And what exactly is she doing door-stepping anyone at 8.30 in the morning? That's a bad time. Chances are that if you're still in the house, you're running late and don't have time for a constitutional chit-chat. Also, who wants the First Minister at the door when the kitchen is liable to be in a right state? Verisimilitude matters.
All political ads are terrible, of course, but this is a particular doozy.
The surprise cameo is also – spoiler – not much of a surprise given the SNP used the same trick in a party political broadcast last year when guests at the world's worst party discussed the glories of the SNP before Ms Sturgeon turned up like the ghost of Yoda to impart some suitably gnomic wisdom.
More spoilers: there will, at some point, be another referendum on independence.
But if the SNP wants to win then it needs to find a new twist in the tale to inspire voters.
Given the uncertainties caused by Brexit, those who were fearful of the potential consequences will be harder to convince of its possible merits, not easier.
And it's winning over those swithering voters, not those already so committed they can't let go of the 2014 referendum, that are key to winning independence.
??????? Westminster isn't working for Scotland. We've been ignored too often. It's time for a fresh start – to choose a different and better path.

As an independent country, Scotland's future will be in Scotland's hands. Sign here to pledge your support. https://t.co/r3WjSWVjjP pic.twitter.com/OC1XEyUkx9

— Yes (@YesScot) April 24, 2019
Road to ruin?
The North Coast 500 has, in tourism terms, been a huge success.
Drivers have come from far and wide to drive around Scotland's north coast and take in some of the world's most spectacular scenery along the way. Even Jeremy Clarkson was impressed.
But while its popularity has brought economic benefits, locals have expressed concerns about littering, dangerous driving and the amount of traffic in the road.
There are hopes the Heart 200 route in Perthshire and Stirling will have a similar economic impact.
Hopefully without the negative consequences found further north.
WHO knows best?
Parenting is not easy. In my experience, 50% of it is getting things horribly wrong.
The other half, the good parenting, is done by CBeebies.
Which makes this week's report by the World Health Organisation particularly worrying.
The United Nations body said children under three should not watch any TV at all while those between three and five should have no more than an hour's screen time a day.
The report also states children under five should have regular bedtimes and get a good night's sleep, something every parent wants but few get.
Children are wonderful but sadly not as controllable as WHO's "experts" seem to think.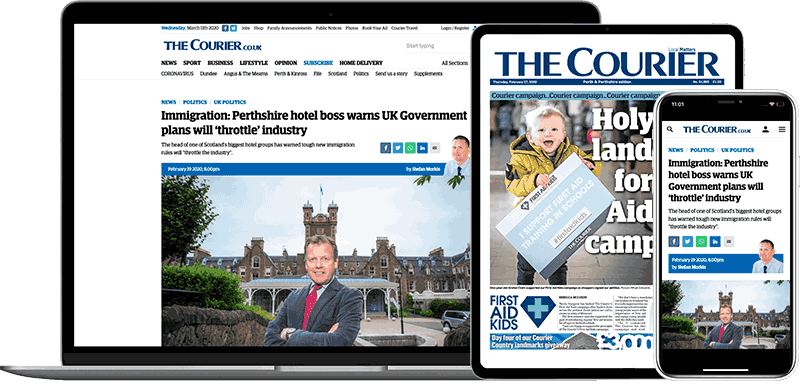 Help support quality local journalism … become a digital subscriber to The Courier
For as little as £5.99 a month you can access all of our content, including Premium articles.
Subscribe