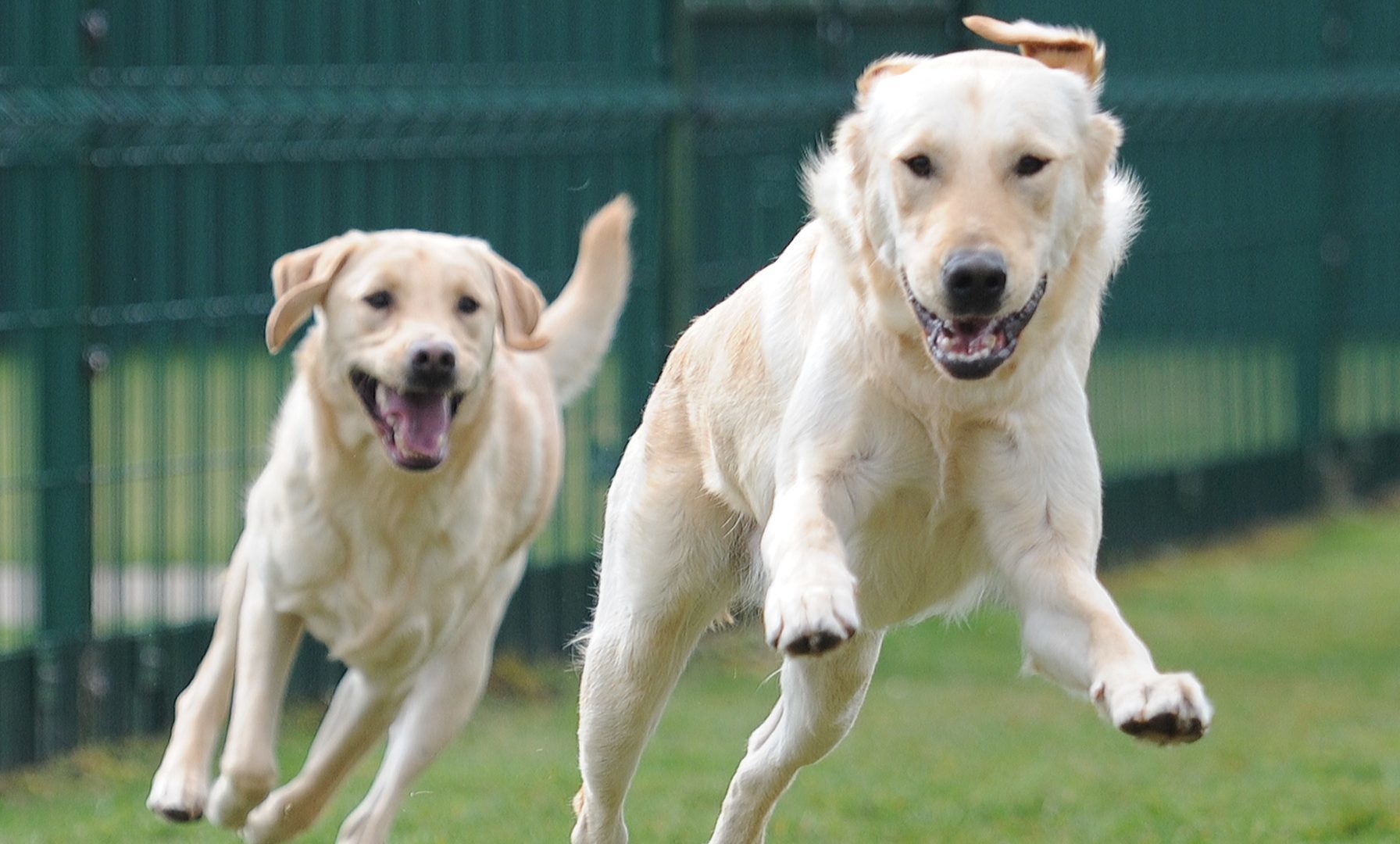 Madam, – It was a great pleasure to see the article featuring a photo of my Granda, Arthur Grant, with his guide dog Punch, at the Forfar training centre in the 1970s ("Picture reveals Forfar family's connection to guide dog history", The Courier, June 5).
It brought back happy memories of the way Punch, and his successor Kirsty, transformed Granda's life after he became blind.
He was twice widowed and living alone in Calderbank, Lanarkshire, and with the dog he was able to find his way around the village, or even get a bus to visit family and friends several miles away in Coatbridge or Airdrie.
Punch quickly became a member of the family. We soon learned to avoid saying certain trigger words in the dog's hearing – like "walk" or "park" – or else we had to get our shoes on!
Granda tried to get round this by spelling out words but the dog soon outwitted him.
One day my dad told Granda whilst out walking they would be turning L.E.F.T. – Punch immediately turned left!
Punch also quickly cracked the code my dad and his brothers used to let Granda know they were on their way to pick him up.
To save Granda answering the wall-mounted telephone they would ring three times then hang up.
Soon, at the signal, the dog would fetch its lead and be pushing against Granda's legs trying to sheepdog him to the front door.
The standard of obedience both dogs had to maintain was extraordinary. Even though they only got fed once a day they would sit by the bowl and wait for Granda's permission to eat.
In fact the nearest either dog ever came to hurting anyone was when Punch wagged his tail and knocked my wee sister, then a toddler, flying across the room.
Punch was a big strong male Labrador and after a few years he was too strong for Granda, so Punch went back to Forfar to retrain with a younger owner and Granda got Kirsty.
She stayed with him for her full working life, about nine years, until she was retired.
A day or so before he was due to go back to Forfar to meet his new dog Granda just went to bed as normal and never woke up.
He was a devoutly religious man and I've always been convinced he just decided this was as good a time as any to depart, and asked God to come for him. (Although he had previously said he liked the comment from a guest on a radio programme who said that their ideal death would be to be shot by a jealous husband on his 100th birthday).
It's impossible to put into words how much more active and independent a life Granda was able to live thanks to Punch and Kirsty.
We will be forever grateful to the donors, staff and volunteers, past and present, who keep this remarkable service going.
Peter Grant MP.
Castleblair Centre,
Glenrothes.
In a word, it's Blighted Blighty
Madam, – As a waterlogged Westminster sinks under the weight of unprecedented levels of incompetence, we witness a shower of charlatans lining up to assume command at 10 Drowning Street.
Alas, no amount of bailing by this cut-throat crew of brexiting buccaneers can save HMS Blighted Blighty from sinking in the slough of despond wherein she has drifted.
The darling buds of May, contenders for captaincy of the stricken flagship, inspire zero confidence.
These public-school-educated inheritors of wealth and privilege have little to offer – although we shouldn't perhaps turn our back on Gove (the Scot with irritable vowel syndrome) who's always ready to have a stab at leadership.
Then there's Loathsome Leadsom, an appropriate candidate for the Mother Ship perhaps?
Union Jock Rory might come aboard, as well as Mike "Harpoon" Harper (of whom it's been said "Who?") and Sad-Jav has also thrown his hat into the ring .
Nevertheless, front runner must be Barking Boris. He may suffer from foot-in-mouth disease but his brain is in mint condition, as it's never been used.
"I see no ships" cries naval-gazing Captain Corbyn through the wrong end of his telescope. "Where's our close alignment trade deal?"
He only spies that Frigate with Nigel stuck in the rigging. (Everything in his vessel is rigged, including votes). With a name like Farage he must be French, n'est-ce pas?
As This Septic Isle drifts doggedly into the Doldrums we're mindful of those prophetic words: "Apres May le Deluge".
James Stevenson.
Drummond Avenue,
Auchterarder.
A 'prairie' is an ecosystem
Madam, – In reference to the article about a prairie being created at Pitlochie Farm at Gateside in Fife ("'Prairie' farmer pays hefty price", The Courier, June 3).
Can I take this opportunity to remind the reporter and indeed the ill-informed MSP Willie Rennie that a prairie is in fact an ecosystem.
It is considered part of the temperate grasslands, savannas and shrubland biome by ecologists, based on similar temperate climates, moderate rainfall and a composition of grasses herbs and shrubs, rather than trees, as the dominant vegetation.
It is not an area of intensive agriculture as referred to in the article.
Murdo Fraser.
Pitcairlie Farm,
Auchtermuchty.
Smacking is not assault or abuse
Madam, – Smacking is not necessarily abuse.
I commend Mr G. Thomson for his sensible letter on the topic (Letters, June 1).
I would have thought people describing themselves as parliamentarians would be able to differentiate between smacking and assault – particularly since there is a long-standing law against one while the other is currently widely recognised by the population as a whole, as a swift and prudent means of preventing a child from harming either himself or others close by.
Only a psychopath would enjoy smacking a child, so we can take it that if smacking is applied, then it is administered for a good reason.
Preventing a child repeatedly running out thoughtlessly into a road of moving traffic for example, might be a scenario where smacking was an unfortunate necessity, but that could never be deemed an 'assault'. It is well known, psychologically, that mental punishment of a child is more lasting and detrimental than a short, sharp smack.
As long as that smack is applied calmly and with long-term benefit in mind, then I cannot see how our parliamentary legislators can better that!
Archibald A. Lawrie.
5 Church Wynd,
Kingskettle, Fife.
The Scots don't want to know
Madam, – We have fake Conservatives Boris the Buffoon, Rory the Tory and of course Colonel Ruth, and many more who have one thing in common – they all like to tell Scots what they should think.
What is apparently clear is that none appear to understand that, for the past 40 years or so, Scots do not want their politics.
Of course the Tories have always believed if you tell a lie often enough it becomes a truth.
At least in that they are consistent.
Bryan Auchterlonie.
Bluebell Cottage,
Perthshire.