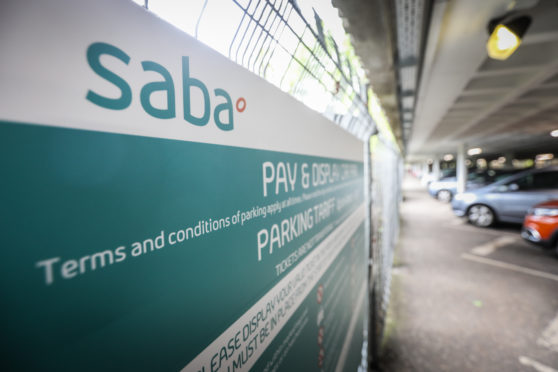 Sir, – I would just like to record my disgust at the disgraceful actions of putting profit before people by SABA, the company who have the parking contract at major hospitals in Dundee, Edinburgh and Glasgow (Axing hospital parking charges will cost £950,000, Courier, March 27).
That this company is willing to take £950,000 from the Scottish Government for parking when NHS employees, delivery drivers, food shop workers, police and emergency services employees are putting their lives on the line to ensure that the rest of us have food and care if we become ill is nothing short of a national disgrace.
Since this pandemic started many companies have shown how morally bankrupt they are by taking advantage of their workers and not providing recommended precautions to protect their workers.
But this company really takes the biscuit in taking this amount of money from the Scottish Government in the face of this emergency.
They should be really ashamed of their actions, but no doubt they will pocket the money and justify it by quoting contractual obligation.
Anthony Brunton.
Bellfield Mill Cottage,
Kinross.
Look after the frontline first
Sir, – I am astonished at the prioritising of Covid-19 testing.
The government seem to have all been tested, judging by the amount who have tested positive. They can carry on by working from home. Also the royal family seem to have been tested.
Yet many of the people at the front line, namely doctors and nurses, are still waiting to be tested.
These people are in the danger zone and at the moment are vital to fighting this disease yet were not given priority.
Someone needs to get their priorities right. Look after the front line troops.
Alister Rankin.
93 Whyterose Terrace,
Methil.
Is Prof Leitch Rab C's cousin?
Sir, – Of all the experts, chief medical officers, prime, first and health ministers who have addressed the nation during the coronavirus crisis, I'd say Professor Jason Leitch is the best.
Ably assisted by Gordon Brewer's questioning on BBC Politics Scotland on Sunday, he gave clear and believable advice and explanations on national policy, including a very reassuring rationale for the current testing regime and confidence in our respirator and intensive care capacity.
Not only that, but he projects an unaffected common touch and empathy with his audience, not least because he sounds a bit like Rab C Nesbitt's posh cousin.
Allan Sutherland.
1 Willow Row,
Stonehaven.
Return trips to shop for alcohol
Sir, – Over 70s are encouraged to shop early to avoid crowds. However we cannot buy alcohol before 10.00, so have to return after 10.00 to purchase it and risk picking up the virus from the crowds, this is not the case in England, why are we treated differently?
James Kenyon.
Florence Villa,
East End, Freuchie.
Surviving this crisis together
Sir, – Of all the things that might be responsible for having a catastropic effect on an economy, a society, and the whole of the population, a pandemic is the worst, because of the large number taken too soon.
Scotland today is in the grip of a crisis and very lucky to be facing the situation as part of a union which has already reached out to support the economy and the working population.
Without the help and borrowing power of Westminster, Scotland could not survive.
The consequences of this crisis will last for a decade and some parts of the economy will never be the same.
If you thought austerity was bad, "you aint seen nothing yet".
The UK can survive as a union with a Herculean, single minded, purposeful effort on the part of us all, together.
What we no longer need is a group of separatists crying over not being allowed into the EEC.
Alan Bell.
Roods,
Kirriemuir.
How will fines be enforced
Sir, – Some restrictions on our activities are most certainly correct during the outbreak of the Covid 19 virus.
However, cutbacks and stagnation on establishment of police and many administrative bodies will make it most difficult to actually implement such restrictions.
There may well be an increase in social disruption and certain criminal acts.
Will somebody please explain how the police are supposed to embrace this scenario yet monitor population movements.
Where are the staff to process the "on the spot" fines and follow up non-payment ?
Ken Cameron.
11 St Michaels Drive,
Cupar.
Felicitations gave away scam
Sir, – Three days ago I received an email from HMRC telling me that after a review of my financial activity last year I was due a tax refund of £260.65.
Good news I thought but I had a sneaky feeling that this might be a scam.
As I continued to read the email and saw what it ended with I immediately realised it was indeed a scam, as no tax collector I have ever known has sent me any such felicitations.
Be warned!
Donald McDonald.
10 Rose Terrace,
Perth.