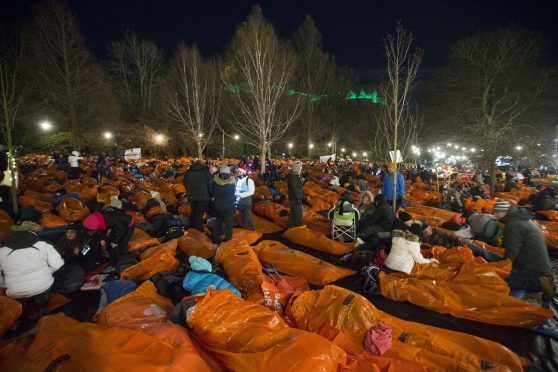 Sir, – Did the much publicised sleep-out in Edinburgh's Princes St Gardens really do anything to help the homeless, other than simply highlight their plight (The Courier December 11)?
It is, of course, one thing to volunteer to sleep outside in freezing conditions. You know that the next day you can return to a job or the comfort of your own home. If you are forced into it then there is no way of knowing where it will all end.
Over the years there have been numerous reports and research projects into what actually causes homelessness.
We all are aware of domestic violence and relationship breakdowns; people leaving prison and the armed forces without back-up and support; growth in the number of people with mental health problems, and too few houses.
There is no shortage of agencies set up to solve these difficulties. Yet so many people avoid seeking their help and end up with nowhere to go. Why?
There might be a need for the agencies to look closely at their communication systems and how they project themselves. There must be a reason why people fall through the net. If the agencies could identify this, they might be able to persuade a puzzled public that having to sleep rough is not, for some, simply a fact of life.
Bob Taylor,
24 Shiel Court,
Glenrothes.
No-shows shock at the doctors
Sir, – In the few minutes I was in my GP's waiting room recently my attention was taken by a notice on the board giving the following figures for November:
Ninety four non-attenders for doctors' appointments and 44 for nurse appointments.
This means 138 people in a 30 day month made an appointment but failed to keep it.
Apart from being rude and inconsiderate to doctors and nurses it is a shocking waste of time and money at any time, but particularly now, when the NHS is in financial straits.
A simple phone call is easy these days with mobile phones to let the surgery know that one cannot attend. It is the very least we can do.
It would be interesting to learn the cost of these non-attendances, and reflect on this shocking wastage, by us, the next time we complain about cuts in health services.
Catherine Lockhart,
12 Balmachie Road,
Carnoustie.
Muslims against extremists
Sir, – George Dobbie (Letters, December 6) is entitled to his opinion and some of his perceptions may be a result of the very issue of fake news.
We as Ahmadi Muslims have been promoting the message of peace and harmony all over the world. We recently launched buses in Glasgow, Edinburgh and Dundee which carried the message "United Against Extremism".
We also launched a campaign "Stop the crISIS" which was aimed at tackling and eradicating the problem of radicalisation amongst a small segment of the Muslim community.
Members of our community held vigils in Manchester after the barbaric attack and women of our community held hands across the London Bridge after the unfortunate incident near the British Parliament.
We have organised a number of peace conferences in Glasgow, Edinburgh, Dundee and Fife and in other cities in the UK. The aim of these has been to bring the community together to discuss these issues.
We encourage members of public to visit our mosques and ask us any question at all, and I invite people to visit our mosques in Dundee or Glasgow to discuss these issues. It's only by working together we can defeat these extremists.
Shoaib Khan.
Ahmadiyya Muslim Community Dundee,
Bait Ul Mahmood Mosque,
75A Dens Road, Dundee.
Scotland's share of UK debt
Sir, – Allan Sutherland (Letters, December 11) is not correct when he refers to our "share" of the £150bn eye-watering level of debt Westminster incompetence has built up over recent decades.
That debt is Bank of England debt and has nothing to do with an independent Scotland, which would have its own central bank, starting with a clean slate.
He should be more worried about the real "share" of the Brexit divorce bill which we will have to pay if we stay in the UK, even though Scotland voted against this financial suicide imposed on us by the Westminster Government.
Andrew Collins,
Ladyburn House,
Skinners Steps,
Cupar.
Offices on the waterfront
Sir, – So the new office block beside the V&A is the only way to provide hundreds of jobs?
I don't remember being warned that knocking down Tayside House and the Hilton would cost hundreds of jobs. They just built them elsewhere, regardless of cost and I suspect the council will move back to the waterfront area.
RJ Soutar,
Camperdown Street,
Dundee.
Tax and council pay rises
Sir, – There are 242,000 local authority workers in Scotland.
Most of them are about to get a pay rise of between 1% and 3%, costing between £100m and £300m, paid for by a tax rise of up to £290m.
The Scottish Government has a huge deficit.
Greens co-convener Patrick Harvie may be forcing the SNP to use up all the tax gains to pay for these pay rises, but he must be in on the real agenda, which is to get rid of staff.
Angus Council is getting rid of 800 of their 4,000 staff in the next three years.
If this is typical of the rest of the country, almost 50,000 council workers across Scotland will lose their jobs.
This will easily fund pay rises for those remaining.
Assuming these workers will be retrained, this should also make a big dent in our skills shortages and in our calls for more immigrants.
Allan Sutherland,
1 Willow Row,
Stonehaven.
Bring all to the Brexit table
Sir, – Whilst I am pleased to see Brexit negotiations may now move forward to phase two, I am extremely critical of of the Conservative Government's continuing "tribal" stance, that of they alone being at the negotiating table, particularly for phase two.
Having spent some 40 years negotiating multi-national international agreements, I quickly found it much more realistic, and productive, where we had various interested parties, with divergent views, to conjoin them into our negotiating team.
By doing this, they were, to an extent "sucked in" to participating in and finalising agreed contractual texts.
This avoided having to negotiate on two fronts – in this case with the other EU nations on the one hand, and the Labour, Liberal Democrats, and devolved administrations in Wales, Northern Ireland and Scotland on the other. Numerically this may be a challenge, but as we are dealing with 27 nations on the other side, and the huge EU administration machine, I do not see it as a problem. In addition, the Conservative Brexit team, and Mrs May, are constantly having to devote time and attention trying to rebuff continual sniping and criticism from the likes of Corbyn, Sturgeon, the DUP, etc., instead of pure focus on Brexit.
Finally, by having all parties as participants, the ultimately agreed Brexit terms (or walking away from it) will have the consensus of all parties and interests, rather than the Conservatives (with no real Parliamentary majority) trying to "scrape", their unilaterally recommended Brexit terms through the Commons and the Lords.
This matter is of such major significance to the future of the whole of the United Kingdom, that it should not be left, just to one (weak) party alone.
Hamish H Carlton,
Gowrie Cottage,
Little Dunkeld,
Perthshire.