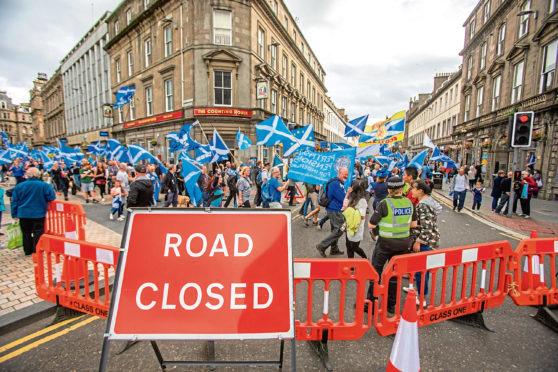 Sir, – With regards to your letter "Scotland should decide its own destiny" (August 27), it may have escaped the author that we already decided our own "destiny" in 2014, after almost three years of debate and going over all the various procedures and issues many, many times.
Furthermore, in the immediate aftermath of the referendum, all the parties represented in Holyrood got together to negotiate and agree a new set of proposals for devolution within Scotland, and this agreement was then taken forward in its entirety, legislated for at both Westminster and Holyrood.
It follows that the current constitutional arrangement that we have has been agreed to by 100% of the people represented by the various parties now at Holyrood.
In practice, of course, we know that the SNP were disregarding the referendum result almost the moment it was declared, and they behaved with dishonour by negotiating an agreement with other parties in Scotland on devolution and then turning their backs on it.
With the SNP in government, it appears that Scotland's immediate destiny is going to be further division and decline.
By disregarding the 2014 vote, the SNP have effectively undermined the validity of any further vote, and closed down any future options they might have.
The answer is to move away from this nonsense for a generation, and our children can revisit it if they want to at that point.
Victor Clements.
Taybridge Terrace,
Aberfeldy.
Columnist is wide of the mark
Sir, – Your columnist Jenny Hjul is never slow to bandy about epithets, so I am sure she will not mind me branding her a one-trick, ultra-British nationalist.
As such, every column she writes and every position she takes is solely predicated on "what is bad for the SNP?" and as a consequence her every utterance lacks coherence and intellectual credibility.
Take the recent column "No to rematch of the day" (August 22) in which she takes the tack that another EU referendum is a non-starter because – primarily – it would give succour to those who are calling for a new referendum on Scottish independence.
However, Jenny coats it slightly by suggesting that "we made our choice and we must see it through… that is democracy".
However, not withstanding the fact this principle could be applied to every election, it ignores Jenny's position the last time an election was called it was in "un-democratic" fashion.
The Fixed-term Parliaments Act 2011 set the date of the general election on May 7 2015 and provided that thereafter general elections were to be scheduled to be on the first Thursday in May in every fifth year.
Therefore, the next election should have taken place on May 7 2020.
However, Theresa May – sensing Labour blood – went to the country in June 2017.
Did Ms Hjul rage and rant at this affront to democracy?
I think we all know the answer to that and a mere sample of headlines from her column in those months will give (again) the flavour of her thoughts.
They included "Momentum is against SNP", "Is Nicola Sturgeon now a liability for the SNP?", "Are Nationalists panicking?" and – most pointedly – "This is your chance to save the UK".
Ms Hjul cares not a whit for democracy or principle but only in what best thwarts the SNP.
There is no contortion she won't perform to ensure that every situation is twisted to an anti-SNP rant and to suggest this is tiring to the humble reader would be an under-statement.
However, as her articles only boost SNP support – as irksome as Ms Hjul is – it is probably best she stays in post.
Henry Malcolm.
331 Clepington Road,
Dundee.
Was work really so 'efficient'?
Sir, – I am glad the waterfront protection is finished, it was necessary and apparently has been delivered effectively and efficiently.
But wait a minute, wasn't it supposed to be finished a year ago, in September 2017?
Certainly, that is what the road signs said all through 2017.
I wonder who paid for the extension.
Andrew Hadden.
23 City Road,
Dundee.
Contemptible bid to raise cash
Sir, – I am totally astounded by the fact that Alex Salmond has lowered himself so far as to start crowd funding for a court case.
How on earth is it possible that an ex-first minister, who is blessed with a big income, wants to start crowdfunding in the first place?
Does the man have no pride?
Do people have to pay, just because he does not want to?
In my opinion it shows sheer contempt to people who really need crowdfunding for serious matters, because they cannot afford it and genuinely have no money.
Mr Salmond could easily afford this action and as such his behaviour could be seen as shameless.
Whatever the eventual outcome of all this, I assume the original complainants have walked around with considerable fear and doubt, knowing the enormous impact and backlash their claims would cause.
I admire their guts.
Maaike Cook.
Cash Feus,
Strathmiglo.
Far-reaching repercussions
Sir, – That Alex Salmond has raised such significant sums to fund his legal action against the Scottish Government – attracting the support of some SNP politicians in so doing – is unsurprising.
Alex Salmond transformed the SNP from a small group of fringe activists to a mainstream political party of government.
He took support for independence from the mid-207% level to 45% – not enough but a phenomenal achievement and one for which many now seem grateful.
In contrast, Nicola Sturgeon appears to be supervising the decline of the independence movement she leads.
She is fully committed to separatism yet cannot deliver.
Weak in many other respects, Theresa May is relentlessly strong on "now is not the time" – which contributed to the damage inflicted on the SNP in the 2017 general election.
Mr Salmond provided an optimistic economic future for an independent Scotland in the 2013 White Paper.
It was questionably accurate, but undeniably positive.
In contrast, Ms Sturgeon offers only pessimism via the Growth Commission's report predicting a decade or more of austerity as the price to pay for independence.
Undeniably accurate and unquestionably downbeat.
Most now realise the 2021 Holyrood election will determine whether Indyref2 will even be held in five years' time, and undoubtedly not before.
And now we witness the former and current first ministers at odds with one another over the Scottish Government's investigation of alleged claims of sexual assault by Mr Salmond, and with senior party members apparently taking sides.
Yet time will tell, with Indyref2 on the back burner what, if any, are the longer term repercussions for the SNP and nationalism.
Martin Redfern.
Woodcroft Road,
Edinburgh.
Level of support tells a story
Sir, – Alex Salmond is under investigation for alleged sexual offences against women.
We all should know that in the UK, you are innocent until proved guilty.
As such, of course, Mr Salmond absolutely has the right to defend himself.
However, his appeal for crowdfunding, and the almost instant flood of £90,000 into his bank account tells a revealing tale about the SNP and their supporters.
As a group, they are obsessional.
They flock to support their nationalist hero and demagogue.
This is not because they have paused to consider the nature of what he is accused of, and the feelings of the alleged victims, but rather because anything Alex says must be right and truthful.
The mass stampede to support Mr Salmond is mindless and unconditional for a significant bulk of the SNP faithful.
And that is exactly how they reach the conclusion that Scotland will be better off on its own.
Thankfully, most of us know better.
Tony Miklinski.
Whitehill Farmhouse,
Cupar.