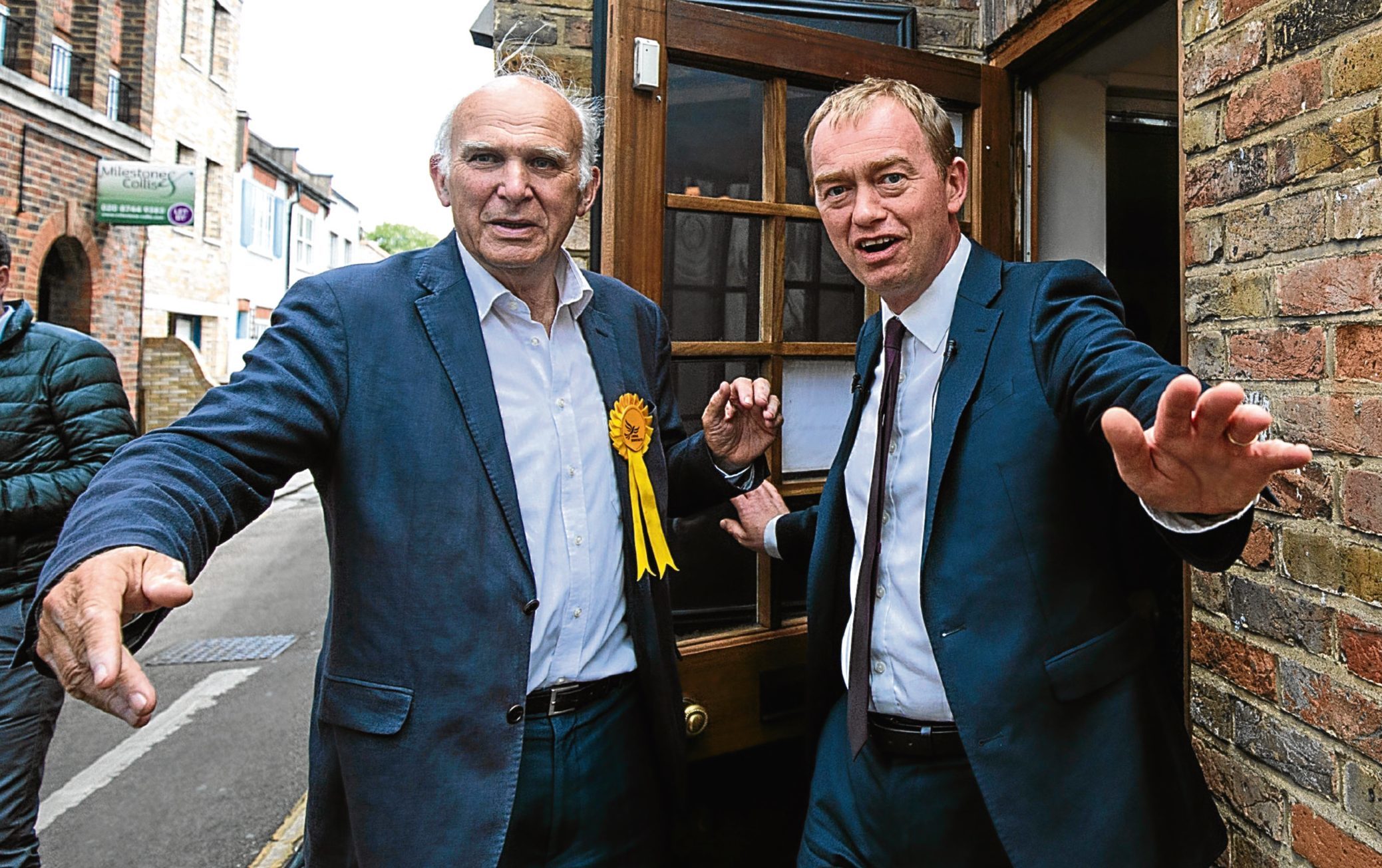 As leader of the fourth largest party at Westminster you sometimes have to throw a few curveballs around to get noticed.
Sir Vince Cable, who is awaiting his coronation to head up the Liberal Democrats, has built his reputation as a political sage who was one of the few to predict the 2007 financial crisis.
In his previous supporting roles as Lib Dem grandee and a senior but peripheral member of the Coalition Cabinet, the former business secretary was there to dispense insight and nuance in a political climate where rhetoric prevails. This will no longer do. Nuance does not grab headlines.
In one example – an almost comic exchange on the Andrew Marr Show – Sir Vince retreated on his comparison of Theresa May with Adolf Hitler.
Sir Vince, pictured with Tim Farron, admitted he got it wrong – but only corrected himself to say Theresa May's "citizen of nowhere" speech made her sound like Stalin rather than the leader of the Third Reich.
Earlier this month, the Twickenham MP was accused of scaremongering over his warning of a Brexit-related shortage of strawberries at Wimbledon. Organisers at the All England Lawn Tennis Club denied there was any problem with supply.
Yesterday, by declaring that Brexit may never happen, Sir Vince entered territory no senior member of a mainstream political party in the UK had ventured into.
The Liberal Democrats have long stood as the party of opposition to Brexit, although that stance gained them little traction in the Westminster election. Not seeing Brexit through would be an affront to the democratic decisions made by UK voters in last year's referendum and this summer's general election. In the latter, the two biggest parties both backed Brexit – and they dominated, taking more than 80% of the vote share between them.
Even ardent Remainers accept that Brexit, in some form, is inevitable.
An affront it would well be, but what if it becomes clear – as many already argue it is – that Brexit will cause severe and long-lasting damage to the economy, leading to lower living standards and higher prices? Would writing off election results in the face of emerging facts be a price worth paying?
That prospect may become even more alluring if the Brexit process becomes as fraught as many predict. The negotiations with Brussels opened in a farcical fashion with a lame duck Prime Minister approaching talks without the parliamentary majority she already had before the election she did not have to call.
It appears to be an inauspicious start, not least because there is no plan for what kind of Brexit the UK now wants.
I am no negotiator, but I'd have thought you would want to nail down a consensus within your own team before attempting to extract concessions and good will from those on the other side of the table.
On top of that, EU chiefs are already exasperated at the UK mentality. Michel Barnier, Brussels' chief negotiator, seemed incredulous at the wishful thinking from many on the British side, which he said saw some clinging on to the hope that they can retain all the benefits of being in the EU, while not being in the EU.
Sir Vince, who is favourite to replace Tim Farron as Lib Dem leader, is of course not the only leader looking to capitalise on these negotiations going badly to water down or avoid Brexit.
Nicola Sturgeon may have abandoned her hope of an independence vote before Brexit, which is timetabled to happen in March 2019, but fear and loathing over leaving the EU is still at the heart of her campaign for a UK breakaway.
This week should help us gauge just how vulnerable Mrs May is as her propped up minority government puts forward the Repeal Bill, which transposes EU law into UK law.
There are Brexit saboteurs itching to make their mark on the Government over this – and seven other Brexit-themed bills.
The PM may not see it through to three strikes with the curveballs of her own she is about to face.