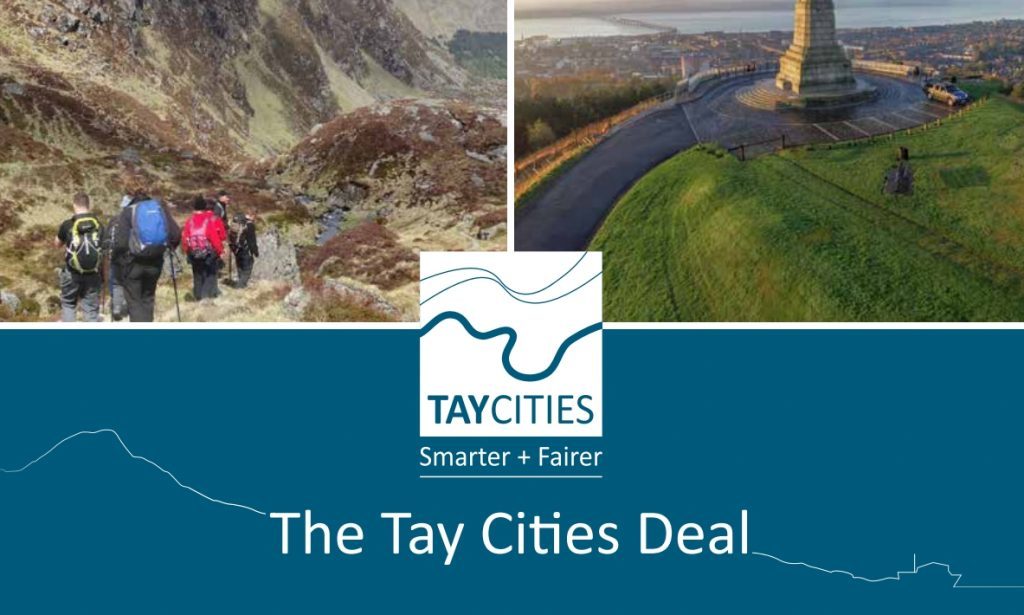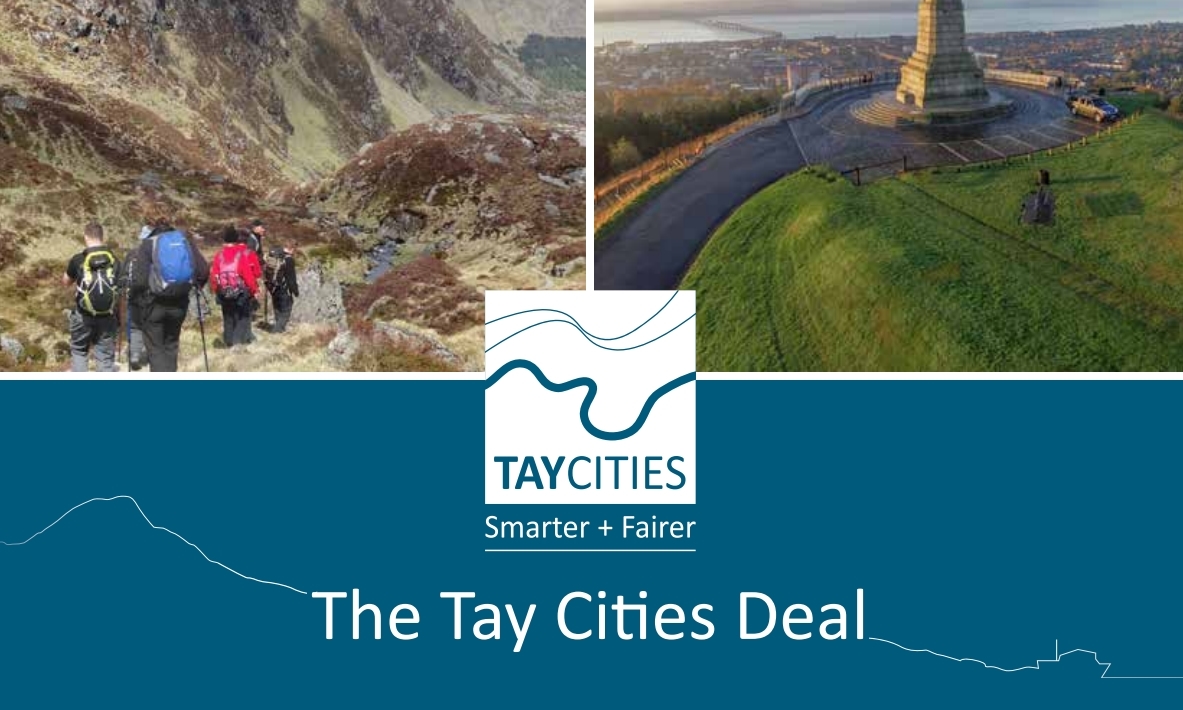 The Tay Cities Deal faces a funding threat with the UK Government cutting its contribution to the £1 billion investment package.
A total of £400m is expected from Scotland's two governments, with Holyrood match funding whatever is put forward by Westminster.
Conservative Scotland Office minister Lord Duncan admitted last month the UK Government would struggle to meet a £200m spend commitment during an interview with The Courier last month.
And a source involved with one of the projects vying for money said: "It [the amount being pledged by the UK Government] was down to £100m at one point."
Two other figures with close knowledge of the Tayside deal confirmed the Conservative administration tried to push its contribution down to £100m but agreed that had since increased to nearer £120m.
One blamed the squeeze on business cases not being tailored to qualify for UK Government funding. The Conservative source said: "When we put a lot of those projects together – and this was a couple of months ago now – that was coming out at slightly under £100 million, in terms of the projects that would qualify.
"And now obviously what we have been doing over the last few months is going back working with stakeholders and the civil service to develop up their business cases, so we can obviously try and get as much money as we can."
They added: "The £400m was a figure councils were saying: 'This is what we would like, this is what we think we'll need'. But the fact is if you haven't got the businesses cases to justify that then how can you back it up?"
It is understood the Scottish Government will only match-fund whatever is put forward by Whitehall, which would leave a £160m funding gap under the current figures.
In a joint statement, Tayside and North East Fife's SNP MPs Pete Wishart, Chris Law, Stewart Hosie and Stephen Gethins accused Scottish Secretary David Mundell of "dithering" while "projects in our constituencies are looking on anxiously."
They said: "Given that we no longer have faith in the Secretary of State to deliver the Tay Cities Deal in full we will be writing to the Prime Minister asking her to confirm the date the deal will be signed, and to confirm that the UK Government will fund the Tay Cities Deal in full and match the commitment from the Scottish Government.
"It is only a clear and unambiguous statement on all of these commitments that will now assuage the real and growing concern that the Secretary of State is the barrier to the success of the Tay Cities deal."
Scottish Secretary David Mundell.A UK Government source hit back, saying: "What we want is for everyone to get behind the city deal and focus on turning these great projects into a reality, rather than trying to score points or play politics."
Projects mooted under the deal include a new bridge over the Tay and a food and drink park at Perth, a comics museum and an aviation academy in Dundee and a redevelopment of the Eden campus at Guardbridge in Fife.
Scottish Government City Deals Minister Michael Matheson has confirmed he is ready to sign off Tayside's terms but Tory ministers will only commit to having an agreement in place before the end of the year.
A UK Government spokesman said: "We are committed to delivering the Tay Cities deal and expect to be able to unveil details soon. Our record on Scotland city region deals speaks for itself, having invested more than £1bn so far.
"It's important that any projects supported deliver value for money and bring maximum benefit to the communities and we continue to work closely with the Scottish Government and partners to ensure investment drives economic growth, creates jobs and boosts prosperity for generations to come."
Delays on the Tay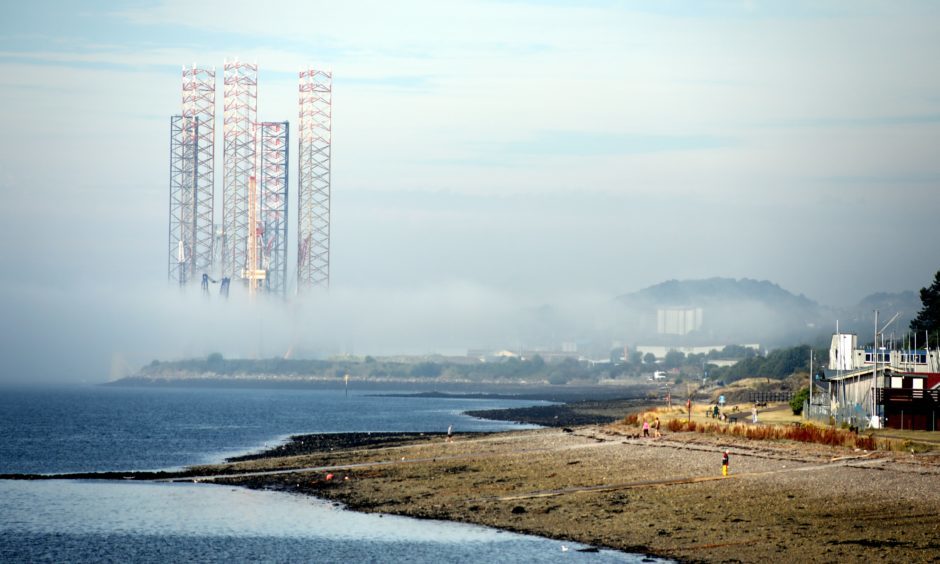 The Tay Cities Deal has been discussed in principle since 2014 and a submission document outlining the projects bidding for funding and how much they want was put forward last February.
Promised sign off dates have come and gone, including the early part of last year, the end of June and then before Westminster rose for recess in July.
It is understood one possible event for announcing the heads of terms was the Dundee Economic Summit on June 27, giving the area an economic boost before last week's opening of the V&A.
Fireworks at the V&A Dundee light show on Friday.SNP City Deals Minister Michael Matheson confirmed he is ready to ratify the terms of the deal in answer to a Parliamentary Question from Dundee East MSP Shona Robison this month.
He said: "The Scottish Government remains committed to achieving a heads of terms agreement as soon as possible.
"We are in a position to proceed and are waiting for the UK Government to confirm its position."
The UK Government, which has accused ministers in Edinburgh of not cooperating as fully as they would like around potential joint funding projects, will only say it hopes to make an announcement "soon".
Funding has already been agreed for Greater Glasgow, Aberdeen, Edinburgh and most recently Stirling and Clackmannanshire.
But sources say the Treasury is tightening the spending belt for city deals, meaning less money will have to be shared out for the remaining projects.
In Scotland these include Ayrshire, plus potentially the Islands and Moray.
The deals were a brainchild of David Cameron's time in Downing Street, championed by his Chancellor, George Osborne, but have not found favour with their successors, Theresa May and Phillip Hammond.
Despite Dumfries and Galloway Tory councillor Gail McGregor telling the Scottish Affairs Committee in July that she hoped to have heads of terms for the Borderlands Growth Deal agreed this month, this date has also slipped.
Fife 'let down' by Edinburgh City Deal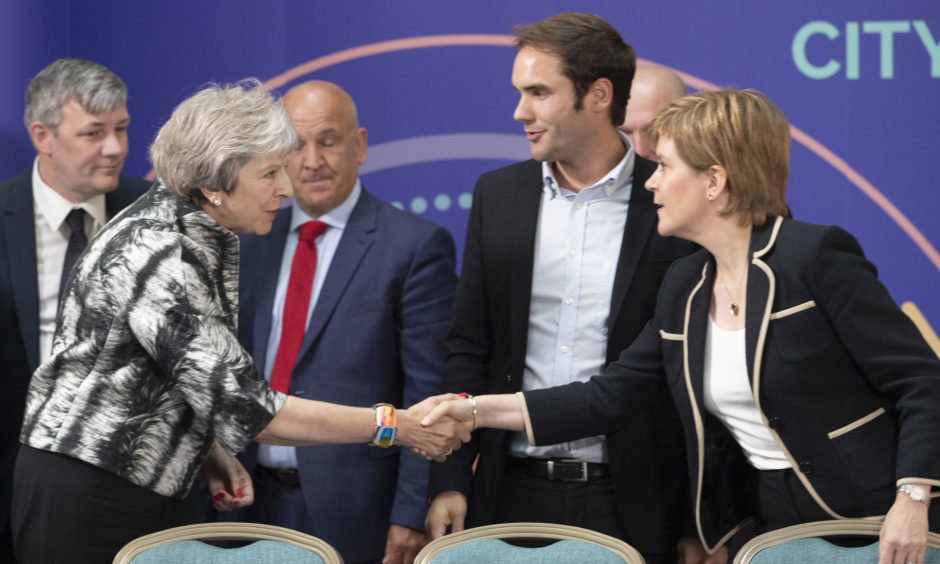 The UK and Scottish Governments each committed £300m to the Edinburgh City Region Deal last month during a signing ceremony attended by Theresa May and Nicola Sturgeon.
The agreement will see more than £1 billion invested once private partners become involved but critics claim Fife is losing out on funding and the flow of money is too capital-focused.
Proponents say the investment will unlock economic growth and boosting jobs across the region, with council co-leader David Ross calling it a "very good deal for Fife".
Prime Minister Theresa May and First Minister Nicola Sturgeon shake hands after signing the Edinburgh and South East Scotland City Region Deal at the University of Edinburgh.Fife's financial offer in the deal only amounts to £35m, which will go towards the cost of a Fife Industrial Estates Regeneration Programme.
A further £65m will aim to start significant house building focused on seven strategic sites across the region, one of which is Dunfermline.
Fife will also lead on the development of an intensive family support service.
Reservations remain, however, because £120m of £140m for transport improvements will go to a Sheriffhall Roundabout upgrade and there will be nothing for the Levenmouth rail link.
Glenrothes MSP Jenny Gilruth said Fife had been "let down" by the deal. Its terms were signed last year.
The art of the deal: Why is Tayside still waiting for its funding sign-off?
Analysis by Kieran Andrews, Investigations Editor
Just three months before Scotland's independence referendum, the country's two governments worked closely together to agree the £1 billion Glasgow City Deal.
It involved eight local authorities in west central Scotland and was agreed when it seemed political tensions could not have been higher.
Four years relationships are, if anything, even frostier and communication between Edinburgh and London on the Tay Cities Deal is virtually zero.
If you speak to anyone associated with the project and they will say the biggest stumbling block is a lack of a decent information exchange.
One individual involved in a project contained within the bid admitted they "have not one clue what's going on."
Another said: "We realised we were in a queue, with Edinburgh coming before us, then Stirling and Clackmannanshire, but we weren't told that initially. We had to figure out we were behind Stirling ourselves.
"There have been five city deals. You would think there would be a blueprint for the process. Instead, most of the first year was spent trying to figure out how it worked."
The communication breakdown between almost everyone involved in the project has made thrashing out the details difficult, verging on impossible.
Tory politicians are frustrated SNP  ministers won't say which projects they intend to fund, with Whitehall's intention being to compliment some spend that creeps into devolved areas.
Meanwhile, there is growing annoyance in the SNP at what is being seen as Tory dilly-dallying over a project that involves a relatively low proportion of constituencies occupied by Conservative MPs.
David Martin, Chief Executive Dundee City Council.Dundee City Council chief executive David Martin, perhaps unintentionally, hit the nail on the head during a meeting of the Scottish Affairs Select Committee in July.
He said: "The issue for us is that the discussions between both governments are obviously something to which we are not party."
Both governments feel to some extent that even they are not party to the information needed to seal the deal and those close to the bid fear the more the process drags out, the harder they will have to fight for a slice of the pie.
Rewind the clock to June 2016 and Scottish Secretary David Mundell warned Angus, Dundee, Fife and Perth and Kinross councils that a post-Brexit change of Prime Minister could scupper the city deal.
Now Theresa May is in Downing Street and, incredibly, it seems possible an agreement on leaving the European Union could be announced before Tayside's funding is confirmed.
Meanwhile the region is deprived of vital investment for a little longer.