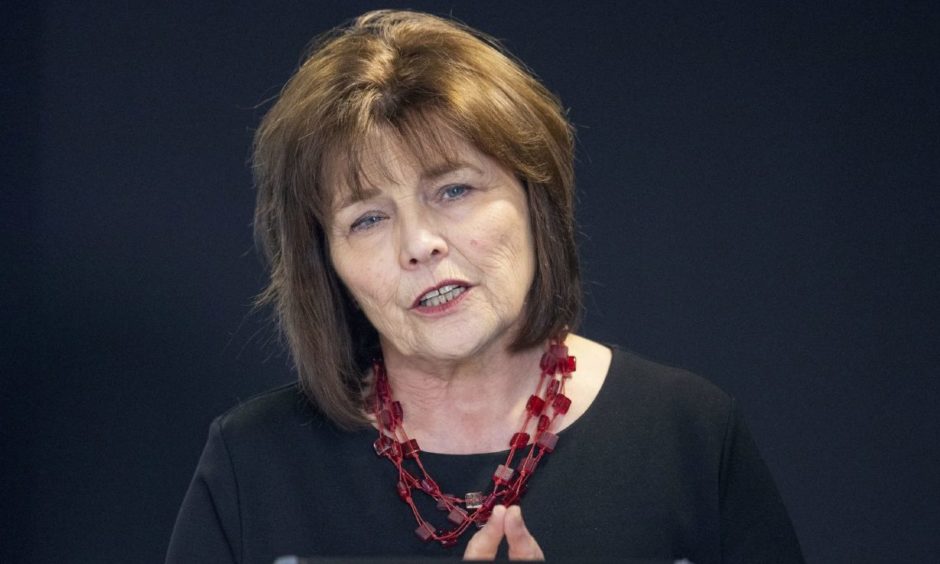 Care workers are to get a 3.3% pay rise as it emerged that more than one third of care homes have been hit by coronavirus.
Health Secretary Jeane Freeman said social care staff would have their wages increased to at least £9.30 an hour – the equivalent of the real living wage in Scotland.
The pay rise, which will be backdated to April 1, was announced amid concern at the spread of the virus in care homes and multiple reports of shortages of Personal Protection Equipment (PPE) for staff.
Ms Freeman's announcement was made at the Scottish Government's daily coronavirus briefing where the Health Secretary also said that care home deaths' data would be published for the first time this week.
Another 24 Scottish coronavirus deaths
Ms Freeman also announced a further 24 people with coronavirus had died in Scotland, taking the total number of confirmed deaths to 566.
The Scottish Government's figures revealed that 31,114 tests have now been carried out across Scotland, which is an additional 1,211 tests in the past 24 hours.
Taxis and private care hire firms are to be brought into the coronavirus fight to transport people suspected of having the virus to community assessment centres, Ms Freeman confirmed.
More than 100 car firms have volunteered to help with the service, which should free-up ambulances for the most urgent cases.
Ms Freeman paid tribute to care workers as she unveiled their wage rise.
"Scotland's dedicated social care workers are on the front line of our national pandemic response. Their work is always hugely valued, and never more so than now," she said.
"The measures we are announcing in partnership with Cosla today will ensure all people providing adult social care receive the real living wage for every hour worked with immediate effect, rather than having to wait until later in the year."
The pay increase applies for all hours worked, including sleepovers and hours worked by personal assistants.
The Scottish Government is also to provide funding to third sector and independent providers specifically to ensure staff receive sick pay if they are off work ill or because they are self-isolating.
Ms Freeman added: "As well as providing an uplift in pay for all social care workers, this package ensures social care providers have both flexibility to increase wages across their organisations and the necessary funding for sick pay if their employees are off ill or are self-isolating."
The briefing came after Scottish Care, which represents the private care sector, claimed that half of its care homes had at least one case of suspected coronavirus.
More than one third (37%) of care homes reporting the virus
Ms Freeman said the Care Inspectorate, the sector's publicly funded watchdog, had had reports of Covid-19 or suspected Covid-19 in 406 adult care homes – the equivalent of 37% of the total number of homes in Scotland.
The outbreak has resulted in 13 people at the Burlington Court Care Home, Glasgow, dying from suspected coronavirus. A further eight residents of the Castle View care home in Dumbarton have died and there have been a number of deaths at the Tranent Care Home in East Lothian.
The Health Secretary had earlier faced calls from the Scottish Conservatives to publish more coronavirus data on care homes including figures for deaths.
The calls came after the BBC asked the Care Inspectorate for the statistics and the question was treated by the watchdog as a Freedom of Information (FOI) request – a process that can take up to three months during the crisis.
Emergency legislation passed to help cope with the crisis controversially included measures to extend the FOI deadline.
Ms Freeman said minsters were working with the Care Inspectorate to make sure the data is robust, but it was intended to release it "later this week".
The Health Secretary also used the briefing to issue a reassurance that Scottish nursing staff were not refusing to work with coronavirus patients as a result of PPE shortages.
As a former nurse myself, I know that that would be the last decision that you would ever want to take.

Jeanne Freeman
Ms Freeman was quizzed on Royal College of Nursing (RCN) guidance suggesting members should refuse to treat patients as a "last resort" if they did not get the proper kit.
"We do not have nursing staff at this point, refusing to treat coronavirus patients and as I said, every effort is going into making sure that they are never placed in a situation where they do not have the PPE they need," Ms Freeman said.
"As a former nurse myself, I know that that would be the last decision that you would ever want to take.
"So our job is to make sure that they're never in that situation, and that we work really hard every single day to ensure that we secure the supply of PPE that our nursing staff, our medics and our care-at-home and social care staff need to do the job that is so important and that they're doing right now."
She added: "Our focus is to make sure that no one in our health or social care professions are ever put in a place where that is the kind of decision that they consider taking. It matters very much to me that our health and social care workforce have all the items that they need."