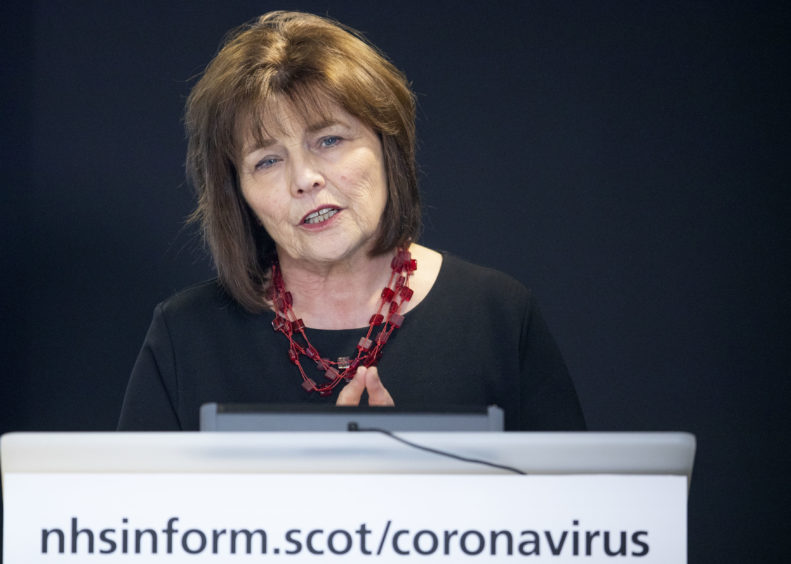 A new £1 million support package has been unveiled to help people struggling with mental health problems during the lockdown.
The cash announced by Health Secretary Jeane Freeman included £768,000 for a relationships helpline that is to be delivered by a counselling service called "The Spark".
A further £205,000 is to go towards expanding a helpline for autistic people, and £105,000 has been pledged to help citizenship organisation Young Scot develop digital resources on mental health issues.
Ms Freeman revealed the spending initiative on Sunday as she confirmed that a total of 1,571 patients have now died in Scotland after testing positive for coronavirus, an increase of 12 since Saturday.
A total of 12,097 people had tested positive, a rise of 170 on the day before.
And there were 1,666 people in hospital with confirmed or suspected Covid-19, with 99 in intensive care.
Ms Freeman noted this was the first time the number in intensive care had fallen below 100 since March 29.
She said: "It's obviously very encouraging news. It does show that the restrictions are working, but it also underlines the reasons why we need to stick to them.
"So I want to thank all of you for the sacrifices you have made and I know will continue to make.
"I know it is not easy, but I hope you are beginning to see, as we do, that those sacrifices are beginning to show results."
The mental health funding pledge was made as concerns continued to grow about the consequences of the extended period of lockdown during the coronavirus pandemic.
Ms Freeman said: "While everyone is experiencing different challenges at this time, the mental health of children, young people and families can be put under great strain.
"We appreciate that spending a lot of time together in isolation and home-working, home-schooling and juggling childcare can be really tough.
"This crisis means many people are dealing with anxiety, fear, uncertainty, anger or sadness.
"They may feel overwhelmed and relationships can be placed under a lot of pressure.
"We want to ensure that the right help and support is in place for the mental wellbeing of our children, young people and families."
The package follows the launch of the government's national campaign last week called "Clear Your Head".
Almost £160,000 will be given to charity Scottish Autism to enable their helpline to operate seven days a week, while more than £45,000 will be used by the National Autistic Society to provide more online support.
Charlene Tait, deputy chief executive of Scottish Autism, said: "During these uncertain and challenging times, our aim is to provide reassurance, guidance and support to autistic people and their families across Scotland.
"These extra funds will allow us to extend our autism advice line offering, enabling us to increase our operating capacity to seven days a week, 8am to 8pm.
"We are all too aware of the impact this crisis is having on the emotional, physical and mental wellbeing of autistic people and their families.
"This funding will enable us to reach out and support people at this difficult and stressful time."
The helpline will now be open every day between 8am and 8pm, and can be reached by calling 01259 222 022.
Nick Ward, the National Autistic Society Scotland director, said: "We are very grateful to the Scottish Government for their work throughout this crisis to support autistic people and their families.
"With this funding we can drastically increase the number of online social groups, where people can meet and talk about the things that are important to them, form meaningful relationships and feel more connected.
"Our staff will also be on hand to offer support and tips around managing mental health and well being and importantly staying safe."
New measures to support people affected by drug use were also outlined.
The Lord Advocate has relaxed rules around the use of naloxone, a drug which can reverse opiate overdoses.
A drug treatment called buvidal is also being made more widely available, including in prisons.
This is a longer-acting drug treatment which would help to relieve pressure on prisons, it was claimed.
A total of £1.9m is to be spent to support people in prison on prescribed Opiate Substitution Treatment (OST) to switch to buvidal, while there would also be £150,000 for an enhanced offer of residential rehab to people leaving prison during the pandemic.
Public Health Minister Joe FitzPatrick said: "While this public health crisis is ongoing, we must not lose sight of the fact there continues to be a significant number of highly vulnerable individuals who are at great risk of harm as a result of alcohol and drug use, who continue to need a wide range of help and support."