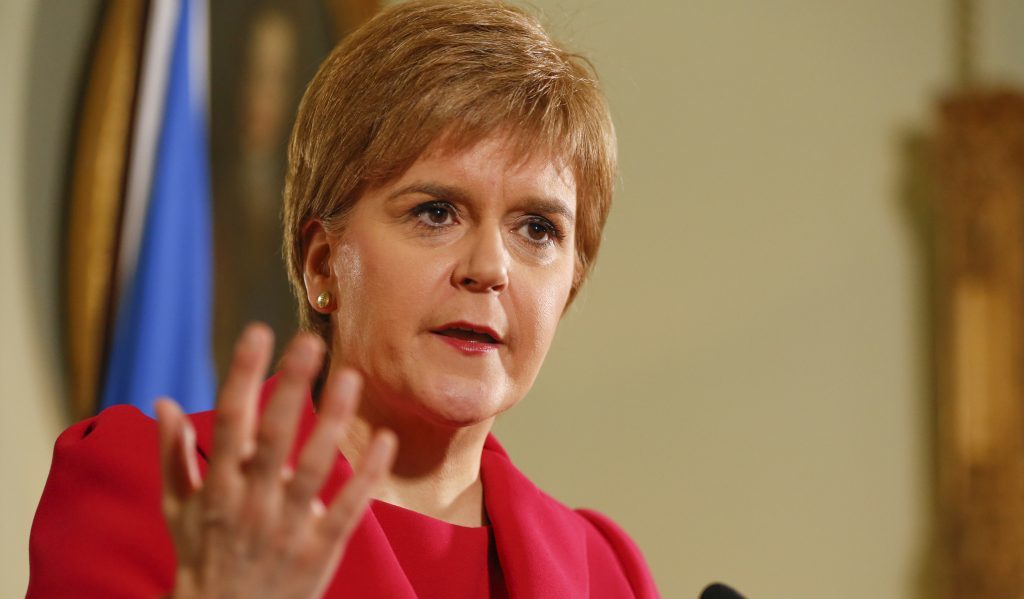 Nicola Sturgeon has said that online trolling of a nurse who put her on the spot about wages is unacceptable.
Claire Austin told the First Minister during a general election TV debate that she is forced to use food banks because of a 1% public sector pay cap currently in place.
She was then vilified online because her Facebook showed pictures of her on holiday in New York.
SNP justice spokeswoman Joanna Cherry told BBC Scotland the nurse was believed to be the wife of a Tory councillor.
She later tweeted an apology, after it emerged that Ms Austin is unmarried, and received the backing of Ms Sturgeon, who added that the charge nurse had raised "one of the biggest" issues of the general election campaign.
Speaking at a visit to Strathmore Centre for Youth Development and Wellmeadow community cafe in Blairgowrie, the SNP leader said: "In terms of Jo Cherry, of course I have confidence.
"She made a mistake, an honest mistake, and she apologised for that.
"In terms of the wider social media reaction, I don't think it's acceptable to make judgements about somebody's background.
"The nurse on the debate last night was absolutely entitled to raise the issue that she did and, as I said, she raised an issue that I think is one of the biggest in this campaign, the level and value of real wages, not just in the public sector but in the private sector.
"Now we know that the Tories have no policies to deal with that. Our manifesto tomorrow will set out how we think that issue should be addressed and tackled.
"This underlines the key issue at the heart of this campaign. Do we want Tory MPs who will just be a rubber stamp for Theresa May or do we want SNP MPs who will stand up for Scotland?"
The average pay of a band five staff nurse starts at £22,000 and it takes eight years to get up to £29,000.
During the debate on Sunday night, Ms Austin said: "How do you expect someone to live on that? We are now having to strike. Do you think that's what nurses go into nursing for?
"I'm telling you now I would rather leave nursing, as would many more of my colleagues, than have to strike because you have no idea how demoralising it is to work within the NHS.
"Don't come on your announced visits. Come in on the middle of any day into any ward, any A&E department. Come on in and see what we are up against."
Ms Sturgeon, who has been criticised for not intervening to scrap the below inflation cap in recent weeks, said her sister works in the NHS and said the pay freeze was "unsustainable" now inflation is increasing.
Meanwhile, the Scottish Labour leader accused the First Minister of being involved in the systemic smearing of ordinary voters.
Kezia Dugdale said the tactics used against the nurse are a "trend from 'cybernats' on Twitter right up to the First Minister" whenever the party comes under pressure.
Speaking at the launch of the Labour manifesto, Ms Dugdale: "First of all it's to tell you things are better than in England and, if you don't buy that, then it's basically to smear, punish and try and expose the individual who has been brave enough to speak up.
"And I think it back-fired on the SNP spectacularly last night. That woman was speaking the truth."
Scottish Conservative MSP Murdo Fraser said: "I was sitting alongside Joanna Cherry as she claimed on the BBC that the nurse was the wife of a Tory councillor. She was being urged to say so by the Scottish Government's welfare minister Jeanne Freeman.
"It was a disgraceful episode and Nicola Sturgeon and her party should be thoroughly ashamed.
"This smear operation points to something endemic within the SNP."