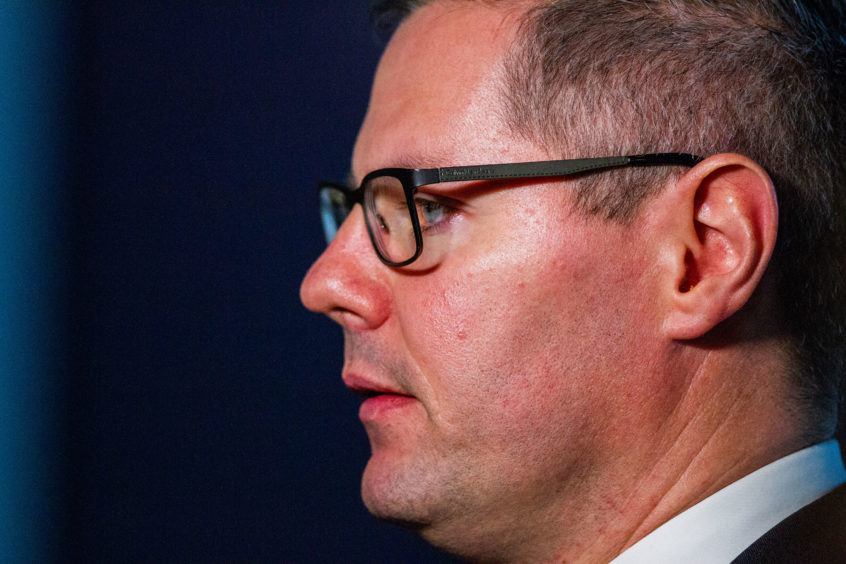 An independent Scotland could halve its deficit within five years of breaking away from the UK, says the Finance Secretary.
Derek Mackay said the £13 billion gap between revenue and spending could be slashed faster than the timetable proposed by the SNP's Growth Commission – and without imposing austerity.
Under the group's masterplan published last year, Scotland would aim to halve its budget deficit, estimated to be 5.9% of total economic output at the point of secession, over a period of five to 10 years.
That would mean capping spending increases at 1% below GDP, which critics of the plan said would amount to austerity.
Asked if his government could get the deficit down quicker than the commission suggested, Mr Mackay said: "Yes and I can tell you why.
"After we published the Growth Commission report our economics, the financial position was improving."
Mr Mackay said Brexit is the "main threat" to the economy, adding: "With the powers of independence, yes we can stimulate economic growth, grow our economy, get that notional deficit down."
The finance secretary said the deficit is a "result of being part of the UK" and insisted their plans to reduce it does not amount to austerity.
"Yes we want to bring that estimated deficit down," he saiad.
"We have set out a plan as to how to do that, growing our economy. It's an alternative to austerity."
Murdo Fraser, for the Scottish Conservatives, said it is "fantasy economics" from the SNP.
"The idea that Scotland's £13bn deficit can be halved within a few years without austerity is absurd," the Mid Scotland and Fife MSP said
"That would either require unprecedented cuts to public services, higher taxes and more borrowing – or more likely a toxic mix of all three.
"The SNP should be focusing improving education standards, fixing our NHS and growing our economy, not obsessing about separation."
Earlier, Mr Mackay said the party's new currency plan would guide them to Indyref2 victory.
It involves an independent Scotland keeping sterling initially, with parliament voting by the end of the first term on whether to introduce a Scots replacement.
The Renfrewshire MSP said the strategy offers flexibility to "choose our currency based on what is right for our economy at that point in time".