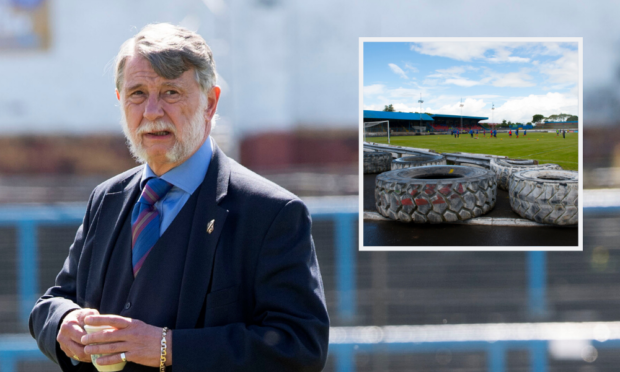 Cowdenbeath chairman Donald Findlay QC has called on the SPFL, the SFA and Scotland's clubs to put talks about the future of the season on hold until the coronavirus outbreak is brought under control.
The 2019/20 campaign hangs in the balance following the Covid-19 shutdown and no football will be played until April 30 at the earliest.
The door remains open for an 'as-it-stands' solution that would see the likes of Celtic, Dundee United and Raith Rovers being declared champions.
But the leagues could also still be declared null and void.
Findlay – whose Blue Brazil side are fourth and in the play-off spots in League Two – isn't interested in finding a solution for football right now.
The former Rangers vice-chairman told The Courier: "Just put it on hold and leave it. It doesn't matter.
"What matters is our people, and our people getting through this.
"People badgering for positions and suchlike, it doesn't matter, not one bit."
We speak on the phone late on Thursday night and Findlay, who had been in court all day, was clear in his message.
Cowdenbeath, and the wider football world, has to take a back seat for now.
Just hours earlier, however, the SPFL and SFA joint response group endured hours of conference calls with clubs across the country.
On the agenda were schedules, finances and outcomes for the current season.
Celtic insist it can't be voided and Rangers want it played to a finish while Dundee United have called for "sporting integrity" and say they are open to closed-door action in a bid to clinch the Championship title.
Elsewhere, Hearts have already asked players and staff to take a 50-per-cent wage cut and Raith Rovers fans have raised over £21,000 to help their team get through the coronavirus crisis.
Meanwhile, the SFA have offered emergency payments to member clubs totalling £1.5 million.
Findlay, who this week turned 69, says: "I haven't really had the chance to talk in depth to anybody at the club – there are people who are trying to come up with plans to get us through it all.
"It's quite clear there won't be any more games for a long time, for clubs of all levels, and that impacts on a significant portion of their income.
"Football, and those involved in football, have to face up to the reality of what's happening.
"Other people are having to take unpaid leave and pay reduction – football can't be any different.
"This is the reality. Professional sport is a diversion. It's an entertainment.
"We're a long way from needing diversions. Survive, return and then divert again.
"Football shouldn't be looking for sympathy.
"Right now, though, we have to focus on the welfare of our people. We need to look after the most vulnerable."
Will Cowdenbeath – who faced financial ruin in 2018 – make it through the shutdown?
Findlay insists: "Of course we'll survive. All clubs will survive if they go about the task sensibly and make economies.
"They need to be sensible and make plans. What state the game will be in with it's over, nobody knows.
"But we will not let Cowdenbeath disappear. Those involved in other clubs will be the same.
"It will be a hard journey for football."
First Minister Nicola Sturgeon announced on Wednesday that schools and nurseries across Scotland were to close from the end of the week, with no guarantees they would reopen before the summer.
Panic buying in shops continues while UK Prime Minister Boris Johnson has urged 65,000 former doctors and nurses to come out of retirement to help the NHS.
Findlay – who became Cowdenbeath chairman in the summer of 2010 – can't believe the speed at which the coronavirus has escalated.
He adds: "On Monday morning I went off to work, I'd heard about it and, yes, it might be a problem.
"By the end of the day, the world's standing on its head – people are being sent home, places are closing down.
"It's caught everybody by surprise. I think the government are doing a terrific job.
"It's changing on an hour-by-hour basis. The speed at which it hit us…it's the like of which I've never encountered.
"Nobody's encountered anything like this. It's a voyage of discovery for everyone.
"Football's a trivial thing in the context of this – it's not bloody important. This is people's lives we're talking about.
"Things are so uncertain. Some people are struggling to get by and others are facing serious and potentially life-changing health issues."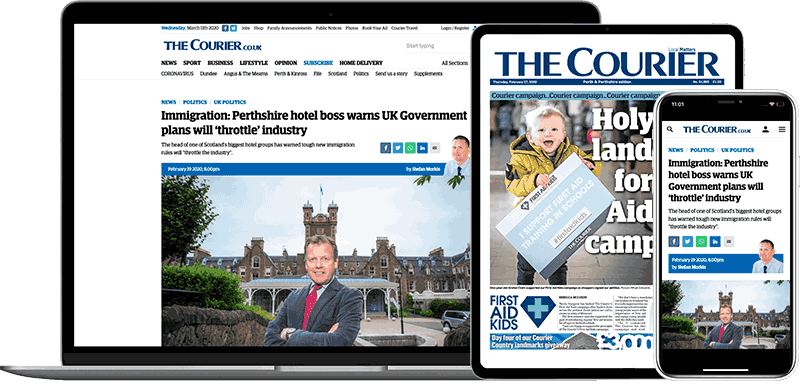 Help support quality local journalism … become a digital subscriber to The Courier
For as little as £5.99 a month you can access all of our content, including Premium articles.
Subscribe