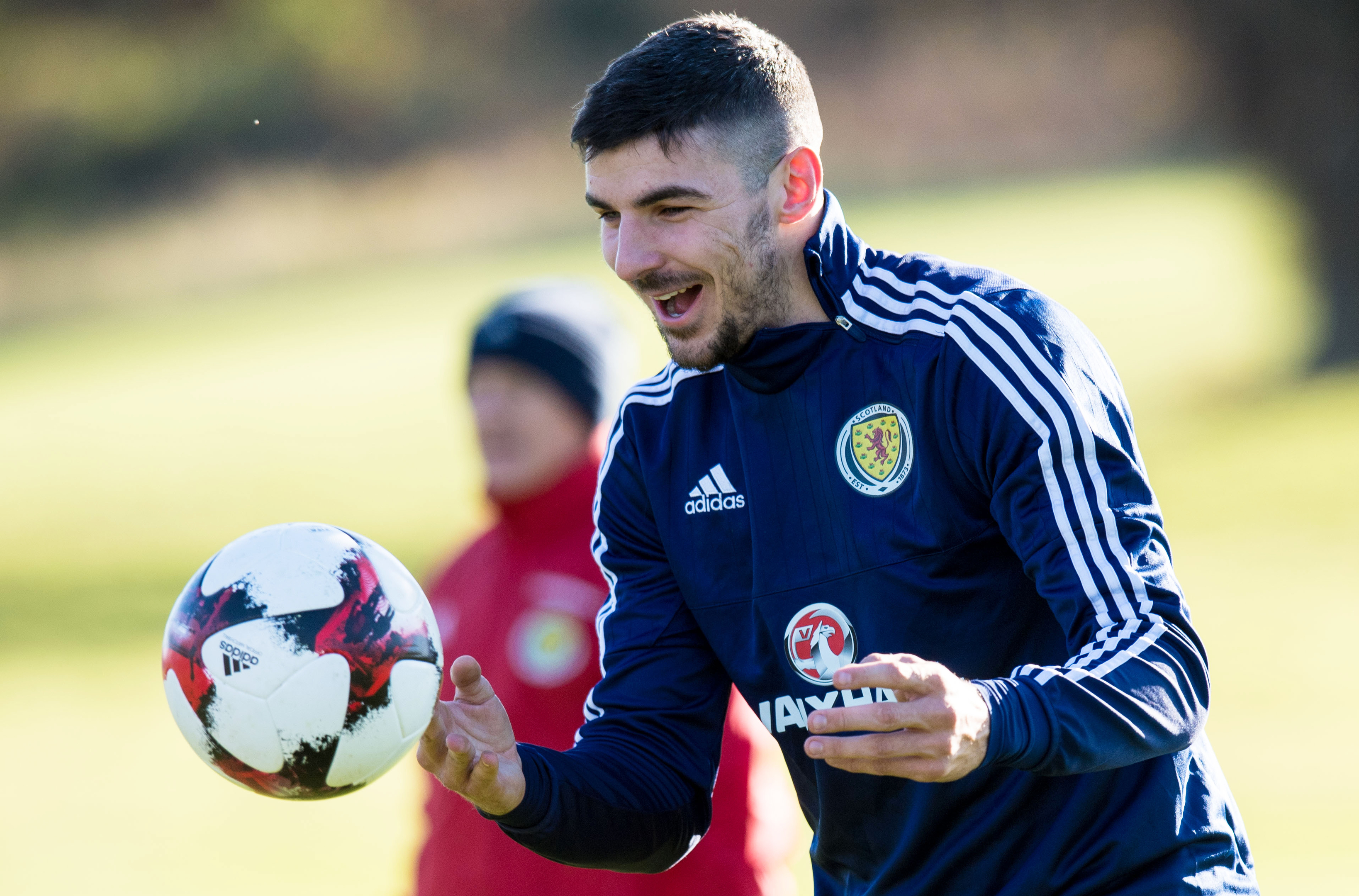 Kris Boyd does not think Callum Paterson should be "anywhere near" the Scotland team for Friday night's Battle of Britain at Wembley.
But criticism from the Kilmarnock striker after Boyd's old Rangers team-mate and now ex-rival of Paterson's for the right-back position with Scotland, Alan Hutton, retired from international football will just act as extra motivation for the Hearts man if Gordon Strachan selects him for the crucial World Cup qualifier.
"People just talk in the papers," Paterson said. "I don't take any notice of that.
"Somebody told me about it although I didn't really read it.
"I don't really care what anybody else says about me as long as I play well and feel good myself.
"If anything it will motivate me. People who know me know that talking about me doesn't wind me up.
"Instead it spurs me on. If that is what he is saying then so be it.
"I think I have improved defensively although there is still a long way to go."
Hutton's decision to make himself unavailable for his country was an unexpected one.
And it left the player who now has an opportunity to grab the right-back jersey for years to come with mixed emotions.
"It is a chance to establish myself," Paterson admitted. "But on a personal level I'm disappointed as he's someone I could learn from.
"I'm disappointed he's not here but I will try to grasp the opportunity with both hands.
"I was surprised but it is his choice, his personal decision. You can't go against that.
"I'm also thankful as it has given me a bit of an opportunity.
"He was a player that I admired and would look at.
"He's big, strong and fast. That's what the modern game needs. He was the pinnacle of that for Scottish football. That's what I want to aspire to be.
"He is one of the players who started off in Scotland and then did well down south. He has had a long international career and that's something I want to replicate. "
Hutton may no longer be on the Scotland scene but there are plenty of other experienced campaigners who can help bring the 22-year-old on.
"Of course I have been speaking to the experienced guys in the squad," he said.
"No disrespect to anyone at my club but these boys are playing in the English Premier League and some of the biggest leagues in the world.
"Some of them are moving for millions of pounds so it is great to learn from people like that."
Talking of players who are moving for millions of pounds, there will be no lack of them in the English XI on Friday evening.
"They are a great side," Paterson said. "They have £50 million players in the team.
"But, it is a great opportunity for us to put a marker down.
"We may be a bit nervous before it starts but it is not going to be daunting.
"Once the whistle goes then it will be all guns blazing.
"They are just people at the end of the day and it will be a great experience to play against them.
"It doesn't matter how they play, we have to play well.
"We have to rectify what we have done in the last couple of games and take it on a bit."
There could be a familiar face from club football in the England side for Paterson. When Hearts played against Liverpool in Europe a few seasons ago, he had to deal with the pace of Raheem Sterling.
And it certainly wasn't a mismatch.
"I was playing right midfield and he was left midfield," Paterson recalled.
"Stewart Downing played left back so it was an easy shift!
"I had just turned 17 at the time so I was running about like a headless chicken without a care in the world.
"Now it is a bit more serious and I'm looking forward to it.
"We did well against one of the best teams in England and only lost 2-1 on aggregate."
The start to the World Cup qualifying campaign hasn't gone to plan so far but Paterson does not believe manager Gordon Strachan should be carrying the can.
"It is not just down to him," he said. "As a squad we didn't perform well enough.
"We are glad that he stayed. He has made me feel very welcome in the group."
Paterson is too young to remember regular Scotland v England encounters but that doesn't mean playing in the world's oldest international wasn't a childhood dream.
"To play against England anywhere would be a massive thing," he said. "I've never been to Wembley before.
"Me and my friends used to play Scotland v England on the PlayStation.
"Nobody wanted to go England.
"I have played in a few big games at club level but this would be something else.
"It is going to be massive crowd and a great feeling to play at Wembley.
"Hopefully I can get some game time and lap up the atmosphere.
"In terms of the level of football that would be the biggest game but also played in the League Cup Final at Hampden."