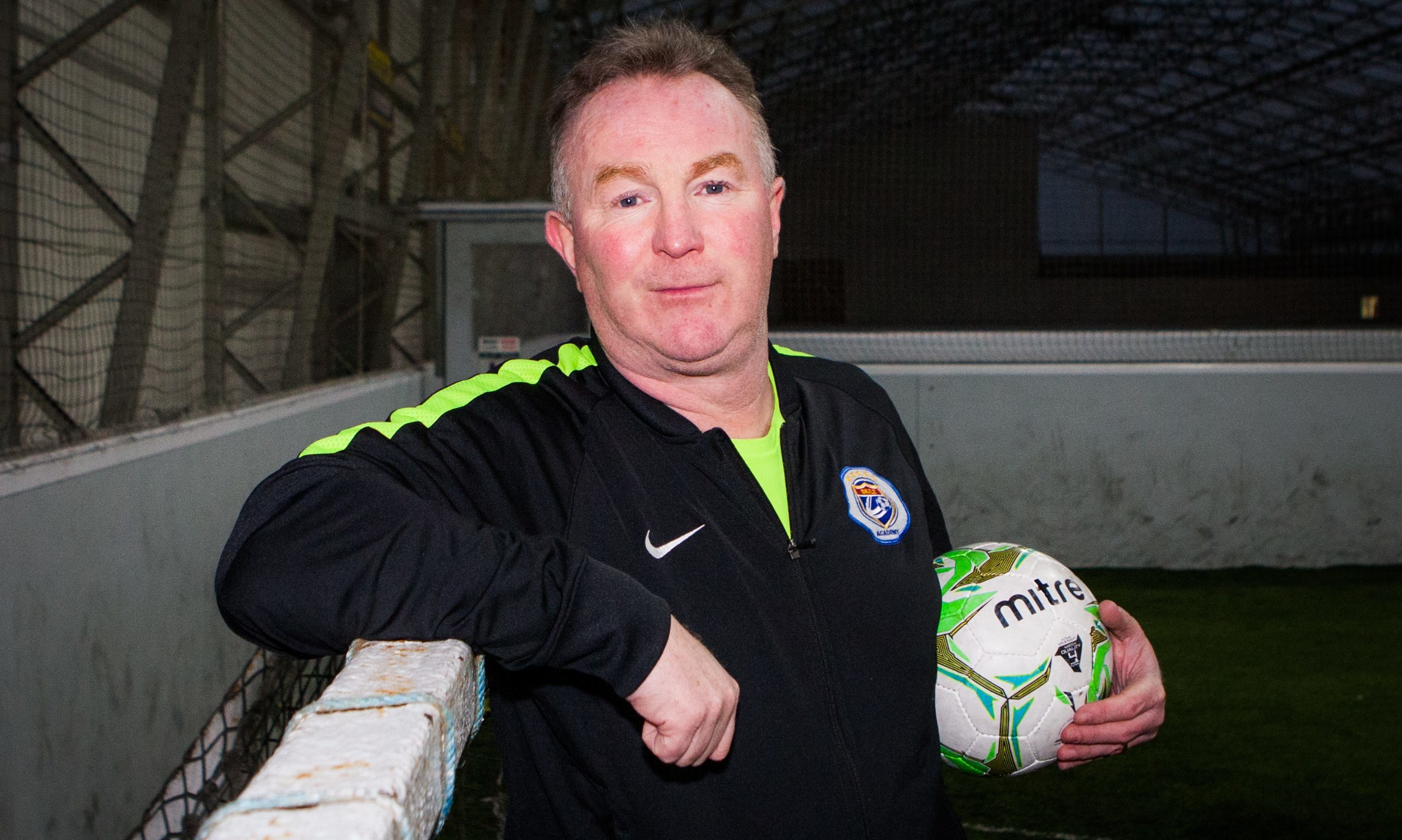 In his first in-depth interview since his high-profile departure from Dundee United ended with an out-of-court settlement, Stevie Campbell tells Courier Sport that his time away from football helped him put life in perspective.
There is no shortage of doom-mongers ready to declare that the well has run dry as far as promising young talent in Scottish football is concerned – but Stevie Campbell is not one of them.
The former Dundee United youth supremo now combines coaching at Brechin City with helping run a relatively-new football enterprise, the Skilz Football Academy.
Some of the children attending the classes at Manhattan Works in Dundee last week experienced a rare treat when one of Campbell's former Tannadice protégés Stuart Armstrong made a surprise visit.
The budding football players were thrilled to meet the current Celtic star that everyone in Scottish football is talking about at the moment.
And Campbell has seen enough of his young charges to believe that this country is still capable of producing another Armstrong or Ryan Gauld.
He said: "I am part of a business called Skilz Academy.
"We have employed people of the calibre of Barry Smith, Gary Bollan, Robbie Raeside, John McGlashan and now Paul Mathers as coaches.
"It is an independent football academy and it is going very well.
"It is for kids between the ages of five to 14 and we have over 21 classes running during the week.
"We have around 220 children involved in the Skilz classes at Manhattan Works.
"It has been going for four to five months and has been very successful.
"We want the kids to have fun but we also want to enhance them as people and players."
Campbell added: "Last Thursday I had a coffee with Stuart Armstrong before he flew out with Celtic to Dubai just chatting for a couple of hours.
"But Stu being the boy he is asked how the Skilz business was going so I said come along and have a look.
"We went along at about half two and the kids were blown away when they saw him walk through the door.
"We had a wee kickabout with the boys and it was brilliant.
"I still keep in touch with the likes of Johnny Russell, Scott Allan and the Souttar brothers John and Harry.
"Ryan Gauld also texted me the other day on my birthday.
"They are always on the phone if they need advice or just to catch up.
"I still like to think I am having an effect on people's lives through coaching.
"It is a fresh challenge for me and I am really happy."
When asked if he saw signs of another Stuart Armstrong or Ryan Gauld coming through, Campbell said: "Totally. 100%.
"I have asked myself this question a million times about where it has gone wrong for Scottish football.
"But there is definitely talent there. I am always an optimist and the SFA have now brought in Malky Mackay and I am sure he will make changes."
Armstrong initially struggled to make an impact when he moved from United to Celtic but is now flourishing under manager Brendan Rodgers.
However, Campbell was always confident the 24-year-old would fulfil his potential at Parkhead.
He said: "Stuart wasn't the golden boy, so to speak but I brought him in to United and I just thought there was something special about him.
"I am certainly not surprised at where he is now.
"I know him so well and it is fantastic to see him flourishing."
Another one of Campbell's former charges, Gauld, chose a completely different path, opting to move to foreign climes to join Portuguese side Sporting Lisbon.
That move raised more than a few eyebrows but his former coach was not shocked by the decision.
He added: "Wee Gauldy's move abroad may have taken a lot of people by surprise but knowing him it didn't shock me.
"He was always so different in his thoughts and I put a lot of that down to his working with Ian Cathro when he was nine or 10.
"But when I had him, you just knew he wasn't going to go for a so-called normal move.
"I am firmly behind what he has done. I know it has been a slower process than what some would have predicted but that's probably because of the size of club he chose to go to.
"I am still confident that within the next year, he will blast back on the scene.
"People might ask if he will come back here to play for Hearts and Ian – you never know."
While Campbell is delighted to be involved coaching what he hopes is the next generation of Scottish football talent, he is taking equal enjoyment from being involved with Brechin City.
And he revealed the move came about because of a close friendship with Glebe gaffer Darren Dods – and the delivery of a pair of shoes to the Angus club's chairman Ken Ferguson.
Campbell said: "First and foremost, I am very friendly with and have a lot of respect for Darren Dods.
"I was up in Inverness with him and then Craig Levein asked me all about him before he brought him to United.
"When he was a player, we did our coaching badges together. I had done my youth stuff but this was the A licence.
"When Darren got the job at Brechin last year, I used to speak to him all the time. We used to meet at the McDonalds outside Forfar talking about young players and just general football.
"Even when he was a player at United, Darren was always one who came in to practise while he was going through his badges.
"He was just someone I developed a great relationship with.
"Lee Bailey, his No.2 was a team-mate of mine at Livingston so throughout my year out of football, I was in contact with them regularly.
"They did mention me coming in when everything was sorted out at United.
"I didn't make any promises as I had other offers but it was something I definitely gave a lot of thought to.
"I was then working for Yodel for a while and I had to deliver a pair of shoes to the chairman Ken Ferguson one day!
"We had a bit of a laugh about it and a cup of tea together and he admitted that Dodsy had mentioned me but he thought I would go back in full-time.
"But that really wasn't the case.
"So once everything was sorted out, I weighed everything up and I thought it was a great opportunity to be Dodsy's No.3.
"I have never worked with a first-team before and it is part-time as well so it is new to me.
"However, I absolutely love it.
"I was at Brechin for three years at the end of my playing career and they are a club I am fond of.
"I had loads of other options to weigh up but I just felt it was right for me."
Campbell admitted that being out of the game for months had given him a lot of food for thought.
He added: "Spending a year out of football after 30 years in the game, 15 playing and 15 coaching which I absolutely loved and have magnificent memories of, I just saw that there were other things to life.
"You are in a bubble and there is no disputing that, working 70 to 80 hours a week putting everything you have got into it.
"That's got to be to the detriment of family time.
"I now see a lot more of my family.
"So going and getting a normal job and having a lot of time to think had a big bearing on my decision to join Brechin."