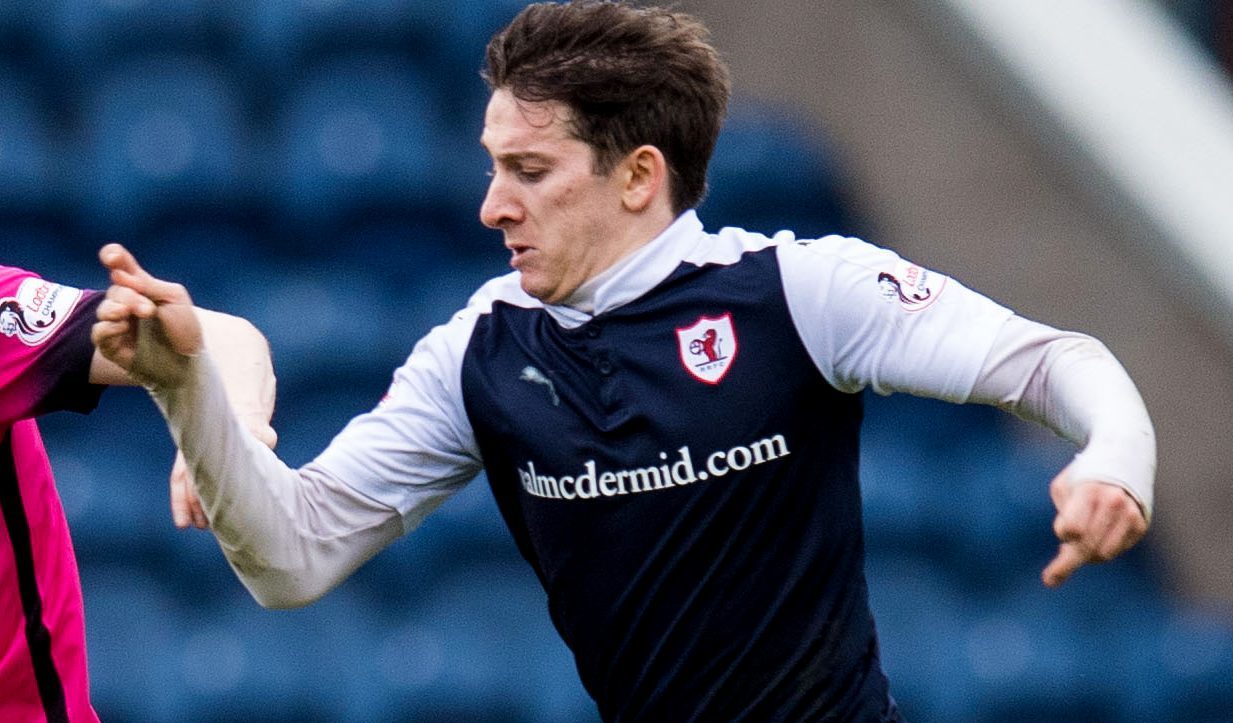 Raith's Chris Johnston has revealed that a clear-the-air meeting helped fire the players to victory over Dundee United last week.
The Rovers squad looked to have finally turned a corner with the win over St Mirren two Wednesdays ago, only to suffer a desperately-disappointing defeat at Dumbarton the following Saturday with the result and 4-0 scoreline prompting boss John Hughes to launch a scathing verbal volley at his players.
However, Johnston admitted the team didn't need telling and they were their own harshest critics.
Now, with the meeting having produced the desired effect against United, the 22-year-old is hoping the win can be the launching pad to a sustained run of success that will take Rovers away from the Championship danger zone – starting today at home to Queen of the South.
Johnston said: "When you are going through a bad spell, people maybe question things.
"We just knew the Dumbarton result wasn't acceptable.
"Afterwards we all sat down and got it out there. We addressed things with a few of the boys just saying we needed to be more consistent.
"We thought we had turned the corner against St Mirren and then we had the Dumbarton game. We were right back into that rut so we knew we had to put it right.
"It made us go into the Dundee United game all fired up and we were confident we would win.
"We knew we tend to perform against the so-called better teams in the league but we now need to go into every game with the same attitude.
"I think the first goal in this league is very important and we know if we can go in front in games then we can take more points and go from strength to strength."
Johnston added: "It was a great win (against United) and the boys really needed that.
"I know United are going through a bad spell but they are still a good side.
"The manager has told us that it is just one good performance and we have to take it into the next game and the remainder of the season.
"So we just need to kick on now against Queen of the South."
Johnston's performance against United playing in a more central position to his usual wing berth earned him a place in the SPFL team of the week.
That was despite the fact he missed an absolute sitter with his attempted tap-in flying high over the bar.
The player insists the Stark's Park pitch played a big part in his miss but he still received little in the way of sympathy from Hughes.
He said: "The gaffer has been giving me a bit of stick for missing a sitter at the end.
"It maybe took a bobble or four! When I looked at it again, I maybe should have taken a touch but it was just one of those things. If it hadn't bobbled, it would have been in the net.
"Thankfully it didn't matter as we still got the result.
"But I thought we played really well as a team which is the most important thing.
"It was a game I really enjoyed. You want to play against the best players in the league and outwith Hibs, Dundee United are up there.
"They have a strong squad and these are the sort of games you love to play in.
"The manager played me in the hole against St Mirren and I really enjoyed it.
"The gaffer obviously likes me in there and I like it as well as you are involved a lot.
"When you are out wide you can drift in and out of games.
"When a new gaffer comes in, you just want to try to impress.
"He has told me what he wants from me and the way he wants me to play which I think suits me as well."