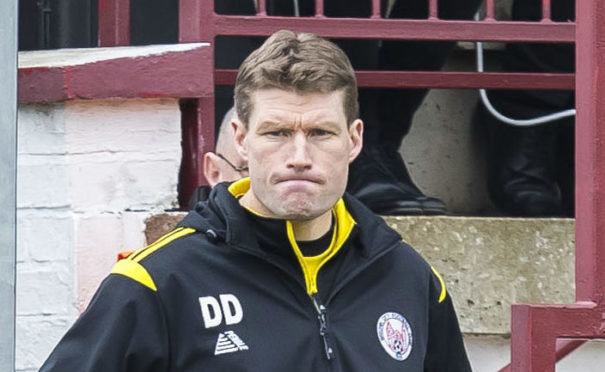 Brechin boss Darren Dods will look to take the game to hosts Stenhousemuir this afternoon after adopting a very cautious approach to last weekend's Betfred Cup game at Dundee.
A 7-1 defeat from Dunfermline four days before the Glebe Park men headed to Dens Park had left Dods concerned about morale being affected for the new league season and he picked a team designed to contain the hosts.
Losing a goal after 11 minutes could have proven to be a catalyst for the roof to cave in on the Brechin team.
However, they lost only one more to go down 2-0.
Dods said: "We had been giving a real going over against Dunfermline and we were heading to Dundee low on numbers.
"There was no point in opening ourselves up and having a go whilst leaving ourselves exposed so we went with a more defensive approach.
"It worked until the last 20 minutes when we tired and Dundee got on top of us.
"Despite injuries and a sending-off we saw things out without our confidence being further eroded."
Dods will look to build on that by securing a win over an Ochilview side, who were promoted via the play-offs.
He explained: "It is a great game to start with especially after playing two full-time sides.
"We can go there and look to be the team on the front foot."
The only concern for City is that their resources are thinly spread.
Dods said: "Callum Tapping is suspended for cards picked up last season.
"Paul McLean is also banned but he would have missed out anyway and Ryan McGeever is not ready to return.
"Jordan Tapping has a 50/50 chance of playing due to an ankle injury, although Sean Burns is available despite a knock and Giuliano Moreno is free of a ban.
"Also, I have been looking to add players on loan but the contributions requested by their parent clubs have been excessive so far so we have not been able to bolster our squad.
"However, Andy Jackson got an outing as a substitute last weekend and has shown no reaction.
"Whatever team we put out we will look to get off to a winning start."