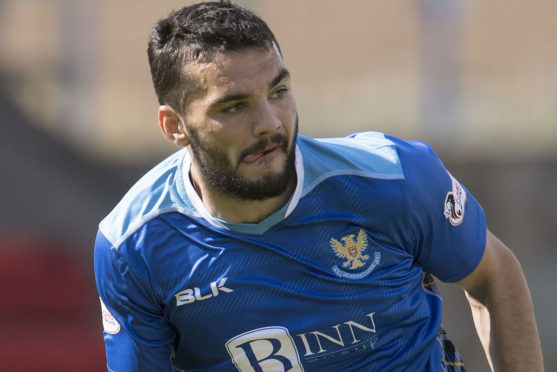 He is no mean scorer himself but Tony Watt admits he might be having a quiet word after St Johnstone play Kilmarnock with goal machine Kris Boyd to ask him the secret of his success.
Watt may have grown up a Celtic fan but he has never been slow to turn to the former Rangers striker for advice.
Boyd may now be 34 and not exactly svelte in stature but he still managed to score 23 goals last season and has already netted four times in three Betfred Cup games so far this campaign.
And Watt knows St Johnstone will probably have to keep him quiet this afternoon if they hope to start their Premiership campaign with a win.
The 24-year-old said: "Boydie is just Boydie. He scores goals everywhere he goes. It's scandalous.
"I don't know how he does it. I will be pulling him aside and asking him.
"I know him through the same agent and he has been brand-new with me any time I have been looking for advice.
"He was born to score goals. It's simple. He came on in the cup game at Dumbarton and scored a hat-trick in half an hour.
"Obviously I was a Celtic fan growing up but always had respect for Boydie because of his record.
"Some players are naturally big, others are small. You see guys that are three or four stone wet.
"Boydie scores more goals than any skinny player so I'm sure he doesn't care about fans talking about his weight.
"He will be able to eat as much as he wants when he retires from the money he has made scoring all these goals in his career."
Watt admits he is licking his lips in anticipation at playing in the Premiership with Saints.
And he insists his target for the season is simple – to score as many goals as possible for Tommy Wright's team.
Watt added: "I'm excited about the prospect of the league campaign. It's probably the first time since I was at Charlton that I have been in the door for a few weeks before it all starts.
"I have had a few games under my belt and I've settled in. Everyone has been brand-new and I have scored goals in the Betfred Cup.
"It's always good to get off the mark and I didn't want to go into the league campaign with a zero at my name.
"Hopefully I can add to that game by game. I will aim to score in every game. I know that's not going to be possible but I need to have that mentality.
"The only target has to be winning games and scoring goals.
"I felt I played well when I was at Hearts but didn't score enough goals. So hopefully people can judge me on my goal return here."
Watt revealed that no matter who he plays against this season, he will be confident that Saints can get a result.
He said: "When I was at clubs like Celtic, Charlton and Standard Liege, that was always our approach.
"At Charlton we went to places like Derby and teams with five times our budget and we would get results.
"It was the same in Europe at Celtic when we took on the likes of Barcelona, Juventus and Benfica. We always thought we would get a result.
"Maybe it was always in me but it was certainly part of coming through the ranks at Celtic. They want winners.
"We need to have that winning mentality here and everything else will follow.
"I have been getting stronger with every game and training session that goes by. We know what we have to do and hopefully we can show that at Kilmarnock.
"We are going there looking to win. But we know they had a great season after Steve Clarke came in and turned things around.
"I saw them a couple of times. They played to their strengths and they will have our respect."