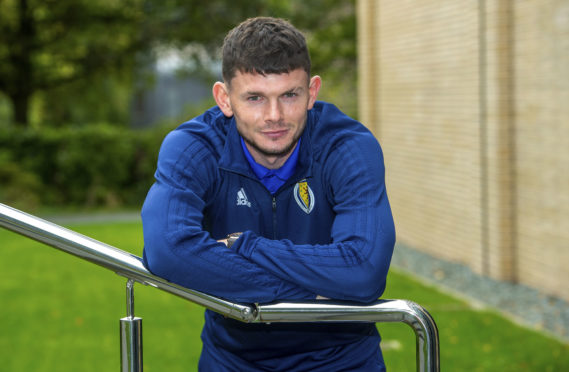 For a man who is seen by many as an unfulfilled talent, Oliver Burke is ticking off career boxes that most footballers could only dream of.
Twice the Kirkcaldy-born winger has become the most expensive Scottish player in history with big money transfers, costing Red Bull Leipzig and West Brom a combined total of £28 million.
And, after his recent loan move to Alaves, Burke can also tell the grandchildren he has played in the top leagues in England, Scotland, Germany and Spain.
Still only 22, he certainly couldn't be accused of being reluctant to take himself out of a comfort zone.
"I was keen for another adventure," admitted Burke, who moved to Alaves on a season-long loan.
"I'm really enjoying it. We've started off well and I feel really comfortable there.
"The team is good and have made me feel welcome and I'm playing football which is the main thing. It doesn't really faze me moving to another country. Because I've already done it it's a lot easier.
"I want to enjoy it because you only live one life so why not live it to the extreme and do everything you can?
"The main focus was to go there get and get game time.  That has happened and everything is going well which is good."
He added: "We train at 11 in the morning and then of course there is a siesta and shops close at certain times, which is weird.
"It's pretty normal other than the siesta part of thing where they all go to sleep for two hours and it's a ghost town.
"I'll go back and sleep after training and do what they're doing so I can keep up.
"I've got to start having Spanish lessons three times a week. I've got a teacher already organised.
"Just now it's only a short loan until the end of the season, but who knows what will happen after that, but it will be nice to learn the language.
"My team-mates are good. I go out for meals with them and stuff.
"I think a few of the players did some research into me before I went but the rest of them don't really know anything about me. It is difficult to speak to some of them, because they don't speak English. Sometimes you need somebody to translate. It's like 'tell him that'. So it is quite funny. I see their reaction about a minute later!
"I just have to see how it goes. If it is going really well for me and I am playing, then I will want to stay and progress.
"You never know where you are going to end up being in football – clearly! It can change very quickly.
"It is unfortunate I haven't been able to get the game time at West Brom but I need to stay focused, progress, and try not to think about it too much."
Burke has been predominantly playing out wide in Spain but, with Oli McBurnie dropping out of the Scotland squad, there is a strong chance Steve Clarke may deploy him through the middle in Moscow tomorrow night.
"I've been going between the right wing and the left wing and I'm really enjoying that because it was my position growing up and it's perfect for me," he said.
"But I'm happy to play anywhere as long as I'm getting game time. It's not something I dwell on.
"I just enjoying being up at the top end of the pitch."
Burke appreciates the importance of getting regular minutes with his club after losing his place in the Scotland squad when that wasn't happening. Within the space of a few months he had gone from scoring the winner against Cyprus to being dropped for the recent Russia and Belgium double-header.
"The main reason I wasn't in the last squad was because I hadn't been playing football," he said.
"I totally understand and respect that. A player that's not playing is clearly not ready for the national team.
"It hurt because previously I had scored in the Cyprus game and I felt it was really going well in the international set-up.
"But these things happen, other players were playing and they deserved to be in over me because they were playing more minutes.
"It made me think: 'Right, I need to play football now, because I need to be able to help the team now'.
"Now I'm very happy to playing and back in the set up. Everything's going really well for me just now and I'm happy to be in the squad.
"Every game you want to go in and give everything you have got, prove a point and make sure you are in the manager's thoughts for the next camp."