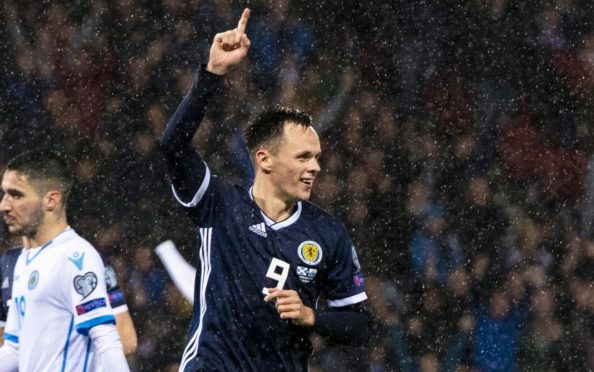 Dundee United striker Lawrence Shankland has stressed he is not taking his involvement in the Scotland's set-up for granted.
The Scots face Israel at Hampden in the Euro 2020 play-off semi-final on March 26 and national coach Steve Clarke is currently piecing together his squad for that crucial clash.
The jostling for forward positions has become that bit more intense with the return to top form of Celtic's Leigh Griffiths, who scored a hat-trick in the Hoops' 5-0 hammering of St Mirren on Saturday.
Should Scotland beat the Israelis then they will fight it out five days later with either Norway or Serbia for a coveted spot in what Shankland called this summer's "massive event."
If they can get those two victories then Scotland would qualify for their first major finals since the World Cup in France in 1998.
It is, therefore, a very big deal indeed and it would be a dream for the Tangerines' top scorer if he could be involved.
However, Shankland, who has now gone three matches without finding the net for his club, is hoping rather than expecting to be selected by Clarke next week.
He said: "It is out of my hands but I would love to be involved.
"Mind you, so will every Scottish striker who is scoring goals.
"All I can do is keep playing well for United and hopefully the national manager will give me the nod.
"There are a lot of strikers who could get a call up and that's a good thing for the country. The gaffer is in a good position with players getting goals so he will be happy with that.
"I would love to be involved because it's a Euro play-off and they don't come around too often," said Shankland, who scored against San Marino at Hampden during the qualifying group stage.
"It's a big opportunity to get to a major tournament. It would be a massive event for the country.
"You have to win two games to get there and you won't get a better opportunity to qualify."
Shankland, perhaps being overly modest, revealed that he doesn't know if he will ever consider himself to be a permanent fixture for Scotland.
He said: "I don't think you can ever feel part of the squad because it all depends on your form around the time the manager is making his mind up.
"Only a couple of players probably know they're going to be in it all the time but not everyone has that.
"People like me know you have to perform in between the camps to keep you in the manager's mind.
"There have been games where I haven't scored but I still have a good number of goals since the last squad so that should help me.
"I haven't heard from the manager but I don't expect many of the international bosses keep in touch because it's all down to what's happening when he needs to pick a squad."