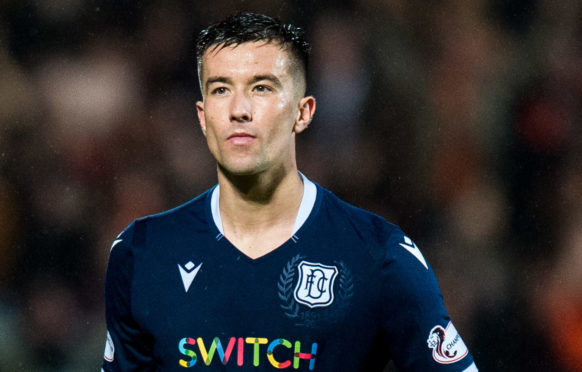 Cammy Kerr has always been willing to go above and beyond the call of duty for Dundee but even he had to admit defeat to injury.
Kerr had never even been in a hospital before he had to undergo a tidy-up operation on the injured knee that had been bothering him all season.
The 24-year-old defender, having accepted his fate, had the surgery and is now looking to kick on for the season's finale.
Kerr, who is set to play against Ayr United at Dens tonight, said: "The op went well. The problem had been draining me too much and I had to get it done.
"I was on anti-inflammatories and painkillers but it had got to the point where it was affecting the way I was kicking the ball.
"I am one of those guys who wants to play for the cause. I am not saying that just for the sake of sounding good.
"But it had got to the point where I just couldn't play.
"I was probably going at 60-70% of what I could do normally so I just had to get it tidied up and then take the hit."
Kerr has faced stressful situations galore during his career but he revealed he was terrified about being put under general anaesthesia for the surgery.
The full-back added: "I had been fairly lucky so far but this was the first operation of my career.
"I was scared to bits as I had never been in the hospital before.
"My biggest fear was getting put to sleep for the op, I promise you.
"I was just scared I wouldn't wake up!
"But it is great to be back. You almost take it for granted going on the bus to training and playing in games with the boys.
"I am feeling much better now and I'm just raring to go for the rest of the season."
Tonight's clash between the fourth- and third-placed sides in the Championship is the second of a double-header following Saturday's goalless draw at Somerset Park.
That match was a bit of a non-event, with the terrible weather and dodgy pitch the big winners.
Kerr admitted it is unusual to be playing the same opposition back to back in the league but hopes this should be a more attractive watch for the fans.
He said: "It is Ayr again and you are looking at it and thinking: 'What are they going to do now, what are we going to do and who is going to flinch first?
"It is so close when you see where we are in the league.
"Saturday's draw was probably a good result, especially considering the conditions.
"It was another clean sheet and we have been on a good wee run that we want to keep going.
"We need to impose our game on them at Dens and hope for another three points.
"I think the fans can see there is a bit of resilience about the team just now. There is a determination to keep going for the season run-in.
"There are a lot of games coming up that are important for us getting into the position we want to be in.
"We can't afford to take the foot off the gas. We just have to keep at it every game and hopefully we will get our rewards."
The Dark Blues have a doubt over Jordan McGhee, who has a dead leg but will be given all day today to prove his fitness.
Manager James McPake said: "He will be assessed before the game and we will do all we can to get him fit."
Like Kerr, McPake thinks this game will be an upgrade on the 0-0.
The Dundee gaffer said: "There wasn't much quality on show on Saturday and it was one of those days.
"The pitch, the wind and the rain made it tough.
"Our surface out there is better so I think we will see two better teams on the night.
"We are doing things right and there have been a lot of positives in our last five matches that maybe we hadn't been getting previously.
"We have managed to, consistently, been hard to beat but we have to find ways to be better at the other end of the pitch.
"We are disappointed that we are not quite hitting the heights we should be because we have good strikers in our team.
"I don't think, on Saturday, you saw us at our best or Ayr at their best for that matter because the conditions were so bad.
"They will be better and we will be better – that's a given."