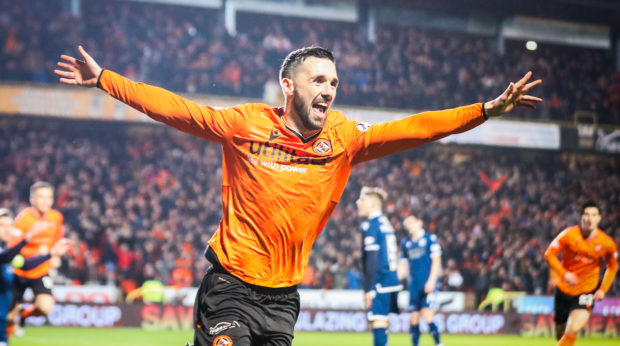 Dundee United forward Nicky Clark is determined to abide by the coronavirus rules while making the point that players are "not robots."
If there is one footballer in Scotland who is aware of the toll the virus has taken on the population then it is Clark.
His partner Gillian has been working in a Covid-19 ward at Ninewells Hospital in Dundee during the outbreak, thus ensuring the United man knows full well the tragic consequences of the pandemic.
Clark has looked on with concern as some in his own profession – the Aberdeen eight and Celtic's Boli Bolingoli – have breached the regulations.
However, he stressed that footballers have to live their lives, as long as they play by the rules.
As he prepared for United's trip to Dingwall today to face Ross County, Clark said: "Gillian works in the hospital as a physio and has done so for a long time now.
"I saw at first hand how stressful it was – it wasn't nice.
"It did look as we were coming out of the back of the pandemic for a while there but it's maybe catching up with us again so we need to be careful that we don't end up back where we were.
"I totally understand the mistake the boys (the Dons and Bolingoli) have made but it's tough.
"We are still human beings.
"Lockdown was lifted for everybody – it was the same for us.
"Just because we play football doesn't mean we need to be locked in the house.
"When we were in lockdown you couldn't do anything but now the restaurants and whatever are open and it's good to go out with your wife or girlfriend or take the kids out.
"There are going to be people who want to come up to you to take pictures with you but what's happened has been a warning.
"We need to careful about what we are doing so that we don't end up back to where we were.
"I don't think anybody wants that. We just need to be careful, take each day as it comes and hopefully get rid of this pandemic for good.
"I'm not trying to be smart about it. At the end of the day, though, we are the same as everybody else.
"We are not robots. We still need to go out and get our food shop and if I didn't take the missus out for dinner every now and again she would be raging with me!"
Clark is confident that the message has gotten through when it comes to his own club.
Manager Micky Mellon has told his players to just ask if they are unsure about what they should and should not be doing away from the pitch, while sporting director Tony Asghar has urged fans not to ask for selfies and autographs when they see squad members out in public.
"I know for a fact that all the boys here have stuck to the rules," he declared.
"We have spoken about it and at the end of the day it is down to us.
"We know the current circumstances around the world and we need to do the best we can to make things better.
"What happened at Aberdeen and Celtic was disappointing but there's not much we can do about it.
"We must be careful because we're in the public eye and people probably look out for us more.
"If they're out and about and see us they might take a picture to put on social media and put us out there, but it is what it is. We need to know that's going to happen and try to avoid it as best we can."
The test on the pitch today will be considerable for Clark and his colleagues, who have to pick themselves up after losing 1-0 to Hibs at Tannadice on Tuesday night.
Ross County have bettered United's own start to the season with two wins and a draw from their three matches compared to the Tangerines' draw, victory and defeat.
However, Clark has been encouraged by how the Tangerines have performed since stepping back up.
He said: "We watched the Hibs game back and it proved we were right to be frustrated.
"We were on top for most of the game.
"Hibs had one shot on goal and scored from it but that's what you have to get used to in this league.
"You don't get many chances and when they do come you have to take them so we were a bit disappointed, although there were a lot of positives too.
"We spoke after the game about how last season we created a lot of chances during matches and this season it won't be as many, no disrespect to sides in the Championship.
"We are up against better players now who will make it harder and we are going to have to get used to it.
"We probably didn't create enough chances to get a goal and Hibs created one and scored from it. We'll pick ourselves up and go again."
Meanwhile, Clark has his fingers crossed that striker Lawrence Shankland will have recovered from his ankle injury in time to face the Staggies.
Shankland is one of five United first-team men on the casualty list, along with Liam Smith, Jamie Robson, Ryan Edwards and Paul McMullan. Robson is definitely ruled out because of a head knock, while McMullan is recovering from surgery.
Smith is also expected to sit this one out but Edwards has a chance.
Clark said: "Of course, Lawrence is a big part of the team for us. It is disappointing he's not in the team and scoring goals and especially frustrating for him. There's nothing worse.
"Hopefully, he's back soon and banging in the goals."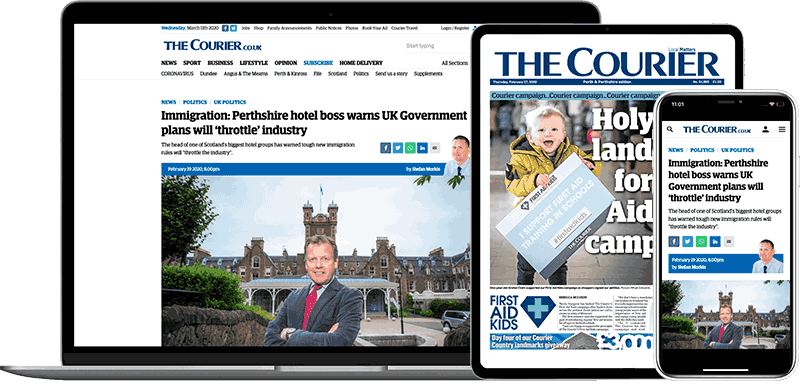 Help support quality local journalism … become a digital subscriber to The Courier
For as little as £5.99 a month you can access all of our content, including Premium articles.
Subscribe