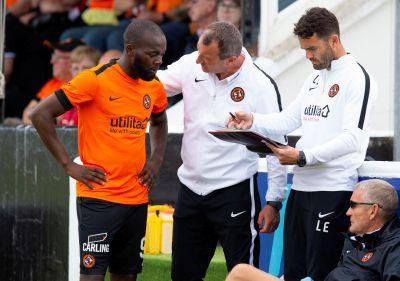 Dundee United winger Yannick Loemba believes his pace can help his new team race out of the traps against Dunfermline today.
The Congolese-born wideman lit up his debut last weekend, coming on as a second-half sub to help create three of United's four goals in the win over Elgin City.
That victory, of course, provided the only cheer of an otherwise miserable Betfred Cup "campaign" for Csaba Laszlo's men.
To say there is some anxiety among the United supporters ahead of the Championship opener against the in-form Pars would be something of an understatement.
However, Loemba is one reason for optimism and he hopes to get at the Fifers down the left flank this afternoon.
The 28-year-old, who was born in the African country but raised in Belgium, said: "I got a good feeling from that first game.
"It gave me energy and a desire to keep playing well for the team.
"In the first half it was a good game then in the second half they (Elgin) tired and I was able to use my pace and skills against them.
"I have speed on the wing and that is important.
"I like to attack my opponent and provoke them into making mistakes.
"I will try to do that against Dunfermline.
"I think I will be fully ready in two weeks but I still feel I can contribute, as I did at Elgin, even though I need time to get sharp.
"I can't wait for this game and the first league match is always very important but it is especially so for Dundee United as we want to win the title."
Like most football folk, Loemba was captivated and energised by the World Cup finals in Russia over the summer, especially the march to the semi-finals by the Belgians.
Asked about which players he admires and respects, he unsurprisingly picked out Belgium ace Eden Hazard, as well as Brazil's controversial superstar Neymar.
The modest Loemba, though, was keen to stress that he only strives to be as good as them and isn't promising that United have just signed a world-beater!
He added: "I admire a lot of players and I try to be a little bit – a very little bit! – like Neymar.
"I do have quick feet and tricks.
"In the Premier League in England, I would say I like Eden Hazard and he is a Belgian hero after the World Cup.
"I try to be as much like them as possible, although I am not saying I am of their standard.
"I am humble and I can learn from watching them."
Loemba, who will wear the number 90 jersey (year of his birth) and is on course to be a real fans' favourite, revealed he is not coming into Scottish football cold, having learned a few things from his pal Arnaud Djoum.
The Hearts player, who was also brought up in Belgium after moving there from Cameroon, has encouraged Loemba to make the most of his move to Tannadice.
"Arnaud is my friend and because he plays for Hearts here I know a bit about Scottish football.
"He has spoken to me about this move and I have watched him play in a few games on TV.
"We also have some very good players here who have helped me settle in.
"William Edjenguele speaks French and Frederic Frans is from Belgium so I have people here who will help me get to know all the guys.
"I am very happy and can't wait to play in from of our home fans."
United boss Laszlo certainly seems willing to unleash Loemba again today.
Asked if the winger might be involved, the Hungarian said: "Why not?
"He came a little bit late and I wanted to have him here one week earlier.
"But he has been training, working hard and he is definitely good enough for 45 minutes and maybe even 90."
Meanwhile, the Tangerines' new Westend Flooring Suite will open its door for the first time today.
Housed in the upper section of the George Fox Stand, the new hospitality facility will host 240 people and the pre-match ceremony will be attended by chairman Mike Martin and some of United's club legends.