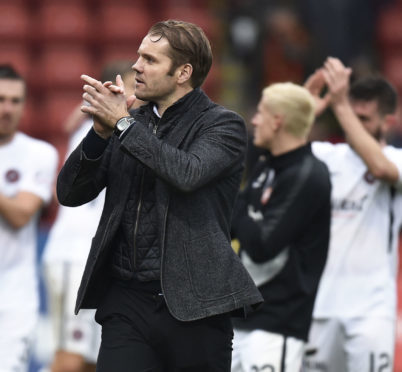 Robbie Neilson was happy with what he saw at both ends of the pitch in his first game in charge of Dundee United.
The new Tangerines' boss praised his defence for holding firm when Partick Thistle pushed for a late equaliser – and his forward players for the "quality" they displayed in earning United a two-goal lead.
"The defence did really well," said Neilson after the 2-1 win at Firhill.
"Obviously we had a wee blip near the end losing the goal but they stood up to the game until the end.
"When you go 2-0 up and then Partick get the goal back and their fans start getting behind them, they go gung-ho, they've got nothing to lose so they start throwing men forward and throwing balls into the box but the defence and the midfield stood up to it really well and that was a pleasing part of it.
"I've been to games where you go three and 4-0 up and think it's a great performance but this was even more pleasing because we showed the quality to go 2-0 up but we also showed quality and resilience to see out the game."
To see nearly 1,000 United fans get behind his team on a rainy Glasgow afternoon, was also a big positive for Neilson.
He added: "It's great to be back and great to be in there but first and foremost it was great to get three points.
"I thought the support today was magnificent. When I came out the tunnel here I've been to games here before where they don't open this stand never mind fill it so to get that backing today was great and the players appreciate it and you can see the energy came from the stand onto the pitch.
"That's the reason the players were running so much so we need to make sure we continue to do that."