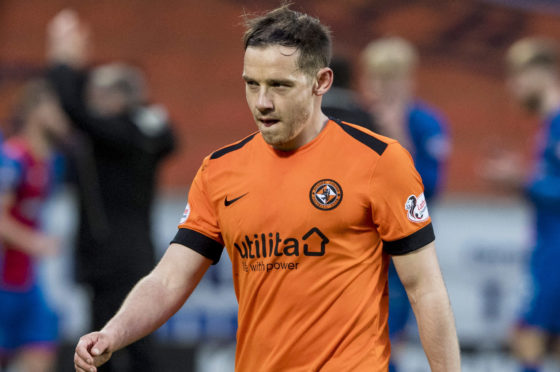 The Courier's sports writers Ian Roache, Neil Robertson and Eric Nicolson assess the consequences of Dundee United's Scottish Cup exit and the growing prospect of a play-off derby.
That's another big game for Dundee United that has turned into an anti-climax. Discuss the ramifications of the cup loss.
IR: I was left with quite a few concerns after the game but my main one was that, going by that performance, they don't look like a team that is destined to win promotion. As things stand, I would even be worried about facing Dunfermline or Ayr United in the play-offs.
NR: The defeat was yet another kick in the teeth for the club's long-suffering fans who had gone along to Tannadice in big numbers – unfortunately it was the players who didn't turn up. If you are a glass half full type of person, then you could say that the cup exit is a blessing in disguise as progressing through to the semis might have proved a distraction from the league – on the half empty side of the fence, the Tangerines look to have gone backwards once more.
EN: It's the 'big game' thing that concerns me most. We're still in a situation whereby these high profile fixtures seem to bring out the worst in the United players. That has to change for the Ross County matches and, more than likely, the play-offs.
That winning goal for Caley Thistle was a shocker, wasn't it?
IR: There are a few candidates but, considering the timing and what was at stake, it is up there challenging for the title of worst goal conceded at Tannadice in recent times. The onus is on the players to give the long-suffering fans something back at Partick on Saturday.
NR: As a former defender, Tannadice boss Robbie Neilson would have been tearing his hair out at the failure to prevent a simple long throw leading to that winning goal in a Scottish Cup quarter-final.
EN: I would have wanted one of my centre-backs to take command of that situation. Connolly and Reynolds still has the potential to be a solid partnership, though.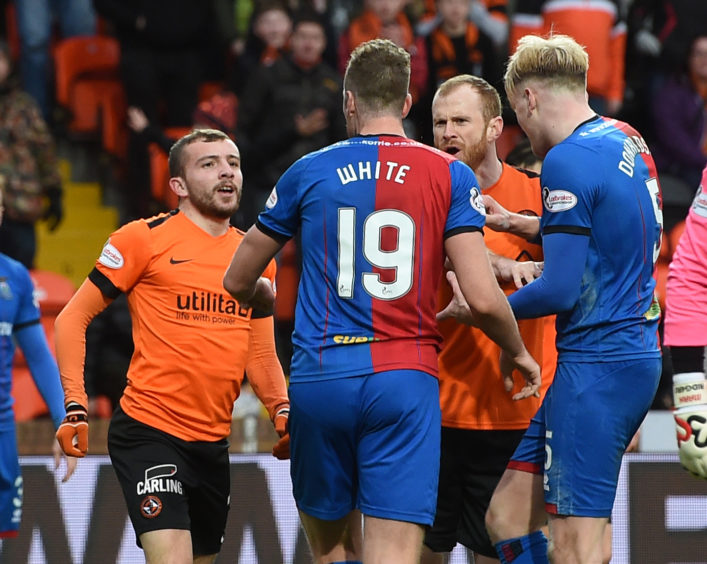 BBC pundit Billy Dodds was pretty clear that he didn't think Paul McMullan should have been awarded a penalty. What was your take on it?
IR: I covered the game and saw the incident back and McMullan's foot is caught. You can get into pointless arguments about how strong or weak the contact was but it was a penalty. Simples.
NR: At the time watching on TV in my living-room, I thought McMullan might have dived as his reaction was a bit theatrical but referee Steven McLean had a better view than me and replays confirmed the United player was clipped. Put it this way, I am fairly sure that former front man Dodds would have also fallen to the turf if he had been caught in a similar manner during his playing days.
EN: In an ideal world any contact wouldn't equate to a penalty but let's get real, forwards will always take advantage of a leg being hung out like that.
The talk about Fraser Fyvie being below the required standard for a title-winning team isn't going away amongst fans. Talk us through United's midfield issues.
IR: Sadly, I have watched Fyvie go from being the one player the fans feel the team can't do without to someone who has a section of the support on his back as soon as he makes a mistake. The blend of Ian Harkes and Fyvie as the two deep-sitting midfielders wasn't great and I expect to see the more physical Calum Butcher slot back in.
NR: Butcher was a big loss but I would have gone with Morgaro Gomis from the start. Neilson himself has said that Fyvie was probably rushed back too soon after recovering from a cruciate injury. It is worth remembering it wasn't so long ago that this was a career-ender so Fyvie probably needs a full pre-season under his belt before he returns to his best.
EN: Let's not write Fyvie off just yet. Csaba Laszlo did him few favours with the hype he gave him when he returned. I do think he might struggle to get game-time when everybody is available, though. Neil's right about the need for a pre-season.
Have United got any room for error in the league now, starting at Firhill on Saturday?
IR: If you mean if they want to win the title then I would say no. They still look likely to finish runners-up to Ross County in my view.
NR: No they don't especially as the Staggies have a game in hand on the Tangerines which potentially could extend their lead to eight points. United simply have to put a run of wins together and hope County slip up and it will be interesting to see how the Highland side cope without striker Billy Mckay, whose season is over after breaking his arm while scoring his 20th goal of the season against Ayr last week.
EN: Two wins going into the County game are a must.
Did any of you envisage St Mirren and Hamilton Accies getting their act together?
IR: That Hamilton victory at Pittodrie came out of the blue but reports from fellow hacks who saw St Mirren play against both Aberdeen and Hearts had prepared me for a probable win for them against Livingston, who have been victorious in only one of their last 11 games.
NR: I always believe Hamilton are capable of picking up a win or two – it's what they have done regularly to avoid relegation – but the Aberdeen result was still a big surprise. I saw St Mirren against United in the cup last month and they were woeful in the first half but much better in the second 45. So there is no doubt that Dundee have their work cut out in this three-way battle to avoid the drop.
EN: It has surprised me. I thought the days of Hamilton doing a Hamilton were over. And St Mirren's signings looked a bit scatter-gun. Credit where it's due, though, there have been some impressive results from both.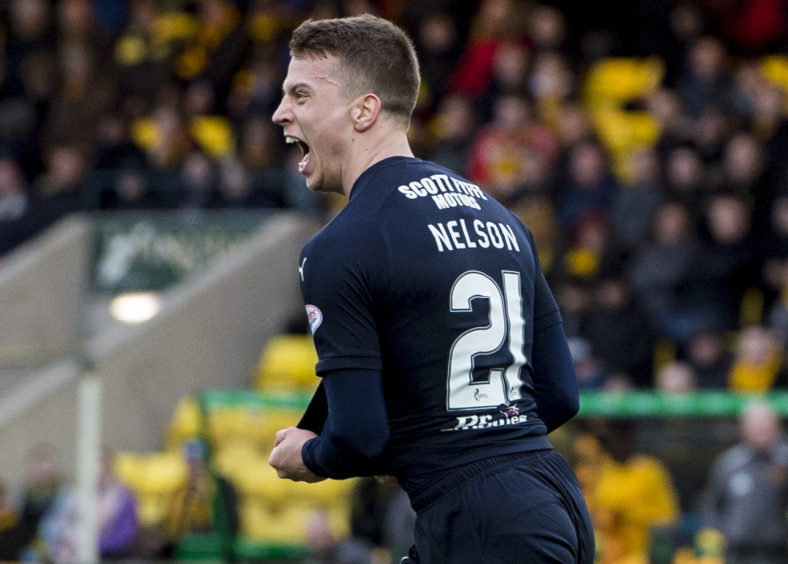 Have Dundee become overly reliant on Andrew Nelson already?
IR: I would make a comparison between Nelson and United's Butcher in that players who weren't even at the club a matter of weeks ago now look like absolutely essential players.
NR: Nelson's pace, power and goals have been a big miss in the last two games and it looks like he is doubtful again for this weekend's match with Hearts along with fellow striker Craig Curran. With Kenny Miller only used as a sub recently, Dundee really need Nelson back sooner rather than later to provide that cutting edge up front.
EN: If Nelson and Curran play most of the remaining games Dundee will be fine. If they don't, they could be in real trouble. The back-up options just aren't there.
There seems to have been a definite rise in fear from both Dundee and United fans that a play-off between the clubs is on the cards. Are you starting to think that way?
IR: It is natural that people look ahead and ponder what might be and you have to say that the likelihood of it happening has grown in the last couple of weeks. It is not something I would relish because of the consequences for the losing club. However, I still haven't given up on Dundee finishing third bottom, albeit we may have to wait until after the split to see them move away from the Accies and Buddies. As for United, as I have said above, my concern is that they might struggle to even get through the play-offs without marked improvement.
NR: It is definitely a possibility but not one that is concerning me too much at the moment – there is still a long way to go.
EN: Like Ian, I think Dundee will finish third bottom. If a win will secure that for them on the last day of the season, that could be the first time United fans have cheered on the Dark Blues. That's because any United or Dundee fans I speak to think the prospect of a play-off derby is a nightmare scenario where the risk outweighs the reward.
What did you take from Dundee's annual accounts?
IR: My first thought was concern over how long Tim Keyes is going to tolerate losses like that. Even if you are Bill Gates you can't just keep taking financial hit after hit. Otherwise, it begins to look more like a charity than a business. It's not just Dundee who have this problem, however. It is a quandary for Scottish football ownership as a whole.
NR: The key thing for me was the line in the statement from the club which said: "The company's major shareholder, FPS, continues to provide the necessary support to fund these losses". As long that that financial backing remains in place, then Dundee will continue to plan for the future and a move away from Dens Park.
EN: I still remember Neil McCann saying that the Jack Hendry transfer was a club record deal! It didn't even get half way, it would appear.
Tommy Wright thinks St Johnstone may need 10 points from the next 15 available to make the top six. Do-able?
IR: St Johnstone's terrible run has almost gone under the radar but they need to get going again asap. A match against Livi, even if it is away, is arguably the best one they could have. Of course, their last victory came against the West Lothian side at McDiarmid way back on January 23. That's quite a while ago.
NR: Saints' slump recently has largely gone unnoticed but no-one at the club will be happy with seven losses in the last eight games, even allowing for the fact that three of them came against Celtic. However, I fully expect Wright's side to start picking up wins once more with Livi, St Mirren, Motherwell, Dundee and Killie to be played before the split.
EN: Ten points is at the upper end of what you would realistically want to be chasing at this stage but, yes, the fixture list suggests it is attainable.
Dunfermline's recovery has been stunning, has it not?
IR: It has been wonderful to watch them get it together with those four wins on the bounce and great for Stevie Crawford, who is one of the game's gentlemen. The Pars will be a force against anyone between now and the end of the season. As one of the bigger-supported clubs in the Championship, I imagine the fans will play their part, too, starting with a large contingent at Alloa this weekend.
NR: I must admit when I saw the Pars beat Dundee and United at the start of the season, I thought this would be their year. It wasn't panning out that way though until recently with those four wins. I may be reading too much into it but the resurgence has coincided with the arrival of former Scotland star Callum Davidson to join Stevie Crawford's coaching team.
EN: Saturday's win was the game-changer for me. It would have been very Dunfermline to lose to Queen of the South after getting within touching distance of the play-offs. I wouldn't rule out the Pars catching Ayr.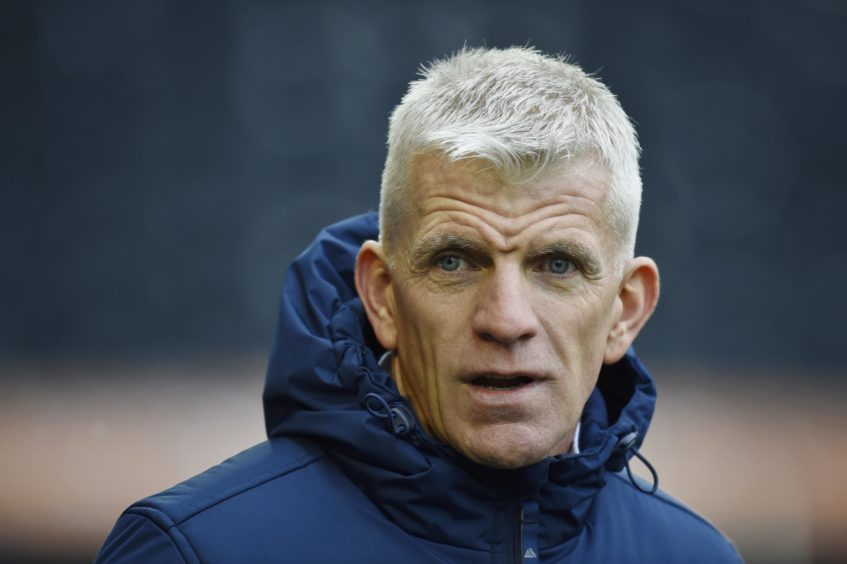 And what about Forfar?
IR: That was a seriously good victory against a fine East Fife side last Saturday and they will be huge favourites to beat Brechin in the umpteenth Angus derby this weekend.
NR: Jim Weir and his players deserve enormous credit for putting together the run that has taken them to second top of the League 1 table ahead of full-time Raith Rovers.
EN: Weir has a very impressive core to his team now. Beating Arbroath at last was a psychological turning point and it would take a real form slump for them to drop out of the play-offs now.