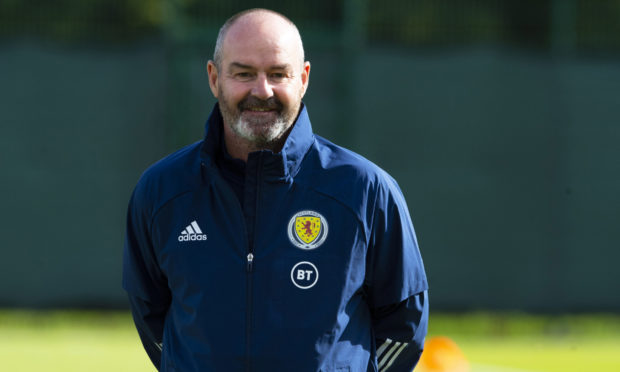 It wouldn't have taken long to find 'club first' types who saw no place for the Nations League in a crowded football calendar when the concept was first unveiled.
The same goes for those who believe the pause button should be pressed on the 2020 campaign now that we're in the middle of a coronavirus pandemic that is heading towards a second peak across Europe.
Steve Clarke wasn't in the first group and isn't in the second, strangely enough.
And, as his Scotland team seek to stay on top of their section in the second staging of the competition against the Czech Republic tonight, the ultimate reward of doing well in the first one could be just a few weeks away.
"If it wasn't for the last Nations League campaign then we'd already be out of the Euro 2020," said Clarke.
"Instead we're all sitting here excited and looking forward to next month where we have the chance to go to Serbia and qualify for our first major tournament in 22 years. It's a tournament we can't speak badly about.
"The work that Alex McLeish started with the players he had available in the last section – winning the league C section – has enabled us to have this one-off shot now.
"For us it's a competition we should take seriously. It's why I want to get a positive result against the Czech Republic, so we can finish this month top of the group.
"If we can do that then maybe next month we can get more good results and win the section. That could give us another option for Qatar 2022. We could hopefully have the back-up of another play-off place.
"I think that's important to a nation like Scotland."
Thankfully there have been no further positive coronavirus tests in the Scotland camp, with John Fleck and Liam Cooper dropping out as a result of run-of-the-mill football injuries.
Clarke insisted that Covid-19 is just as big a risk at club level as it for national teams.
"Even though we've had one incident in the camp, the protocols work," he said.
"It hasn't decimated our squad, as such. It hasn't spread right through it. That shows what we have in place is as good and robust as things can be.
"Listen, all the clubs will be nervous about it when their players go away in international duty.
"But they'll also be nervous about their players in-house as well. You don't know where you're going to pick it up, it could be anywhere.
"Somebody's wife could be out working and bring it back into the house and then it goes into a club.
"It's a virus. There isn't a lot we can do to control it. All we can do is try the best we can to limit its spread."
You don't get to seven games unbeaten in international football, even with San Marino thrown into the mix, by accident.
Clarke and Scotland have a formula that is working and has taken them to the brink of the Euros. According to Ryan Jack, they would be mad to change it.
The head coach is bringing the traits of his club teams to the national set-up and the Scotland players have bought into the demands he places on them in terms of application and discipline.
As far as the Rangers midfielder is concerned 'if it ain't broke don't fix it' is the mantra for the Scots who are seeking to extend their run of matches without losing to eight in tonight's Hampden clash with the Czech Republic.
"When the manager was at Kilmarnock he was always organised and, trust me, there is nobody knows more than me that they were always hard to beat," said Jack. "They always gave us a good game.
"For us here, the manager has instilled the mentality that we are not conceding. We want to build on clean-sheets and, to be honest, if you keep clean-sheets then more often than not you are going to win the game, especially given the quality that we have at the top end of the pitch.
"We are always trying to get better and to create more chances. But, at the same time, what we are doing now is working for us and we are getting a bit of joy, so why change it? We are all buying into it and hopefully we can continue that."
The former Aberdeen man added: "It's brilliant at the moment. It's been a long time since we've had this type of run, so for us as a group of players, it's good to be on it.
"We've always said when we met under the gaffer that we wanted to build something and wanted to build momentum to take into each camp we turn up and so far, so good.
"This game is another chance for us to keep this going.
"Every time I have come away, it's been enjoyable with a good group of lads. The core of the group has pretty much stayed the same apart from a few injuries here and there. We gel well.
"We relax at the right times and, when it is time to work, we go to work and get results for the country."
SCOTLAND ANALYSIS: Unexpected stars emerge and what does Steve Clarke do about Leigh Griffiths?