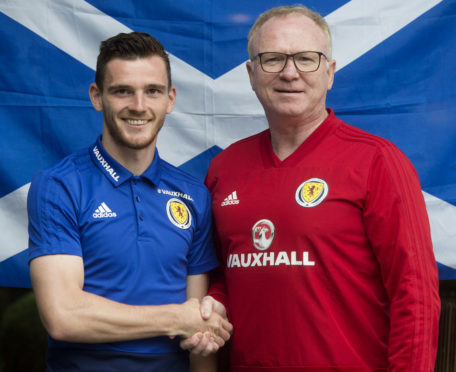 Andy Robertson's rise from teenage rejection to captain of his country is the perfect story to inspire a revival of the Scottish game, according to national team assistant coach Peter Grant.
The former Dundee United full-back, who is now a key part of Jurgen Klopp's Liverpool, was confirmed as skipper yesterday to the approval of his team-mates and the wider football public.
The story of being knocked back at Celtic and all that followed is now the stuff of legend.
And Grant believes it can give hope of a brighter future.
"It's a fantastic story," he said. "The games we have been here, Andy has been magnificent around the group.
"It is great for young players. It is the sort of story that gives hope to young players these days.
"There are so many getting released at a young age and thinking it is the end of the world. But I think Andy's proof that if you get that you have to keep fighting – it is one man's opinion or one club's opinion.
Former Dundee United player Andy Robertson named new Scotland captain
"It is remarkable to go from selling food at Hampden (while he was playing at Queen's Park) to leading the team out there.
"We talk about grassroots and for me that is the ultimate – you get released from one club and think it is the end and then go amateur and all of a sudden you bounce back and you are playing in Champions League finals and playing exceptionally well in a fantastically talented side.
"The way he has led the group, the experience he has gained good and bad through that time sets him in good stead. And as I say he has already shown his leadership qualities round about the training ground.
"There are a lot of young players involved in the squad and I think they see what he achieved last year, which has been incredible."
Grant added: "People knock the Scottish game. I don't care what's going on in England, it's poorer for not having so many Scots. I can say that with hand on my heart.
"When I come up here it is great because I see young boys playing. Down the road they've got hordes of young boys being put out on loan – they have three teams, and they have a loan team now. It's near impossible to break in at big clubs.
"For someone like Andy to come through and do well is remarkable. I remember people questioning the £7 million Hull were wanting for him. People say he is unaffordable now.
"Everything he has done has taken guts. For me the biggest thing it shows is there's a hell of a lot of young players still out there – you have to give them a pathway. Andy Robertson is one you can hold up."