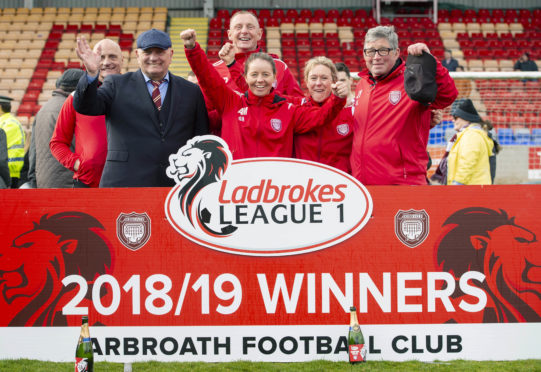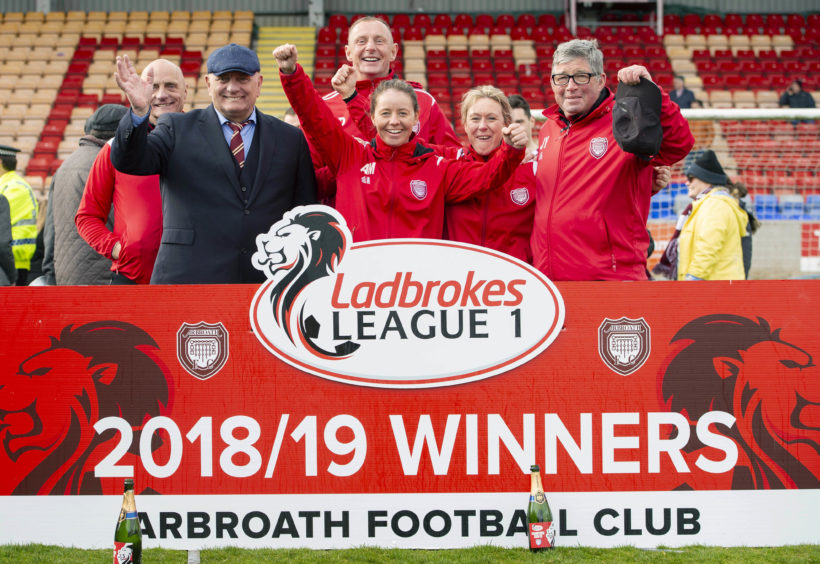 The champagne may finally have stopped flowing but the excitement for Arbroath and their chairman Mike Caird is only just beginning as the club look forward to life in the Championship.
The Red Lichties secured promotion from League 1 on April 13, clinching the title at the home of Angus neighbours Brechin with the trophy presentation taking place at Gayfield earlier this month.
Now though all attention has turned to what lies ahead for Dick Campbell's part-time side next season – including Tayside derbies against both Dundee clubs after the Dark Blues were relegated from the Premiership and United failed to go up through the play-offs.
Chairman Caird said: "I think it has all sunk in now. When we won the title at Brechin, everyone came back to the club rooms, all the players, directors and management.
"Then at the last game when we received the trophy, we had another celebration in the boardroom, walked across to Tutties Neuk, then I went up the road for a family do.
"So it was just a quiet night for me but a lot of the players went out in the town.
"The buzz about Arbroath at the moment is great.
"We obviously have the trophy and we like to show it around schools and clubs, stuff like that.
"We did that a couple of years ago when we won League 2 and it brings the town together – it is fantastic.
"Considering where we were three years ago when Dick came in – we were second bottom of League 2 – look where we are now.
"We are in the Championship and while we have lost our Angus derbies, we now have eight Tayside derbies against two big clubs.
"We are sorry that the two teams are in the league as you want successful, Tayside, east coast clubs.
"But they are there so we will gratefully accept it and hopefully give them good games."
While Arbroath are determined they won't be in the Championship just to make up the numbers, Caird insists they will continue to live within their means and will not be breaking the bank.
He added: "No, definitely not. We had budgeted for having Dundee in the league and then we rebudgeted for having United in the league after Sunday.
"We were quietly planning ahead what we were needing to do hospitality and safety wise.
"We have sold out the Dundee hospitality already, the United one is close to a sell-out and the fixtures haven't even been announced yet. So it is all positive.
"But no, we are very frugal and will keep our feet on the ground.
"We are not kidding ourselves – staying up would be like winning the title.
"Alloa did it this season so there is no reason why we cannot give a good account of ourselves as well."
Arbroath's competitiveness is guaranteed under wily old fox Campbell with Caird also admitting that few sides will relish a trip to Gayfield in the depths of winter.
He said: "I have said it before but Dick builds a great team spirit.
"The players work hard and he has the right type of people about the place, people he can trust and who trust him.
"So we are all in it together. It will be backs to the wall at times, there is no doubt about it but we would like to make Gayfield a bit of a fortress.
"Who knows on a cold, wet winter's day . . ."